Welcome to Beautiful Bookish Butterflies Weekly Recap. Once a week, Stacie and Amanda take the time to talk about the weeks goings on, both on the blog and in our lives elsewhere, any new books we may have received and want to mention and what's interested is within the blogging community. Stacie and Amanda link up this recap with Caffeinated Book Reviewers Sunday Post and occasionally Tynga Reviews' Stacking the Shelves.
Take Our Survey!
Our survey is still open, and we'd still really like your input and would love to know what you think of Beautiful Bookish Butterflies. It'll only take a few minutes with really simple, easy questions, and you'll be helping us, a lot. For our
Blog Survey
post, follow that link, or to for a
direct link to the survey, click here
.
What You May Have Missed:
-
Book Review: Half Wild by Sally Green
-
Book Review: I'll Give You the Sun by Jandy Nelson
-
Bookish Musings: So You Don't Like Writing Reviews..
-
Book Review: Made For You by Melissa Marr
-
Five Friday Favourites: Cover's of Books I'll Never Read
-
Book Review: Blood of Olympus by Rick Riordan
-
Personal Pickings - The Show That Hijacked Stacie's Heart
Elsewhere Online:
- Amanda was featured on
The Book Addicts Guides Book and a Beverage
- Amanda also reviewed
We Are All Made of Molecules by Susan Neilsen
Our Lives This Week:
Stacie:
As you may or may not remember from last weeks catch, I talked about my other half being on earlies at work this week. He had to be up at 4 and despite how silent he tried to be, it woke me up and I found it hard to go back to sleep. That would be bad enough if you didn't add my daughter waking up twice this week at around half 1 thinking it was time to get up and not going back to sleep till at least 3, so this week I have been literally running on empty and it's now half term, what joy! Which means I'm not going to have a lot of sleep again for two weeks and in all honesty I'm pretty sick of feeling exhausted all the bloody time, it's horrible. So yeah.. my week hasn't been too good. I'm currently writing this before I take Caitlyn to a party so I have to put up with a room full of kids and noise and blah, not looking forward to it.
Best of March:
This month hasn't really been the best for reading for me, I've gone a week or two only reading a few books and a week of reading 5 books, so it's been up an down a bit. I think the book I was most surprised at would be Mindwalkers. I got it for review after requesting it just to give it a go and I never thought I would like it as much as I did, it was a really interesting book. I've read my air share of fluffy contemporaries this month and I think I'll Give You The Sun was my favourite, I liked The Sky Is Everywhere by Jandy Nelson but this book was just in a different league. I also finally got around to reading Half Bad by Sally Green and it was actually really good. I borrowed it from the library in October last year but after getting about 100 pages in I just wasn't feeling it, not because of the book but just because I really wasn't in the mood. So after Amanda (and everyone) going on and on about it I borrowed it again and I'll be honest, it didn't wow me but I was hooked page for page and I did enjoy it.
Amanda:
This week was a whole manner of nice things, things that made the month end just that little bit more positively. First of all, I didn't really get the opportunity to talk about some of the nice things that occurred days before the last Weekly Recap, but Saturday was a really nice day that involved a lovely dinner with my best friend, a trip around our local shops and then an evening of TV and snuggles, something I definitely needed. Then I got myself a copy of Fire Fall by Bethany Frenette this week, which was just the best feeling in the entire the world, seriously, you do not understand how much this series means to me. Then, Friday came along and saw my best friend and I celebrate her starting a new job with some drinks, pizza and lots of films and tipsy conversations, which is almost always a wonderful thing. Oh, and I also dog-sat my uncles little devil of a dog on Saturday afternoon/evening too, which means I can actually start preparing for Christmas with money, yay! As weeks go, this has been a lovely one, even if I have been nursing being ill (again!) and a great almost ending to quite a mixed up, weird feeling month.
Best Reads of March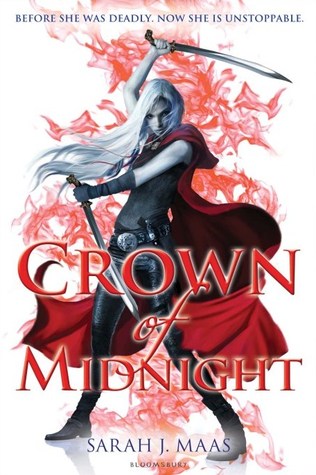 March has been both a great one for books and a terrible one at the same time. Where I've usually read about 14 books per month, so far this month I've read 7, and I'm currently reading two more. That's 9 people, 1 book more than in December which is usually really busy, BUT, the books I have read, minus one (which I will not talk about, such a disappointment!) have all been 4 stars upwards, as are the two I'm currently making my way through. Honestly, even though I've only featured two of the books, you need to read the others -
Flesh and Blood
,
Half Wild
,
Burn Bright
and
Red Queen
- my average rating this month has gone up by over 1.3 stars, I've been loving the books I read and really have some cracking reviews coming up. I'm obviously hoping to improve upon this amount next month with my many series reads, if I can push myself, but there's a lot of exciting books coming up to read, and some really great review copies too. Maybe I didn't have the most ravenous week of eating books, but I sure loved what I
ate
read.
What We Liked This Week:
- Cait talked about how she's
always forgetting things and John Green
- Bekka talked about
male POV's in general fiction
- Amber talked all things
space and planets
- Bec talked about
blogging slumps and reviewing
- Brittany shared some
blogger spotlight features in the community
- Danielle shared some
popular 2015 cover trends
- Cait created an
Author Memory Test
- Asti talked about
reuniting with books
Tell Us What's Been Happening in Your Week!
Also, answer us this: What feelings would you have towards us redesigning BBB.

Tell us what you currently like and what you'd like to see, your opinion matters!