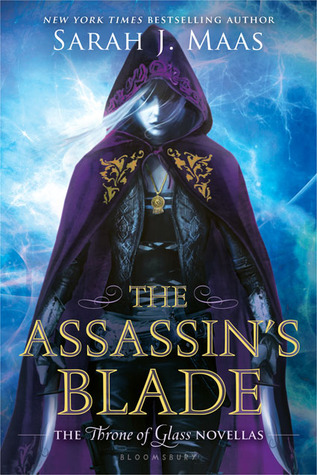 The Assassin's Blade
Author: Sarah J. Maas
Series: Throne of Glass #0.1 - #0.5
Genres: Fantasy, Short Stories | Young Adult
Release Date: 4th March 2014
Publishers: Bloomsbury
No. Pages: 448
Source: Borowed
Rating:
Celaena Sardothien is Adarlan's most feared assassin. As part of the Assassin's Guild, her allegiance is to her master, Arobynn Hamel, yet Celaena listens to no one and trusts only her fellow killer-for-hire, Sam. In these action-packed novellas - together in one edition for the first time - Celaena embarks on five daring missions. They take her from remote islands to hostile deserts, where she fights to liberate slaves and seeks to avenge the tyrannous. But she is acting against Arobynn's orders and could suffer an unimaginable punishment for such treachery. Will Celaena ever be truly free? Explore the dark underworld of this kick-ass heroine to find out.
To say that I'm completely obsessed with Sarah J. Maas style of writing would be an understatement. I am pretty sure that I would read ANYTHING she wrote, be it a book about our lovable Celaena or a newspaper article about something boring and uninteresting, I can't imagine not being hooked on what she has to say. I've read the available books in the Throne of Glass series, I was even lucky enough to get an eARC of A Court of Thorns and Roses and yes, I have been left heartbroken by both. I meant for a long time to get my hands on the collection of novella's but it always slipped my mind, then when I saw a copy was available from my local library, I knew there wasn't anything else I wanted to read at the point in time. I know a lot of people have their own opinions if you should read The Assassin's Blade before the others but for me the answer is a simple no, from the start of Throne of Glass I was engrossed in the story and dying to know where Celaena's character would go, I never felt like I was missing anything and I didn't need help liking her, nor did I ever need help understand why she is the way she is. It wasn't necessary for me to read Assassin's Blade before the rest, but each to their own.
The first novella we are greeted with when we open the book is
The Assassin and the Pirate Lord
, it's where we first meet Arobynn and finally get introduced to Sam. Celaena is Aboynn's second, so it's really important that she not only keeps her identity hidden but learns there's more to the business than just killing. Next we have
The Assassin and the Healer
. Not very long compared to the first one but still a good novella. For those of us who have read the other books we are aware that Celana isn't just ruthless, we've seen the softer side to her and know there's much more beneath the surface. However for those who chose to read The Assassins Blade first I feel like this short story, about a healer working in a run down joint with hopes to make it out, is a great way to start the process of showing people just how much depth she actually has.
When it comes to
The Assassin and the Desert
the story starts to get a little bit more gritty. First we see Celaena away training with The Silent Assassins of the red desert, we see her open up and make bonds with people. We see just how far she is willing to go to not only get stronger and be the best but also make Arobynn proud, despite everything he's done. Then comes
The Assassin and the Underworld
, Celaena is back in Adaralan and back to Sam. This was probably my favourite out of the lot because she's really starting to think for herself. Loyalty may me everything to her but she knows right from wrong and she isn't prepared to put her duty infont of her morals anymore.
And then we have
The Assassin and the Empire
and we see that Arobynn will stop at nothing to keep what is 'his', does he care about her? No, I don't think he does. She has been a pawn to him from day one always holding her past over her and now he's gone to the next level by making sure she will never been the same again. I for one can not wait until she comes up against him again and makes him pay for everything, its going to be a bloodbath!
Overall I really did enjoy this book. The stories just flowed so perfectly into the next that sometimes I didn't even feel like I was reading something made up of novella's. Every one of those short stories were crucial into really understanding what Celena has been through and to her character development. My favourite thing about the book was finally getting an idea of the type of person Sam was and the relationship they had, it's something I've been wondering about since the first time he was mentioned in the series and I really feel like now everything had been cleared up. If you have yet to start the series, then what the hell are you waiting for? Everyone can't be wrong.