We were tagged by Charnell from Reviews from a Bookworm to do the Taylor Swift Book Tag!
We Are Never Ever Ever Getting Back Together
A book or series you fell for, but epically broke up with.
Stacie: The Hundred
and
Sookie Stackhouse Series
Unfortunately there happens to be a lot of books/series that I thought I was going to love/did love but it ended in tears, but no more than these two. I am obsessed with the show The 100, and I was with True Blood (ended now). I didn't know that either were based on books before I started watching them and by that point, I was already so hooked that
I couldn't wait
to read the novels. They.. they're better as TV shows. Lets just leave it at that. I have read both
The 100
and
Day 21
of The Hundred series and I do plan on reading the last book because I have to see how it ends. When it comes to the Sookie Stackhouse books though I read 10 of the 13 books in the series, but I only reviewed
Dead Until Dark
,
Living Dead in Dallas
,
Club Dead
&
Dead to the World
.
Red
A book with a red cover/red on the cover.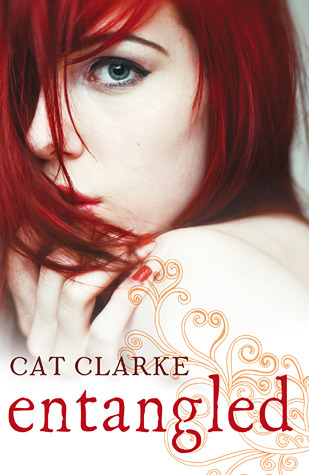 Stacie: Entangled by Cat Clarke
While I looked through my read pile on goodreads for covers with red on them, a lot caught my eye, but when I got to Entangled I knew that I wanted to use it. Firstly, the cover is simple but pretty beautiful, I've read 3 of the 5 books that are already out, and I just really love her style of writing. I know a lot of people had issues with this book, but I enjoyed it and I think a lot more people should read her work.
Rating: 4 Stars.
The Best Day
A book that makes you nostalgic/reminisce.

Stacie: Cirque Du Freak by Darren Shan
If I have to tell you why the first book I ever read by Darren Shan makes me nostalgic or reminisce then I haven't been talking enough about him or you haven't been listening haha. I didn't want to use Harry Potter because I have feeling I'll need it somewhere else, so I thought I would use the other book that inspired my love of reading. I miss the feeling of discovering just how much joy I could actually get from reading a story, I would sit in my room for hours and all I wanted to talk about was books and I only wanted to go to book shops, I was pretty obsessed within the first few years of seeing how much I enjoyed reading because I was around 13/14 when I became this bookaholic, I wasn't one from birth and couldn't think of anything worse than reading before I was a teenager.


Love Story
A book with a forbidden love.

Stacie: You Against Me by Jenny Downham
For me, it really could only be You Against Me. It's got a duo POV, Mikey the boy who's sister claims she was assaulted and Ellie, the sister of the accused. Obviously its a contemporary, obviously the two character have some chemistry but being on opposing sides it's of course forbidden. I know people might have had a problem with the writing or the characters or the book in general, but honestly Jenny Downham has not only been one of my favourite authors since reading Before I Die, but she is also really underrated. I just wish that she would write more.

Amanda: Forbidden by Tabitha Suzuma
Personally, my choice almost speaks for itself - Forbidden is just the perfect example of a forbidden love; a brother and a sister, biologically related, living in the same house, fall in love with one another. Oh yes, it's taboo, it's shocking, it's so addictive and enticing and so horribly horribly heart-breaking. Everything about this book screams pain, and the ending is no different. *sniffles*


Trouble
A book with a bad character you loved.
Stacie: Severus Snape from Harry Potter
When it comes to the bad characters in books, none will ever come close to my love of Mr Snape. I always knew from the start that there was more to him than meets the eye (granted I didn't have a clue what and was shocked like everyone) but I knew! I defended him religiously to anyone who would bad mouth him, I would tell them that he's not all bad but they didn't believe me, only to turn they opinion 360 with the release of the last book (which of course I hated). The reason I've picked him is because deep down, I would have still loved him even if he was bad. I would have followed him even if he ended up killing Harry. I'm pretty sure there isn't much I wouldn't forgive him for.
Innocent
A book that's ending was ruined for you.

Stacie: Harry Potter and the Half-Blood Prince
I know that it might sounds crazy, but at the time I didn't mind because I only just really getting into Harry Potter, that and I'll be honest, he really wasn't a favourite of mine anyway.

Amanda:
Clockwork Princess. There is no other worse book I could have been spoilt for...


Everything Has Changed
A character who goes through extensive development.

Stacie: Celaena Saradothien from Throne of Glass
The really is no one else that is coming to my mind right now (apart from Rick from The Walking Dead). Every single book Celaena grows more and more, in Throne of Glass, we see her as a broken girl just trying to survive and make it through the day while still managing to hold her head up high, in Crown of Midnight she's trying to deal with right and wrong and is a little bit more carefree and in Heir of Fire. Well that's my favourite so far. We see her as both women, but with nothing left to lose any more and so focused on hell bent on becoming who she is destined to be. I mean come on, seriously, if you read these books and you don't think that her character development goes from strength to strength, with the writing, as the story goes on then you are blind.

Amanda: Queen Levana from Fairest
Oh oh oh, this is without a doubt a very very easy choice. While Levana might not feature hugely through The Lunar Chronicles, the development her character goes through in Fairest, although it's far from positive, is just one of the biggest changes I've ever read. Nothing screams 'hold the heck up' like a young, scarred princess becoming a murdering, scheming, conniving, manipulative queen of a whole planet (well, moon, details people..), seriously, nothing prepares you for that character growth. I felt remorse, I felt hatred, I felt emotional pain both for Levana and for the people's life's she changed, affected and essentially ruined. Oh man, this book, this character. *flails*


You Belong With Me
Your most anticipated book release.

Stacie: Saint Anything by Sarah Dessen
This book.. Just shut up. I AM DYING TO READ IT! If there was just one book I could receive as an ARC this year, in any format, it would be this. I am just a little bit obsessed with Sarah Dessen. I've read nearly all her books, I've loved them all, I've gone all out fangirl and recommended them to anyone and everyone. I just need it, now. This year is going so quick, and on one hand I want it to slow down because I think it's going to fast but at the same time all I can think of is it'll be May soon and how all I'll be doing on the 5th is reading this glorious book.

Amanda: The Traitor by Allen Zadoff
There a few books this honour could have gone to, but The Traitor is the one that's on my mind most frequently at the moment, therefore there is no other book I want as much as this one. Just - everything. Zach, The Program, the mystery, the agendas, the suspects, HOWARD, oh Howard.. Yes. So. This book. I want very much. Please and thank you.


Forever and Always
Your favourite book couple.

Stacie: Draco and Hermione
I am one of these types of people that see a couple where no one else does, and for that the list would be too long. So I will give you a ship that I will sail to my dying day, regardless of them being a couple or not. Draco and Hermione. Others may not think it, but they would have made a bloody great team!

Amanda: Maggie/Griffin or Blue/Gansey
You cannot make me choose. I refuse. They are so beautiful. Everyone. Everything. Asdfghjkl.


Teardrops on my Guitar
A book that made you shed tears.
Stacie: Harry Potter and the Deathly Hallows
I am what you could call an emotional person. I cry at the littlest things and I'm not ashamed of it. However out of all the books that have made me cry, none have come close the the snot bubbles produced while reading Harry Potter #7 (every time by the way!) My feelings for this book have never been matched in nearly 10 years and I don't think they ever will. The most heartbreaking of them all.
Rating: 5 Stars
Shake It Off
A book you love, but other's hate.

Stacie: Between the Lines by Jodi Picoult and Samantha van Leer
Thankfully I have great taste so most of the books rave about others are on the same wave length, when it comes to Between the Lines though that's not the case. A lot of people have problems with the book and that's ok, I understand everyone can't like the same thing. I'm just a massive fan of Jodi Picoult and though I myself had doubts about the book, I found it a really enjoyable read and I really felt something for the characters. Plus the world building is pretty immense and unique :)

Amanda: Riot by Sarah Mussi
I don't even have to think about this choice, because it's clear as day. I gave this book 4 stars, I thought the premise, the execution, the action, the realism throughout, the depths at which this future dystopian society were willing to go to in order to 'fix' the economy and the baby boom from young generations, I just thought the entire novel was really quite brilliant. Goodreads 3.26 average rating says others didn't feel the same way as I.. Meh, I'm excited for Mussi's next novel Bomb, as long as I liked a book, that's good enough for me.


Stay, Stay, Stay
A book you didn't want to end.

Stacie: all of them!
Haha no seriously, any book thats a standalone and got a rating of 4+ for me I would have happily just have kept reading. If I'm enjoying a book I try to read it as slow as possible to really take everything in and make it last longer, but then before I know it I'm still reading it 2 hours later and I'm close to the end. So that ladies and gentleman is why I said all :P

Amanda: Never Never by Colleen Hoover
Once again, there are a number of options that I could have picked from, but Never Never's ending was just - I think the word is unacceptable. In no way was that ending okay. How did the publishers let that slip through their fingers. Endings like that should not exist. They should be banished. They should never be used. Ever. Never never.


All Too Well
A series you didn't want to end.
Stacie: Harry Potter
So as well as everything I have managed to let slip about myself in the tag, there is one more thing you should know about me. I get addicted and obsessed with things easily. But there really is no other answer worthy for me. This series has managed to teach me so much about myself and open up a new door to me. I owe it a lot and I like many others were heartbroken when it ended but it would have got silly if it carried on. I will forever wear my love of Harry Potter proudly on my sleeve (
or you know.. my forearm where my tattoo is
). I'm not ashamed to still be a Potterhead at 25 an I can't wait to try Caitlyn out on them when she's older. (I did want her to go as Hermione for World Book Day at school but she didn't want to..)