Welcome to Beautiful Bookish Butterflies Weekly Recap. Once a week, Stacie and Amanda take the time to talk about the weeks goings on, both on the blog and in our lives elsewhere, any new books we may have received and want to mention and what's interested is within the blogging community. Stacie and Amanda link up this recap with Caffeinated Book Reviewers Sunday Post and occasionally Tynga Reviews' Stacking the Shelves.
Take Our Survey!
Our survey is still open, and we'd still really like your input and would love to know what you think of Beautiful Bookish Butterflies. It'll only take a few minutes with really simple, easy questions, and you'll be helping us, a lot. For our
Blog Survey
post, follow that link, or to for a
direct link to the survey, click here
.
News Concerning Month of Series..
Due to a lack of participants, we've come to the decisions to not host a huge event for Month of Series which saddens us and is a little disappointing, but due to other commitments and changes in circumstances, we both don't think we can honestly handle the extra commitment, so, anyone who is still interested in posting series related discussions or posts, feel free to link them Amanda on Twitter @BookBadger_ and she'll still promote them as she would have anyway, and there will still be the opportunity for a giveaway near the end of the month via a game. If you still want to personally challenge yourself, then please, do feel free, we're just sorry we cannot help encourage you all. Thank you again.
What You May Have Missed:
-
Book Review: The Naturals by Jennifer Lynn Barnes
-
Top Ten Tuesday: Books on our Spring 2015 TBR
-
Booking Musings: Lovereading(4kids): UK Review Opportunities
-
Book Review: The Assassins Blade by Sarah J. Maas
-
Who Wore It Better: The Well of Ascension
-
Film Review: Mockingjay: Part 1 (the Hunger Games)
-
Book Review: Flirty Dancing by Jenny McLachlan
Our Lives This Week:
Stacie:
So this week Caitlyn had chickenpox and was off school since Tuesday. I love her dearly, but because she hasn't been sick with it and her normal self, she's be bored at home and hasn't sat still, nothing I suggested or tried to do with her worked, she just didn't want to do anything. I really feel like I need a complete day to myself just to relax, I feel really tightly wound at the moment and that's horrible to say but it's how I feel. Caitlyn has so much energy, like more than the average kid, and she's on the go from the minuet she wakes up till the second she goes to sleep, so not being able to take her out and having her say no to every suggestion was a bit stressful. Glenn's on earlies next week, 6am till 2pm so I might ask him to pick her and I'll go to my mums for the day.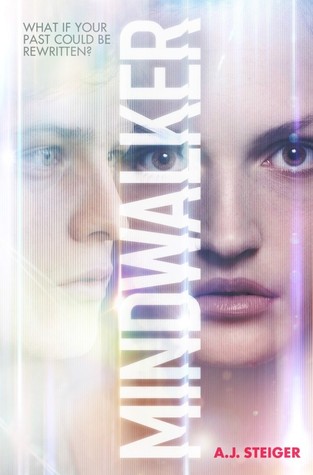 This week I received two physical ARCs, Mindwalker and The Last Summer of Us. I've already read The Last Summer of Us and I thought it was a really nice read, it didn't blow me away but as far as perfectly flowing contemporary goes it was bang on. I'm currently reading Mindwalker and its got this wonderfully unique summary, I'm only about 80 pages in but I have a really good feeling about it. As far as reading this week I actually managed to get through 4 books, all review copies so I'm feeling like I've got my flow back finally haha. I also received Simon vs the Homo Sapiens Agenda which sounds rather fun and I will be receiving a copy of The Three sometime soon which sounds like a super duper spooky read (
I got an email yesterday saying I won a copy of Day Four from Goodreads so I can marathon the two
). Very good week for books I would say :D
Amanda:
Er.. things got a little hectic, shocking and surprising this week when we're talking personal. I had a few off days - actually, I've been having a few off weeks, but someone encouraged me to go back to the doctors and see if there was anything that could be done, so, that's happening soon, and it feels like admitting to being weak sometimes, that I have to go back, but it also feels like admitting that somethings gone not right again and that I want to undo that not right-ness. Alongside that, my Nanna went back into hospital Tuesday into Wednesday and while it was nothing seriously serious this time, she's definitely not a spring chicken anymore, and for as long as she refuses to confront that, the more worrying she'll have us all doing, but for now, she's doing okay. Bringing up the rear with some positive news though, do any of you remember aaaaaaaall the way back in May of last year (the last time Nanna was in hospital) and I started making an effort to change my eating and lose some weight? Well, drum roll please.. I've lost a total of 56 pounds since 26th May 2014, that's 4 stone! I'm aware it's not the biggest weight loss in history, but, that feels like a lot to me, and I've lost 4 (3½ really, damn awkward sizes) sizes in my jeans, and almost 3 sizes in my tops. It's definitely made my mood a little lighter and made me realise that even when things are looking doom and gloom, I've made progress in something.
Just some of what's been happening on Instagram.
Book wise, you've probably notice that lately, I haven't been reading quite as much as I would usually (see my iffy few weeks as mentioned above), and it definitely bled through into the beginning of this week, however, I gave myself a kick up the ass and decided I needed to sort myself out and read
Red Queen
, which was actually pretty good which surprised me,
Killer Instinct
, which was just as good as it's prequel, some of
The Last Summer of Us
which is a buddy read with Stacie and *whispers* I started
A Court of Thorns and Roses
which so far, is.. good? It's not been my biggest reading week, nor month, but I'm seriously trying my best to get back into it. I've also received a few really interesting sounding books lately such as The Accident Season by Moira Fowley-Doyle, Everything, Everything by Nicola Yoon, Me Being Me is Exactly As Insane as You Being You by Todd Hasak-Lowy and Conversion by Katherine Lowe, but there are many other books I've gotten copies of and hope to read soon, so wish me luck!
What We Liked This Week:
- Nitzan asked:
are mediocre books worse than bad books?
- Brittany paired
young adult books with friends
- Asti asked:
where my ugly in young adult at?
- Kelley
explored Tarot in the Empath
- Nova talked about
one star reviews
- Amanda talked about
the joy of binge reading series
Tell Us What's Been Happening in Your Week!