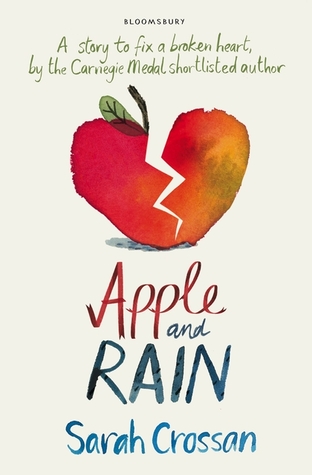 Apple and Rain
Author: Sarah Crossan
Standalone
Genres: Contemporary | Young Adult
Release Date:
12th February 2015
Publishers: Bloomsbury Childrens
No. Pages: 330
Source: Review Copy - Bloomsbury Childrens
Rating:
When Apple's mother returns after eleven years away, Apple feels whole again. But just like the stormy Christmas Eve when she left, her mother's homecoming is bittersweet. It's only when Apple meets someone more lost than she is that she begins to see things as they really are.

A story about sad endings.
A story about happy beginnings.
A story to make you realise who is special.
When Apple and Rain came out last year everyone and their next door neighbour seemed to be talking about it. Obviously straight away I added it to my TBR list, not just because of the hype it seemed to be getting but because I really enjoyed the first in Sarah Crossan's Breathe series. When I first heard the title, saw the cover and read the summary I was under the mix conception that this was going to be a love story. I'm not exactly sure what made me jump to those conclusion, but I wasn't the only one to think it or surprised to be proven wrong. The first thing you should know is that this book isn't about a teenager who is experiencing love for the first time, this isn't about lovey dovey walks in the park and stolen kisses. This book is about the love that comes with family, that undying love that forces your hand at forgiveness no matter what.
Apple has lived with her nan ever since her mother ran away to American elven years ago to be an actress. Apple has never, not once, thought that her mum wouldn't return despite how many years pass by. She's hopeful and when her mum returns out of the blue Apple feels like she's got everything she ever wanted, her mum is fun and free where her nan is strict and follows the rules, her mum is more like a friend which she needs more than ever when her bestie has got tired of being held back. For a while things seem to be going smoothly, Apple is happy and very optimistic about life with mum, but things slowly go down hill and cracks start to appear everywhere. Her mum introduces her to someone who is possible more lost and in need of guidance than herself, she's never around and when she is she's relies on Apple to be the adult given her far more responsibility than she can handle at such a young age. But god damn does she step up.
Though all the characters were well written and perfectly developed, none in the book compare to Apple. She is just a girl who is begging for attention from her parents, her mum doesn't ever seem to have time for her and her dad is preparing for his new baby. The one person who has stuck by her tries her best but Apple is growing up and things that applied to her grandmothers generation doesn't to hers and they seem to butt heads all the time. Apple's life crumbles around her, she's lying to the school or turning up to school slightly hungover, forgetting about the important people and dealing with the other person in her mothers life. It is beyond impossible to feel anything by empathy towards her as she never seems to get a break, it's just one thing after another but through out it all she still has so much heart. She's funny, she's selfless despite no one ever putting her first and she's honest. All she wants is to have what everyone else does, all she wants is to be normal.
Yes this book is about a tough subject and centres round a girl who is going through a really hard time, but I wouldn't say that it's a sad or depressive book. There happens to be a lot in the story to make it up beat, with characters that add a light hearted feel to the book. I didn't know what to expect when I started Apple and Rain, but it was just as beautifully written as I could have hoped.