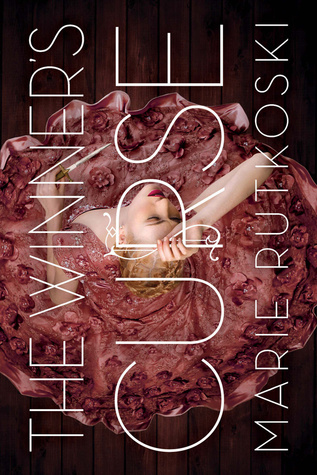 The Winner's Curse
Author: Marie Rutkoski
Series: The Winner's Trilogy #1
Genres: Fantasy | Young Adult
Release Date: 4th March 2014
Publishers: Bloomsbury
No. Pages: 368
Source: Gifted
Rating:
Winning what you want may cost you everything you love..

As a general's daughter in a vast empire that revels in war and enslaves those it conquers, seventeen-year-old Kestrel has two choices: she can join the military or get married. But Kestrel has other intentions.

One day, she is startled to find a kindred spirit in a young slave up for auction. Arin's eyes seem to defy everything and everyone. Following her instinct, Kestrel buys him - with unexpected consequences. It's not long before she has to hide her growing love for Arin.

But he, too, has a secret, and Kestrel quickly learns that the price she paid for a fellow human is much higher than she ever could have imagined.
I believe The Winner's Curse has suffered from it's own form of Winner's Curse. Over the last year, I've seen the love for this book rise and rise and reach astronomical heights within the world of young adult and man, it sounds and looks like it could very well be an epic book, and a fantastic new start to a series, but I think it's fans have put too much worth on it, and now, when people like myself, the wary and slightly unsure readers come along, it seems as though this books worth has been too highly rated and doesn't quite claim to be what it is. I can't say I'm surprised that I didn't love this book, but I am saddened by
how much
I didn't love it.
I'd say one thing for certain about The Winner's Curse - it's definitely a fantasy for people looking for a lot less fantasy than I was looking for. My expectations were, as to be expected, through the roof, I had envisioned this amazing, thorough world that just came to life in my mind, every scene, every moment, every interaction, I expected it to be and feel insanely real, I had imagined just how rich and encapsulating this world could be, with it's different ruling, with it's slave trade, it's different levels of governing body, I was expecting something fabulous and amazing, and I was handed a basement level romance. I feel cheated out of a a really good fantasy series that hit upon the use of slaves in these fantasy world, in how easily a conquering collective can be overruled, of just how restricting being with the person you fall in love with can be, and the choices you have to make for yourself, and your people, and when that wasn't bad enough, I felt cheated out of the characters too.
I felt very little for Arin throughout The Winner's Curse and I felt very little for anyone else during the entirety of the novel, other than Kestrel, who took a lot of time to grow on me, and her Father and his protective ways. Their relationship was one I could invest in and understand, he was protective of her and was proud of her, no matter what she did with her life and the decisions she made, making remarks on a rare, but loving basis, but he respected the laws and rulings and you can't fault her Father for that, but Kestrel was the redeeming feature of this novel. She was definitely the type of leading lady I like to read about; she had strength and courage but not on the battlefield, in wits, she was sure of herself and confident enough to believe in what she stood for, she saw the good in people and was loyal to those she cared and loved for, and she was always a secretive, sly and cunning little devil and I loved her for it. I love a character you cannot always completely trust, a character with so many levels, so many faces and so much depth, that you never know which version you may encounter. If there was a single thing I could say I loved about this novel, it would be Kestrel and her character development and arc, as well as her wonderful friendship with Jess, which really was a treat.
I was always wary of The Winner's Curse, although even I, through my not so fabulous experience of reading it, can confirm that it is a really well written book, always felt that if there came a time when I loved it, it would be one the biggest unexpected moments of my reading life - I'm not a historical girl, I'm not a reader who enjoys hugely political plot lines woven between a romance I can't get behind, that lacked any real, two sided substance for me personally. I appear to be one of the few less impressed readers, and I'm honest when I say that I am really disappointed by how let down by The Winner's Curse I felt, but this was not the book for me, and I can bet your nelly The Winner's Crime would have be amazing to improve my feelings towards this series, but I would tell you not to avoid this book. There's a pretty high chance you will enjoy this novel more than, so don't dismiss it based on my feelings entirely.