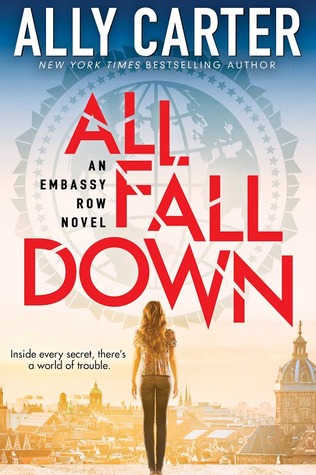 All Fall Down
Author: Ally Carter
Series: Embassy Row #1
Genres: Contemporary, Mystery | Young Adult
Release Date: 5th Febuary 2015
Publishers: Orchard Books
No. Pages: 320
Source: Review Copy - Orchard Books
Rating:
Grace Blakely is absolutely certain of three things:

1. She is not crazy.
2. Her mother was murdered.
3. Someday she is going to find the killer and make him pay.

As certain as Grace is about these facts, nobody else believes her - so there's no one she can completely trust. Not her grandfather, a powerful ambassador. Not her new friends, who all live on Embassy Row. Not Alexei, the Russian boy next door who is keeping an eye on Grace for reasons she neither likes nor understands.

Everybody wants Grace to put on a pretty dress and a pretty smile, blocking out all her unpretty thoughts. But they can't control Grace - no more than Grace can control what she knows or what she needs to do.

Her past has come back to hunt her.. and if she doesn't stop it, Grace isn't the only one who will get hurt. Because on Embassy Row, the countries of the world all stand like dominoes, and one wrong move can make them all fall down.
Lets get some facts out there first. I've read all of Ally Carters work, from Gallagher Girls, to Heist Society, to her participation in My True Love Gave To Me, and on the whole, I absolutely love her, her characters, he storylines, her worlds and her writing, so my expectations for All Fall Down were through the roof. I'm not kidding. I got my review copy, I dropped everything, and I started, read and finished it within a 3 hour sitting. But did Carter exceed my expectations or did she droop were Uncommon Criminals found itself deflating? Carter blew my mind.
I think there's a lot of features and areas of this novel that need focus, but first, I want to focus on the most interesting part of All Fall Down, the mystery element. It's definitely not on the same level as Dangerous Girls or Boys, no, All Fall Down is, in some cases, a little lighter feeling but with the same dreeded feeling within the words, and it's not on a heart-breaking, distressing level that We Were Liars was on, it's similar in shock and emotion, but there's something that Carter crafts within her mystery novels and keep me coming back - whether it be the short length of her stories encouraging the feel of constant moment, of action, of an addictive nature, or her writing, simple, refreshing, consistent, never twiddling with unimportant information, but enough for substance, or that inner darkness that is within her mystery novels, there's definitely a
something
that ticks my boxes, and I absolutely loved that something here. All Fall Down carried on with it's darkness and depth that Gallagher Girls flirted with and Heist Society skimmed, but took it deeper, moved within a political system and mixed power and emotions and created something intriguing and enthralling. In case you hadn't quite noticed, I absolutely loved the mystery element in All Fall Down, it kept me on my toes, had me questioning everyone and everything and I seriously cannot wait to see where Carter takes this feature in it's next installment..
Yet the mystery wasn't the only feature I loved about this novel, and in fact, all of Carters novels, I also without a doubt adored her characters. Carter has this talent, this way of creating characters who are always relatable, but have this wall up, which stops the reader being too invested, but at the same time, wanting to be let into the characters world, and it's beautiful. Grace was definitely Carter's most internally and mentally damaged character, completely flawed yet always connected to me - her snark was so utterly fabulous and her sarcasm and humour was definitely one of a kind and I loved that within all her heartbreak and pain, she hid it all behind her humour, much like people with depression or other mentally conditions do, so it was a fresh feature to see, developed and delved into, finally, honestly, by an author, and I'm pleased it was one of my favourites. But Grace wasn't the only show stopper in this novel, All Fall Down had a wonderful collection of secondary characters, all reminding me of Gallagher Girls in their personality and talents, but they felt completely and utterly new and it was a breath of uniqueness that brought this story alive. Keeping in with Carter's previous work, her addition of Megan, daughter of a spy, was a wonderful nod to her Gallagher Girls series, while Rosie was definitely the brains of the novel and brought this book into a different level completely, but there's one person who deserves all the awards, all the awards for diversity, for personality and development, for humour and adoration, for being completely himself and never wavering from his beliefs, never afraid of showing emotion and being forthcoming with his fears, there's no way I wasn't going to fall in love. I'll take Zach and I'll forever be swooned by Hale, but I am more than hook, line and sinker for Noah. He was
the
perfect male secondary lead, passionate, honest, a beautiful friend and, if I spy with my shippers eyes, a very very good love interest. Grace girl, if you break his heart, I will kill you.
All Fall Down had the best blend of mystery and political battles too - it wasn't too deep in the politics, it was much lighter in that feature than I'd expected, but the level of secrecy, the interesting parts of inner workings at such a high level and seeing just how much this story kept hidden until the big reveal when, so much more than you had expected become noticable throughout. Little tricks and clues that Carter had left around the novel, little breadcrumbs here and there were utterly fantastic, and if that actual story itself hadn't already been utter perfection, that ending tempts me into selling my soul for the sequel. Carter creates
the
best teen mysteries, she creates some of the most amazing secondary males in her stories I've ever seen, and most of all, she constantly impresses, amazes and makes me fall in love with the storyline, with the intertwining features and with the characters, every single time. All Fall Down isn't the most advanced or mature of mystery novels, but make no mistake, if you thought Gallagher Girls and Heist Society were something, then this is something else.