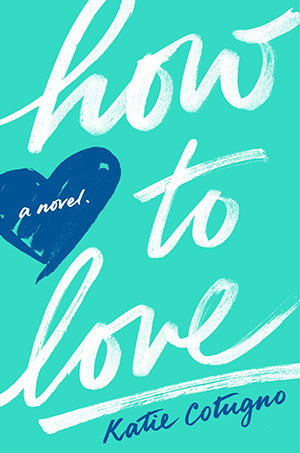 How to Love
Author: Katie Cotugno
Standalone
Genres: Contemporary | Young Adult
Release Date: 1st October 2013
Publishers: Balzer + Bray
No. Pages: 389
Source: Borrowed
Rating:
Before:
Reena Montero has loved Sawyer LeGrande for as long as she can remember: as natural as breathing, as endless as time. But he's never seemed to notice that Reena even exists until one day, impossibly, he does. Reena and Sawyer fall in messy, complicated love. But then Sawyer disappears from their humid Florida town without a word, leaving a devastated - and pregnant - Reena behind.

After:
Almost three years have passed, and there's a new love in Reena's life: her daughter, Hannah. Reena's gotten used to being without Sawyer, and she's finally getting the hang of this strange, unexpected life. But just as swiftly and suddenly as he disappeared, Sawyer turns up again. Reena doesn't want anything to do with him, though she'd be lying if she said Sawyer's being back wasn't stirring something in her. After everything that's happened, can Reena really let herself love Sawyer LeGrande again?
I'm going to start this review of by being completely honest, when I went to the library and I picked up
How To Love
I thought it was a completely different book, one that I had been wanting to read for a while. I'm not sure if I saw it around and just didn't make a note of it on goodreads but either way I didn't have my phone with me to have a look so it wasn't until I got home did I realise it wasn't even officially on my radar. I contemplated taking it back because with the review copies I've been getting I only have time to read other books that I really want to (… I'm in a rhythm with my reading and I don't want to spoil that). Anyway after I read the summary I thought it sounded something like a half decent book, and though it was never on my radar before I was so glad I decided to read it because I was left with so many feels through out reading this book. Such a hidden gem and a perfect way to end a good month of reading.
The first thing I will say about this book is how relatable I myself found it. I had Caitlyn at 20, and though my other half didn't leave me and has always and will always be a very big part of her life, there were still things that I wish I got to do before I had kids. I know how hard it is to feel like even though the unexpected bundle of joy is the best thing to ever happen to you, you've sacrificed a lot because of how young you are and how it is to have people stereotype you before they know you. Its hard and I know that she's only a fictional character but she bloody handled it so well.
One of my favourite things about the book is how the story is told in alternating time lines. We have before, when Reena and Sawyer fell in love despite everyone's better judgements and after, that shows Sawyer returning home after two years to find out that he's a dad and Reena learning to deal with him in her life again. I absolutely loved watching the characters grow as the chapters change from before to after, we get to see Reena transform from this highly intelligent but shy girl who dreams about travelling and writing, to an 18 year old hardened and closed of young women who has got her head screwed on right and is confident but still vulnerable all at the same time. With Sawyer we see him go from a trainwreck pulling down anyone close to him, to someone who has tried really hard to change the screw up he once was and just wants to be apart of Reena and his daughters life.
"The hideous thing is this: I want to forgive him. Even after everything, I do. A baby before my 17th birthday and a future as lonely as the surface of the moon and still the sight of him feels like a homecoming, like a song I used to know but somehow forgot."
Their love was dysfunctional, there really isn't any denying that they didn't seem to work together and maybe that was down to Reena trying to change Sawyer or the fact that they were both dealing with their own demons, but god damn if they didn't bring out the best in each other too. They shouldn't have been together when they were younger, because too much was happening to stack the odds against them, but after they had matured their friendship/relationship was completely different and I don't think that's because of Hannah, it's because they have always loved each other, regardless of the other being aware of it or not and in the end they are meant for each other. They have made a lot of mistakes along the way, and hurt a few people in the process but there really wasn't anyone else for them.
Overall I thought everything about this book was perfect, the characters weren't just well developed but they had so so much depth. Reena and Sawyer's journey was emotional but so real. I really wish I could read more books like this (please tell me if there are any!!!). Teen pregnancy is something that I haven't seen a lot in young adult books, it's something that shouldn't be done for the fun of it because you run the risk of doing it wrong, but it is without a doubt something I think should be explored a lot more in fiction aimed for younger people.
How To Love
is Katie Cotugno first novel, her next book
99 Days
is due out in April and you well believe it was added straight to me TBR shelf after I finished this wonderful book.