Top Ten Tuesday is a feature hosted at the Broke and the Bookish, and involves lists - perfect for people who enjoy making, planning and reading bookish lists. Every week there's a new prompt, and once in a while, Stacie and Amanda particpate and give their own input on the subject at question. Todays topic is the first free topic of the year, meaning Stacie and Amanda get to choose their own, and they've chosen 'Books We'd Like To Finally Read'. They both slacked a little - well - a lot on the books they acquired last year and didn't read, so hopefully this will give them a good old kick in order to rectify that. Lets takes a look at the books we didn't get around to reading..
Stacie
The Fellowship of the Ring: This book.. God damn I can't believe it's still on my list. I have loved the films for years and years, fantasy is my all time favourite genre of anything, SO WHY HAVEN'T I READ THIS!!!! I have no explanation, I really don't. I've promised my self for the past 4 years I would read the series, but I never did. Well this year I will read this book if kills me.
The Virgin Suicides: I have wanted to read this book for years, I forgot about it every time I went into the books stores or always overlooked it. It's been sitting on my shelf now for around 5/6 months and I still haven't started it. Words can not describe the happiness I felt when I finally bought it, but yet it still waits for me.
Bitten: Though I don't own it (yet) this book is one that's been on my TBR list the longest, say around 7 years haha. I don't know why I haven't picked it up, I have no doubt in my mind that I would like it as I happen to think Kelley Armstrong is a relatively good writer, but alas it just never seems to happen.
The Knife of Never Letting Go: When it comes to this book I'm lost for words. I own the 2nd and 3rd in the series but can't bring myself to buy this book yet, why? because for years and years I have built Patrick Ness up to be the go to author for the weird and wonderful, everyone loves him and talks about how great his is and I'm terrified that after wanting to read him for so long (because I've never read anything by him) that I wont like it. So I put it off and off until another year has gone by. It's not on really.
City of Heavenly Fire: The reason this book is still sitting on my shelf is because I want to reread the other books first. This would mean that because they aren't small books I would be reading around 3,163 pages in total and I really don't think I could be bothered, but, because I wasn't a fan of the series past number 3, I really do want to read it all in one to see if my feelings change, I just lack any motivation.
Amanda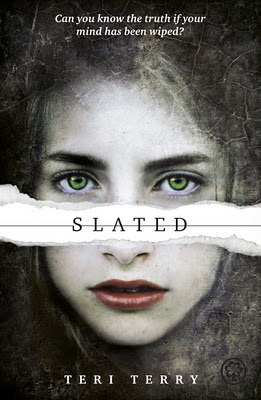 Slated: I don't even know why I haven't read this yet. It sounds so instantly fantastic and it's a dystopian which I just don't read enough of, so surely I'm going in blind, right? I've heard very little on the series, but there's something that draws me in. I will read this, most definitely.. eventually.
Poison Study: I mentioned in our End of Year Survey that I meant to read Maria V. Snyder's work and I epically failed, but Poison Study has been sitting on my shelf for well over a year now and there's no real reason as to why I haven't read it yet, I've heard so many good things about the series, so I'm being foolish..
Breathe: I actually meant to read this - oh what am I saying, of course I meant to read it, like the previous thwo, but I'm definitely slacking. This one also sounds really good, really intriguing and sounds similar the Under the Never Sky. Surely it cannot go wrong? I will read this book. I will, I will!
Torn: After having rearranged and reorganised by bookshelves recently, I checked out what Torn was about and it sounded quite a lot like Dare Me, which I recently reviewed and highly enjoyed, which then put this book firmly on my awaiting-to-read list. It sounds like it'll be a twisted novel of loyalty and friendships with some drama and some secrets and I've heard fantastic things about Clarke too.. here's hoping it's good eh?
The Accidental Life of Jessie Jefferson: This is another book I'd really kind of forgotten about until I rearranged my bookshelves and it just sounds like a really chilled out contemporary read. Some family drama, some film star crushes and some character growth sounds exactly what this book could be about and we all need a simple read don't we? I'm pretty sure I'll get to this this year. Hopefully..
What are some of the books you'd like to finally get around to reading? Are we being silly avoiding these books on our lists? What was your topic for TTT. Link us up, we'd love to know.