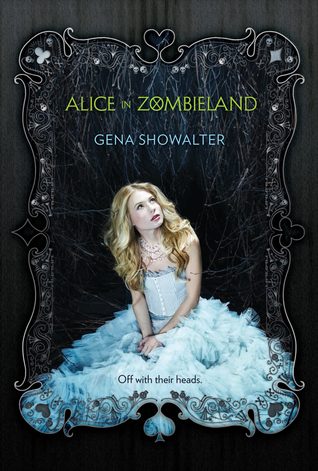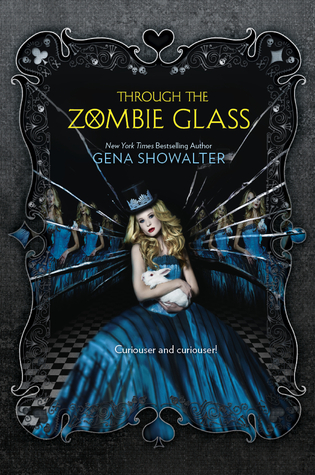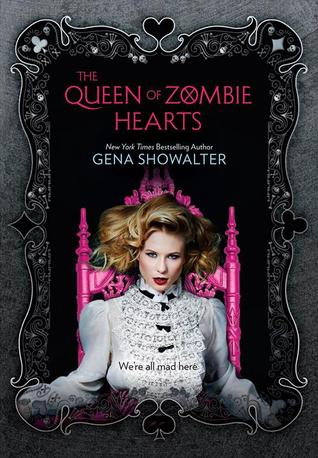 The following is a full series review of White Rabbit Chronicles by Gena Showwalter.
Each installment is reviewed individually and given a rating reflecting my thoughts on only that installment.
The collection may later contain spoilers concerning events in previous installments. Proceed with caution.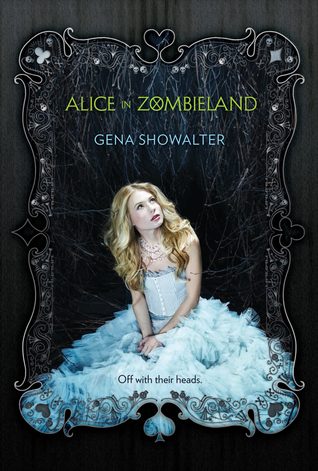 Alice in Zombieland
Author: Gena Showalter
Series: White Rabbit Chronicles #1
Genres: Paranormal, Horror | Young Adult
Release Date: 25th September 2012
Publishers: Harlequin Teen
No. Pages: 404
Source: Gifted
Rating:
Buy From:
Amazon
|
Book Depository
|
Barnes and Noble
|
Waterstones
Had anyone told Alice Bell that her entire life would change course between one heartbeat and the next, she would have laughed. From blissful to tragic, innocent to ruined? Please. But that's all it took. One heartbeat. A blink, a breath, a second, and everything she knew and loved was gone.

Her father was right. The monsters are real..

To avenge her family, Ali must learn to fight the undead. To survive, she must learn to trust the baddest of the bad boys, Cole Holland. But Cole has secrets of his own, and if Ali isn't careful, those secrets might just prove to be more dangerous than the zombies..
I think one of the most important things to consider with Alice in Zombieland is that I don't usually do zombies. There's something.. off-putting about them, the belief that with a few wrong turns in science, they could really exist - maybe not in the brain eating form, but exist none the less, the idea of them being human without their humanity is a frightening concept and is frankly, what makes me avoid zombie books, yet something about this particular series had me intrigued and while I still can't quite put my finger on it what it was, I can say that, on the whole, it's a book I would have been disappointed not to have tried.
Lets get one thing straight here though -
this is not an Alice in Wonderland retelling
. I may be less experienced in this field having only read the original,
which I disliked quite a lot
, and Splintered,
which was good, but not amazing
, but this is
not
a retelling. In fact, I can confidently say that there is very little in Alice in Zombieland that relates at all to the original, other than Alice - 'Ali's name, and a reoccurring white rabbit. If you were to ask me to describe this novel as bluntly as possible, it'd be something along the lines 'paranormal zombie ghosts eating peoples souls while one special girl not only loses her whole family and gets involved in A LOT of school drama, but gets the bad guy and turns him good, also happens to be insanely talented at what people train months and years for
and
happens to be one in two utterly amazing human beings.' It's got quite a few tropes you've probably seen, heard and read before and yes, I can't deny that these tropes were extremely frustrating - bad guy gone good, is willing to piss it all up a tree for the 'special blonde girl' - yeah, it's hard to be impressed by the same ol' story,
however
, there were features to this novel that did actually light up this novel, when you see the light anyway..
I am a sucker for friendships. I am. They can be the most beautiful and wonderful features in a novel, and it definitely was in this case. Seeing Ali and Kat interact and become as good a' friends as they became was really quite lovely to read about, their snark, their comments, their support, their girly advice, Kat is definitely the friend that's got your back and is not afraid to kick you into touch, and I like those friends, those friends are those who've got a backbone, and seeing how they each strengthened one another to become more confident with themselves, to find someone to be themselves for and around, it was really quite wonderful, as well as the friendships and loyalty between Cole and the other slayers, their dedication to one another and the cause was great to see, how they worked well as a team and created that support network through tough times was a nice light in comparison to a lot of shade in Alice in Zombieland, and it did help the novel along. I also liked the sense that, although the novel felt predictable in it's writing, possibly based one how long ago it was written and the popular 'themes' used at the time, there was an underlining story underneath about finding strength in your beliefs and passion in what you want to believe in. Granted, this novel does have faith and religion, and while you can feel it's feature in the novel, it doesn't overshadow the idea of finding something to fight for, and people to do it with, it really focused on how you can become someone or something better with time and dedication, it's a nice theme and a nice thought, and it really helped Ali's character development on the whole throughout the novel. I can't deny that she wasn't easily swayed by Cole and that their 'romance' wasn't frustrating, because it was, it was very demanding and ruling on his part, as well as Ali frequently throwing herself into battle and almost dying
every time
but on the whole, she wasn't a bad heroine, and if there were a lot of teen girls reading Alice in Zombieland, I can't say that she'd bad a terrible role model. I guess if you see something you like - in Ali's case, Cole - you should go and get it.
Alice in Zombieland wasn't as good as I'd hoped it would have been, yet through it's negatives which I really don't fancy going too deep into, I did find myself wanting to continue once we'd gotten past the first third stage. It's plot felt familiar, but it's premise was a refreshing change, ghost-like zombies, I can firmly confess to never seeing that anywhere else, it's a great idea that really takes it's place in the niche of the paranormal market. Was it a brilliant read? No. A good retelling? Nothing like it. But an enjoyable read with tasteful, well written action scenes, a beautiful sister relationship with friendships galore and a great, interesting premise. I think so. Just, don't go into this book wanting Alice in Wonderland, if so, you're looking down the wrong rabbit hole.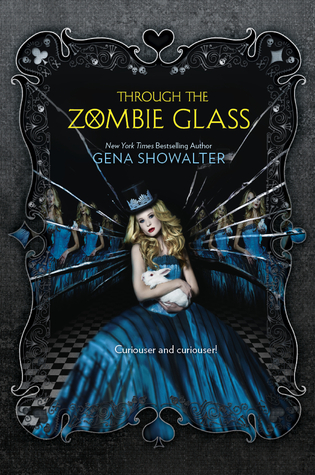 Through the Zombie Glass
Author: Gena Showalter
Series: White Rabbit Chronicles #2
Genres: Paranormal, Horror | Young Adult
Release Date: 24th September 2013
Publishers: Harlequin Teen
No. Pages: 400
Source: Gifted
Rating:
Buy From:
Amazon
|
Book Depository
|
Barnes and Noble
|
Waterstones
Zombies stalk the night. Forget blood and brains.
They hunger for human souls. Sadly, they've got mine..
Alice Bell has lost so much. Family. Friends. A home.
She thought she had nothing else to give. She was wrong.

After a new zombie attack, strange things begin to happen to her. Mirrors come to life, and the whispers of the dead assault her ears. But the worst? A terrible darkness blooms inside her, urging her to do very wicked things.

She's never needed her team of zombie slayers more, but ultra bad-boy Cole Holland, the leader and her boyfriend, suddenly withdraws from her.. from everyone. Now, with her best friend Kat at her side, Ali must kill the zombies, uncover Cole's secret and learn to fight the darkness.

But the clock is ticking.. and if she fails at a single task, they're all doomed.
The following review may contain spoilers concerning earlier books in the series.
If you have not read the previous installments, please proceed with caution.
I think it's fair to say at this point that while I may have warmed to the idea of zombies if only a little, White Rabbit Chronicles is not a winning formulae for me, nor a series I think I will ever love, which is a shame really, because there's so much to this series that could make it
so good
, but it's washed out with too many negatives that make it damn near difficult to enjoy. If only there were a kill me now option..
I'll start by talking about how I absolutely, without a doubt, adore the relationships in this novel -
bare in mind I said relationships, not romance
- they're just so wonderful to experience. Ali and Kat's friendship is just the perfect feature within this novel and I don't think I'll ever dislike this about these novels; the friendship is strong, feisty, honest and definitely is a winning formula. Both characters started out very differently in the first novel, both with weakness and damages, yet both reacting differently, one with humour and passion, another with a negative attitude and to see them come together and find a balance between the two, to see Ali grow more positively within herself, both with the help of Kat and with her own strength, and see Kat develop into a more honest and forward character, more emotionally attached and unafraid to show feelings, it's really quite wonderful.
In fact, I think the whole development of the characters, especially the female characters is just wonderful. I love how Showalter takes time to create such diverse characters from different backgrounds, each with pain in their pasts and finding happiness in their futures, in fact, it's refreshing to see women being so independent in this novel, even if it does feel overshadowed by the cat fights, the drama, pretty feuds and overbearing men, but I'll get to that later. The depth Showalter gives to her characters is impressive and I highly enjoy it.
I do however especially enjoy the action scenes Showalter puts into this series though, even though there isn't nearly enough of them to reflect the length of these novels, and I really really enjoyed the addition of a more personal zombie. I think the addition added to the storys inner message of fighting inner zombies, fighting the darker side of you and embracing the lighter parts in life, the people you love and will fight for. I think the touches of darkness and the creepy aspects within it were really quite brilliant and there's nothing I love more than being creeped out, and when Showalter dedicated the scenes to it, the action and the tension and the world all came together brilliantly, it's just a shame so much time is spent on a romance I care nothing for and drama that could honestly, be gotten rid of.
I can take my fair share of drama and that's okay, every relationship goes through rough patches, but lets take the relationships and dissect them a little bit. Most, if not all of the men in this series lie to their female partners, they check up on them obsessively and they constantly refuse to be rejected, some even basking in their, as is worded in Through the Zombie Glass, he-slut-ness. The women are easily swooned and swayed, changing plans, denying family moments, even turning themselves from respectable women in public to almost having sex outside,
I wish I was joking..
The romances are, just not enough for me, although I am more tempted to feel things towards Kat and Frosty, who I think have the most realistic of relationships with each other, of weaknesses and honesty and not being afraid when things get tough, I feel them more than I do Ali and Cole. You do not need to tattoo yourself to make a 'grand gesture', just stop being a lying, snarling, overbearing, jealous raging, obsessive douche bag and you'll be just fine.
I get sad thinking about this series, because Thought the Zombie Glass, like Alice in Zombieland, had such a great premise and so many good opportunities to be a good read, but it just wasn't there enough. The novel was way too long for the content inside and focused too much on romance or drama and school life and not enough about the zombies, about the hunting and battle between slayers and Anima, the mystery element of the book was pegged early on, there wasn't - there wasn't enough action or passion in the scenes and with less action and attention being paid to surroundings, the world started the flatten out too. I admit, if I didn't have a copy of The Queen of Zombie Hearts, I might not bother with the finale, but I'm now two thirds of the way in, I feel like I should see my way through to the end. Who knows, it might just improve.. Can it get any worse?
The Queen of Zombie Hearts
Author: Gena Showalter
Series: White Rabbit Chronicles #3
Genres: Paranormal, Horror | Young Adult
Release Date: 30th September 2014
Publishers: Harlequin Teen
No. Pages: 460
Source: Review Copy - Harlequin Teen
Rating:
Buy From:
Amazon
|
Book Depository
|
Barnes and Noble
|
Waterstones
I have a plan.
We'll either destroy them for good, or they'll destroy us.
Either way, only one of us is walking away.

Alice 'Ali' Bell thinks the worst is behind her. She's ready to take the next step with boyfriend Cole Holland, the leader of the zombie slayers.. until Anima Industries, the agency controlling the zombies, launches a sneak attack, killing four of her friends. It's then she realizes that humans can be more dangerous than monsters.. and the worst has only begun.

As the surviving slayers prepare for war, Ali discovers she, too, can control the zombies.. and she isn't the girl she thought she was. She's connected to the woman responsible for killing - and turning-Cole's mother. How can their relationship endure? As secrets come to light and more slayers are taken or killed, Ali will fight harder than ever to bring down Anima - even sacrificing her own life for those she loves.
The following review may contain spoilers concerning earlier books in the series.
If you have not read the previous installments, please proceed with caution.
It pains me to say it, but it really could get worse. Queen of Zombie Hearts just, wasn't the ending I wanted for White Rabbit Chronicles, in fact, I can safely say this whole entire series was not what I wanted, nor expected. I had expected dark and juicy, creepy moments, with some seriously freaky zombies, with some really good Alice in Wonderland retellings and I just got nothing of the sorts. I feel disappointed. I feel let down. Yet most of all, I feel pretty empty.
It's very easy to admit that, during Queen of Zombie Hearts, I skipped an unknown amount for a number of reasons. 1) Boredom. Seriously, there's something to be said for a series that involves a premise as unique as Zombies eating the souls of people, that's some serious niche market, but it's rarely explored at all. There's no real history behind it within the series, there's no real end to it all either, you've essentially got one girl, with so many abilities I'm expecting her to just take flight and pose as Superwoman, and a bunch of blundering ghost-zombies which are very much the opposite of frightening. Queen of Zombie Hearts and, the whole of the Alice in Zombieland series has felt lagged and slow, with plot points being very much hidden within
issues
which I shall mention in a moment, or just really underdeveloped which is such a serious shame. I really am genuinely disappointed. 2) 'Romances'. I just couldn't be dealing with all the 'how many girls have you slept with?', 'do you really love me?', *has arguement* 'fine, put your hands all over her!', *snogs face off one another* 'you're my toy, you're my this and that, you're MINE' - honestly, it's the biggest turn off in a character for me, let along a romance. By all means, be a little protective, even have arguments, I expect that in a relationship, but oh my god,
do not
be drama queens over everything, don't get your knickers in a twist and god almighty just stop the men in this series being complete and utter douchebags already. Finally, 3) Utter urgh. Just - most of this book - the series even - just - urgh.
I suppose if there were to be any features that actually made the read at all worth it,
which isn't saying a lot, I'm pleased to turn my back on it
, it would be the friendships in this novel and the biggest feature of all, being the good ol' cheese fest that is love. The love between Ali and Kat - lets not even talk about Kat - was just, constantly beautiful, it was the reoccurring feature and theme within this whole series that I did love. They just had this mutual friendship that you couldn't fake, and within it's weirdness and quirkiness, it felt honest and true, and what they did for one another, everything they did, how it all ended, it's definitely the one thing - if I could pick one thing, that Showalter did right. Secondly, family love and love between the other characters. Just take a look at Ali and her Grandmothers love for one another, pure and honest love and there's nothing that could take that away. Ankh's love for Reeve was just beautiful, and lets not forget Helen's love for Ali'.. Oh, and plot twist, I quite liked it, really is a twist that, if I was enjoying the series more, I may have seen coming, but no, my annoyance and disappointment hide that plot twist from me, which was another, ever so small, redeeming feature.
Don't ask me about romances, none impressed or touched me other than Frosty and Kat's and I'm still not going to talk about Kat - I cried, that's all you need to know. Ali and Cole? I was past caring by the end, the constant arguments and jealousy and Ali wanting to rip womens throats out when [talking] Cole spoke to a female, or his instant 'violet eye-rage' when Ali had a laugh with a male, seriously, no, I wasn't swooned, I wasn't impressed and I didn't care enough to care. Gavin though, I warmed to him, he developed, like Ali developed throughout the series. I definitely cannot deny that she grew some serious balls in Queen of Zombie Hearts, I recall actually feeling ready the level of awesome I wanted from her - disappointment struck again, oops.
If it's not easy to tell, I'm pleased to have finished this series. I definitely could have left the series after Through the Zombie Glass and felt nothing about it, and I do feel as though the time I've spent reading the series could have been spent on other reads, but there's a few achievements that White Rabbit Chronicles will be appreciated for. I've found that I can take to zombies on a specific level, and with time, might even be tempted by the serious, brain and body ravaging type, but for now, ghost-spirit-eating zombies are pretty unexciting. I've found that Alice in Wonderland can be a good story when it's put up against a pretty dismal retelling, and I've come to the conclusion that if a male character is described as a 'bad boy', 'dangerous' or that the main character 'drools' over said male character, then the romance just isn't for me. Seriously, drooling is unattractive and doesn't equate to ripping each others clothes off, sorry, but the truth hurts. Alice in Zombieland? Not the series for me. Dislike overbearing moody men, slow and sluggish plots drowned from too much romance shoving and paranormal creatures that aren't scary in the slightest? Avoid like the plague. No, I'm serious, if there's even a small part of you that is thinking 'urgh', don't try.