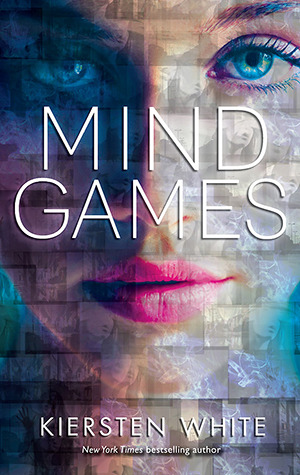 Mind Games
Author: Kiersten White
Series: Mind Games #1
Genres: Paranormal, Fantasy | Young Adult
Release Date: 3rd December 2013
Publishers: Harper Teen
No. Pages: 327
Source: Won
Rating:
Buy From: Amazon | Book Depository | Barnes and Noble | Waterstones
Fia was born with flawless instincts.
Her first impulse, her gut feeling, is always exactly right.
Her sister, Annie, is blind to the world around her -
except when her mind is gripped by strange visions of the future.

Trapped in a school that uses girls with extraordinary powers as tools for corporate espionage, Annie and Fia are forced to choose over and over between using their abilities in twisted, unthinkable way.. or risking each other's lives by refusing to obey.
The problem with hyped up books and hyped up authors is that when somebody like me comes along, somebody who hunts for hidden gems and promotes those forgotten novels drowning a sea of debuts, there's a level of expectation and features you demand to see and experience and when a book fails in this, it makes the after-feeling almost worse; you're constantly torn between wanting to share your feelings from the depths of you and keeping you review light and understandable for those who did find the book hit their spot. Mind Games, for me personally, is a book that fits that example perfectly, disappointing for me, but loved by many.
Why was this book disappointing? In a nutshell, I found the characters flat and two dimensional, they never left the page for me, I never connected or related to any of them, in many cases I found them frustrating and anger inducing, among many other not highly positive feelings. There honestly felt as though there was no plot. A third in, I was looking for where this plot might be, two thirds, I'm entirely lost and confused, - did a plot making moment speed past me and I failed to notice? - final third, was that an entire book, nothing happened. This may seem beyond cruel, but I cannot skirt around just how bare this novel was. I was told it would be 'lighting fast and fabulously fun' by Laini Taylor, but at this point in time, I genuinely believe Taylor was reading an entirely different book. Fast this book may have been, at 250 pages, it's a sure one-nighter read for me, but fun? Oh no, watching my bedroom paint dry into a darker shade of red was more entertaining than Mind Games. I even had problems with the duel past/present perspectives that were involved. A book doesn't flow and connect well together when you're jumping from character 4 years ago to the other character today, it doesn't gel, doesn't link and doesn't connect a story together which is something that was seriously missing throughout this novel.
However, there was something, something I cannot place that encouraged me to continue reading, other than my read-a-thon and that I have the sequel, something that made the writing that didn't connect or flow, feel addictive and give the sense of urgency and pace, which the entire story and plot itself was missing. Part of me thinks it may have been Sofia, but not as a main character or someone I connected to, but because she is the definition of uncontrollable and unhinged. I've found myself enjoying the experience that comes with reading about character with both no self-control or cannot controlled, characters who react rather than think, characters who bury themselves into your mind with the things they do and the things they say and stay with you long after you've finished reading, and to me, that's what Sofia's character was. She was a feeling, a memory that within the unconnected feel of this book, kept me reading.
There were a few moments when the sister relationship between Annie and Sofia stood out, but they were lost within the jaggered and confusing flow of the story, the characters who were just there and the romance that really, I couldn't even begin to describe how none invested I was for it. No flair, no spice, no, connection, no, nothing. Mind Games was not a good read for me, however, due to owning Perfect Lies and this being a duology, I will be finishing the series off, in the hope that somehow, from somewhere, there can be improvements made in all aspects and areas.
Annie and Fia
Author: Kiersten White
Series: Mind Games #0.5
Genres: Paranormal, Fantasy | Young Adult
Release Date: 3rd December 2013
Publishers: Harper Teen
No. Pages: 36
Source: Free
Rating:
Buy From: Amazon | Book Depository | Barnes and Noble | Waterstones
Annie has been blind since she was four.
Suddenly - for an instant - she can see.
And what she sees will change her life forever.

Fia will do anything for Annie. But she never realized how far she would have to go to protect her sister.

Now she can never go back..
In my copy of Mind Games, this short story of Annie and Sofia was available to read, and because subjecting myself to the lack of everything experience that was reading Mind Games wasn't enough, I wanted to see if this short story changed my feelings in either direction and in truth, it did, but barely.
In this short story, White, personally, created more of an in depth connection between the sisters, Annie and Sofia and just how much their dynamics have changed throughout their years together and this is what Mind Games was missing. I couldn't invest in the relationship between them because there wasn't one, where-as in this, they were as I had expected them to be, they fought, they supported, but most of all, they loved, and it was actually quite nice to read about. It was also enjoyable to see and experience more of how the dynamics came about, why Sofia has to do the things she does to protect Annie, why Annie wanted to go to the Keane Academy in the first place, why Sofia feels the need to protect Annie and so on, it was actually nice to receive a back story that felt connected and relative to the plot. Not only this, but what I had found frustrating about the writing in Mind Games, the odd phrases, internal monologues, everything, while it was still here, it wasn't in my face as much because the relationship between sisters, protecting and love was the more dominant feature involved.
The short story changed my thoughts slightly on the series, it gave me hope that if the sequel concentrates on the dynamics of the plot and the sister relationship and Sofia's internal battle and less on cheesy, none romantic devices, villains that lack any sort of power and the self-hatred involved, then maybe, just maybe, Perfect Lies will be an improvement.