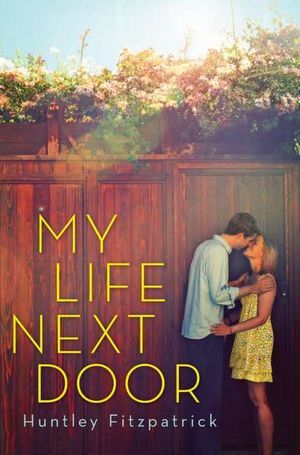 My Life Next Door
Author: Huntley Fitzpatrick
Series: My Life Next Door #1
Genres: Contemporary | Young Adult
Release Date: 14th June 2012
Publishers: Speak
No. Pages: 394
Source: Gifted
Rating:
Buy From: Amazon | Book Depository | Barnes and Noble | Waterstones
"One thing my mother never knew, and would disapprove of most of all, was that I watched the Garretts. All the time."

The Garretts are everything the Reeds are not. Loud, messy, affectionate. And every day from her rooftop perch, Samantha Reed wishes she was one of them.. until one summer evening, Jase Garrett climbs up next to her and changes everything.

As the two fall fiercely for each other, stumbling through the awkwardness and awesomeness of first love, Jase's family embraces Samantha - even as she keeps him a secret from her own. Then something unthinkable happens, and the bottom drops out of Samantha's world. She's suddenly faced with an impossible decision. Which perfect family will save her? Or is it time she saved herself?
Reviewing My Life Next Door is a daunting and challenging prospect for me because my feelings on it are so torn and molded together that it's difficult to identify which emotions were my own and which were created because of Fitzpatrick and her writing, telling you how this book made me or what it made think really doesn't hold much credit, however, I shall attempt to create a coherent review with as little flailing and ranting as possible.
The first half of My Life Next Door was everything I had heard, expected, wanted and searched for in a novel. As people had inundated me with, this book covers the romance absolutely beautiful, and the family element and aspect, on both sides of the fence, was really quite vital to the plot and twists of the story, alongside the character development that each of the characters went through, at least, those important, scene stealing scenes. Fitzpatricks writing was beautiful and it flowed so perfectly throughout this part of the book, it was impossible not the laugh at the corny, cheesy phrases, or find myself smiling and the beauty and wonderfulness that was the Garretts, their home and their lives, and seeing Sam slide so smoothingly into their lives was just, you guessed it, beautiful. Sam's sense of humour and sarcasm, connection to Jase and connection to families was what I loved most about this half of the book, I was connected to her, could relate to her and really could appreciate how difficult her life was from a family point of view, even though she had and could have whatever she wanted. The messages within this first half, the adorable aspect of romance, it was exactly what Summer calls for, so imagine my distress, my sudden surge of anger and my uncontrollable weeping and hugging my bedding to cease the pain that occured when some characters were developed to be disliked, and even in some occasions, detested. Imagine my surprise when I found myself wanting to throw this book that I still loved so beautifully because of the emotions it created in me, the emotions Fitzpatrick created in me..
This is where my torn nature towards this book comes from, because I cannot place whether I started to dislike the book in areas because I disliked some characters, or whether I still really enjoyed the book because the characters were unlikable. You see my problem? Fitzpatrick created this vibe, this atmosphere of anger and hatred towards some characters through Sam that it's quite possible, through how connected to her and how easily I thought she was relatable, that I started to mimic her feelings throughout my reading experience, and if that's the case, Fitzpatrick is the
only
author who has ever managed to immerse me into a story that much, made me experience such heart-breaking and emotional feelings in one way or another and very few authors can take me from laughing into the book to crying because of the book in a short amount of time. If this isn't the explanation and I did genuinely start to dislike My Life Next Door, then i feel terrible, because this book covered such beautiful features, and the edition of well covered, emotionally deep and beautifully written scenes learning and exploring about sex as teenagers was just a breath of fresh air - how could I begin to dislike a novel just because some of the characters within the story were created to be disliked, hated and distressing? It's a tough call to make, but either way, something in this novel affected me hugely, and it's the
only
reason that this book isn't perfection.
My Life Next Door, as I briefly mentioned, was a beautiful summer read, but was also more than that, it covered aspects of communities and prejudice, it covered and explored the learning and developing of teenagers in love, their first love, the whirlwind romance that is that love and how it can change the dynamics of your world in a flash. It created an outlook on myself and on other people in my life and allowed me to consider why people act the way they do, why people make decisions that think of number one, rather than bigger picture, the moral picture, and how sometimes, it's not about what you already have and life you live, but what you want, and the life you wish you could life. Both Sam and Jase saw their lives are mismatched and disliked areas of it all, but their romance was one of the most beautiful I've read this year, and I honestly cannot have imagined their story, of growth, of lessons, of morals, could have been any better written. There were surprising twists, there was development in characters I hadn't expected and their was a real sense of family in this novel that hit home at me personally, and so not having this amount of love for My Life Next Door that i currently have was never going to happen. Yes, it's a wonderful, beautiful, whirlwind romantic summer read, but never forget that there is more to a book than it's cover or alluring setting, and this book will pull at your heart strings, it will cause emotions in you you didn't expect, and it is so much more than a fluffy, cute, contemporary read.