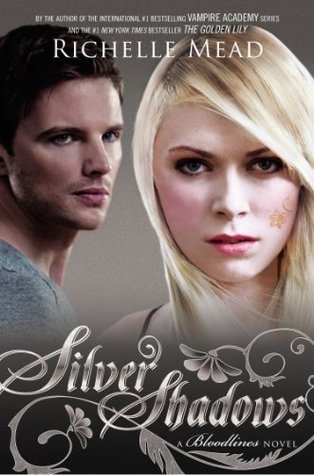 Silver Shadows
Author: Richelle Mead
Series: Bloodlines #5
Genres: Magic, Vampires | Young Adult
Release Date: July 29th 2014
Publishers: Razorbill
No. Pages: 380
Source: Purchased
Rating:
Sydney Sage is an Alchemist, one of a group of humans who dabble in magic and serve to bridge the worlds of humans and vampires. They protect vampire secrets—and human lives.
In The Fiery Heart, Sydney risked everything to follow her gut, walking a dangerous line to keep her feelings hidden from the Alchemists.
Now in the aftermath of an event that ripped their world apart, Sydney and Adrian struggle to pick up the pieces and find their way back to each other. But first, they have to survive.

For Sydney, trapped and surrounded by adversaries, life becomes a daily struggle to hold on to her identity and the memories of those she loves. Meanwhile, Adrian clings to hope in the face of those who tell him Sydney is a lost cause, but the battle proves daunting as old demons and new temptations begin to seize hold of him. . . .
Their worst fears now a chilling reality, Sydney and Adrian face their darkest hour in this heart-pounding fifth installment in the New York Times bestselling Bloodlines series, where all bets are off
The following review may contain spoilers concerning earlier books in the series.
If you have not read the previous installments, please proceed with caution.
Even though I have obviously read the whole series, I never got to review them because it was when I was taking a year out, so this is the only book in the Bloodlines series I've had the pleasure of reviewing so far, basically the reason I'm telling you this because I'm a super duper with bells on fan of this series and the Vampire Academy, be prepared for this to go fan girl. So now that we've got that out of the way, should we move on? Yep, I think we should. Silver Shadows is the 5th book in the Bloodlines series and for the penultimate to a brilliant series so far you would expect so much from it right? and I'm happy to say that it did of course yet again deliver.
At the end of The Fiery Heart Sydney was taken by the Alchemist's to be put in for re-education for not only having a friendship but a relationship with a vampire. Right from the first chapter we're thrown in at the deep end and have to witness Sydney being treated horrendously in order to get her to confess her sins, all while a female tells her how heartbroken her family is because of the betrayal, but given how her father treated her before she highly doubts that, stating 'her father didn't have a heart to begin with'. Against her better judgment though, sooner later she figures out that by telling them what they want to hear, she'll be treated bit better, maybe even get out of the dark cell that's drugging her thrown the night to make her sleep, but not dream. The voices then ask her once again what her sins were, to which Sydney replies
"I fell in love with a vampire"
While Sydeny is trying to readjust to her new surroundings, Adrian takes everything in stride and try's his hardest to find her, calling in old faces to help him and keeping the group together. He try's to reach Sydney in her dreams almost every night leaving himself without enough sleep and despite how hard everything is for him, how his parents bush his relationship off, how things are piling up on his shoulders he is stronger than ever. I really, really, really loved seeing him grow as a character. I've loved him from the Vampire Acadmey series and my love for him has just grew so much through out this one,
As far as the other characters go, like already started we got to see some old faces . As well as seeing Syden and Adrian grow it's lovely to see the likes of Jill and Eddie still being positive even though things are stacked against them. Dimitri and Rose? don't even need to ask my opinion on them, I'm pretty much obsessed. I will say that I really liked how they had a bigger part of the story than they have had in the others, and they helped. They weren't just a blast from the past, they really did keep Adrian sane.
and that ending?
Yep.. That sum's it up pretty good.
All in all I love this book, it's action packed, it's full of romance/friendship and everything just flowed really well. Am I scared at the thought of being without the characters by March next year? of course I am, but do I regret reading it? not at all. It's very simple to avoid the heartache I will feel when it's all over, I felt it with the Vampire Academy but I had Bloodlines to start straight away. My idea is we make a petition to get Richelle Mead to do another series about the character, have a never ending books, sound good? :P