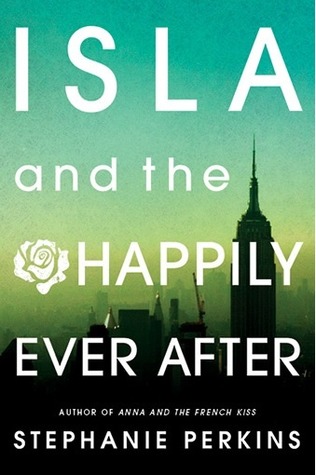 Isla and the Happily Ever After
Author: Stephanie Perkins
Series: Anna and the French Kiss #3
Genres: Contemporary | Young Adult
Release Date:14th August 2014
Publishers: Speak
No. Pages: 339
Source: Purchased
Rating:
Buy From:
Amazon
|
Book Depository
|
Barnes and Noble
|
Waterstones
Love ignites in the City That Never Sleeps, but can it last?

Hopeless romantic Isla has had a crush on introspective cartoonist Josh since their first year at the School of America in Paris. And after a chance encounter in Manhattan over the summer, romance might be closer than Isla imagined. But as they begin their senior year back in France, Isla and Josh are forced to confront the challenges every young couple must face, including family drama, uncertainty about their college futures, and the very real possibility of being apart.

Featuring cameos from fan-favorites Anna, Étienne, Lola, and Cricket, this sweet and sexy story of true love—set against the stunning backdrops of New York City, Paris, and Barcelona—is a swoonworthy conclusion to Stephanie Perkins's beloved series.
The following review may contain spoilers concerning earlier books in the series.
If you have not read the previous installments, please proceed with caution.
Unlike all the others who have read Anna and Lola's story, I haven't been waiting 2 years for Isla's story, in fact I've been waiting just over a year. I first feel in love with Lola at the end of 2012 not releasing that it was the 2nd in a companion series, but from the start I knew there was something special about the way that Stephanie Perkins wrote and connected with the readers, so of course I was was just excited about Isla and the Happily Ever After like all the others. Sadly, it didn't live up to my expectations. Normally when that happens it's because they were just too high, but that wasn't the case this time. Something for me was just lacking in this story.
The first thing you will notice about this book is that unlike Lola and Anna, Isla is already in love with our main boy. For 3 years she has pined over him, watching him from sidelines while he starts and ends relationship, while he takes school in his stride and act's like he doesn't care about much. For 3 years she has been in love with him, but it's not until a chance meeting in a coffee shop back home, does she actually realise that not only does he know who she is, but he may not be as carefree as she's led herself to believe.
While one of my favourite things about any contemporary/romance is the part where they actually fall for each other, I would be lying if I didn't say that in a way I felt slightly cheated because Isla was already there, and though we read flashbacks I unfortunately didn't feel the connection that I normally do with a budding relationship. We did however get to see Josh falling for Isla, but in my own opinion it felt a little rushed and just there one second. I know a lot of people will disagree with me, and that's ok, but that's how I feel. Personally, I think the reason I didn't feel very connected to the characters was because how young they seemed at times, the book itself just felt sadly more childish than the other 2.
That being said, the one thing I loved about this book was the friendships. If I'm honest, I know this book was a love story but the biggest focal point for me while reading it was the bond that the characters has with each other. I loved the old faces popping up ever now and again and I really liked seeing a different side to each and every one of them. Did I love the romance in this story? no, not really. At times I didn't even get why they were together and thought they would be better off without each other, but where as the other books have been focused on the relationship for me, like I already said, I thought this book would have worked better if it was focused on the friendship side.
Though it wasn't my favourite out of the 3, I am sad to see it go as the first 2 opened up a new world for me and I think that Isla was perfect way to say goodbye, I really do.