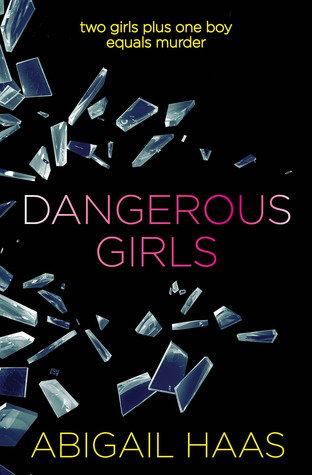 Dangerous Girls
Author: Abigail Haas
Standalone
Genres: Mystery, Thriller, Contemporary | Young Adult
Release Date: 1st August 2013
Publishers: Simon and Schuster
No. Pages: 388
Source: Purchased
Rating:
Buy From: Amazon | Book Depository | Barnes and Noble | Waterstones
Elise is dead.
And someone must pay.

Anna, her boyfriend Tate, best friend Elise and a group of close friends set off on a debaucherous Spring Break trip to Aruba. But paradise soon turns into a living nightmare when Elise is brutally murdered. Soon Anna finds herself trapped in a foreign country and fighting for her freedom. As she awaits the judge's decree, it becomes clear that everyone is questioning her innocence. To the rest of the world, Anna isn't just guilty, but dangerous. As the court case unfolds the truth is about to come out, and it's more shocking than you could ever imagine..
This book and/or review may be unsuitable for people under 17 years of age due its use of language, sexual content, drug and alcohol abuse and/or violence. Please bare this in mind before reading.
First things first, before I even attempt to write a review for this book you should probably know that I just like or love this book, I devoured it. This review.. well it might be a little bit more fangirling than normal so just keep that in mind while reading it :P
It's crazy to think that I only heard about Abigail Haas / Abby McDonald this year, and thought Dangerous Girls was the book people were talking about, the first one I had the pleasure of reading was Dangerous Boys. God damn that book was good, I was hooked from start to finish and I had the two lovely bloggers who introduced this wonderful author to me, Amanda and
Charnell
, both telling me that if I liked that one I would enjoy Dangerous Girls more. Did I believe them, even though they have never told me lies or pointed me in the way of a bad book? no I'm sorry to say I didn't, I thought there couldn't possibly be anyway that I would love this one more because Dangerous Boys was just that good. Well I am eating my words ladies, because not only did I like this book more but I have now made the conscious decision to just read any and all of her books.
The 3 main characters in this story is Anna, the shy girl, Elise, the popular one and Tate, Anna's boyfriend and one of the best looking guys in school. Anna was never the girl with a lot of friends and when she moved to a posh new private school she began to stick out like a sore thumb, always the outcast, but when Elise takes notice of her and shows her some kindness, everything changes. Slowly they start spending all their time together, they are joined at the hip and closer than sisters, sometimes bordering on unhealthy. Being friends with Elise opens more doors for Anna than she ever thought possible, finally she had someone to spend time with and confined in, and with her new found popularity came the attention of Tate. Suddenly Anna has a group of new friends, a loving boyfriend and a packed social calendar. Things could only get better right? Wrong.
Fast forward to the group of friends deciding to take their spring break holiday in Aruba, trying to make the most of their time together and determined to make some memories. The holiday starts of normal enough, drinking and night clubs, relaxing on the sand and chatting up the locals. Until one night they discover Elise has been brutally murdered and it looks like Anna and Tate are the prime suspects. But they couldn't have done it, they spent the afternoon together while the rest of the group were off doing other activities. They didn't leave each others side for a second.. or did they?
As the finger pointing starts, and the alibi's and motives tot up, you may think you know who did it, you might think you even know why, but let me set your mind straight right now, YOU ARE WRONG!. I was convinced, like to the point that I didn't even think for one second that it could be anyone else, only to change my mind a few chapters after, back and forth all the time. The characters, the storyline, the twists and turns? JUST GIVE ME MORE! I would pay good money for more books like this, hell I just want Abigail Haas to continue writing thriller novels because by god does she have a talent for it.
Every now and again I will find a writer that everyone's talking about only to be disappointed by the book they have published, sometimes I am told about an author that not everyone knows about and end up shouting their name and the name of the books from the rooftop. Take an educated guess as to what I would do in this situation? Haha.
If you haven't read either Dangerous Boys or Dangerous Girls yet, then what are you waiting for? I dare you to read them and not fall in love with the brilliant way Abigail writes or the way she manages to make you second guess yourself to keep you on your toes, I dare you.
This is how I felt after, it is how you will too. Is the heartache and confusion worth it? Without a doubt. Well done Abigail Haas, much more of it and you'll be one of my favourite authors ;)