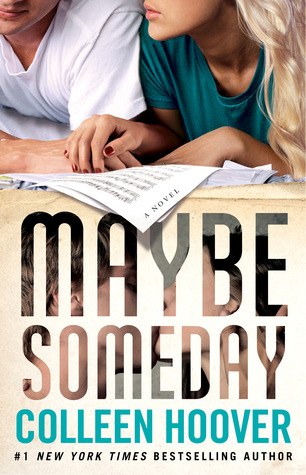 Maybe Someday
Author: Colleen Hoover
Standalone
Genres:
Contemporary, Romance
| New Adult
Release Date:
March 18th 2014
Publishers:
Atria Books
No. Pages: 382
Source: Purchased
Rating:
At twenty-two years old, aspiring musician Sydney Blake has a great life: She's in college, working a steady job, in love with her wonderful boyfriend, Hunter, and rooming with her good friend, Tori. But everything changes when she discovers Hunter cheating on her with Tori—and she is left trying to decide what to do next.

Sydney becomes captivated by her mysterious neighbor, Ridge Lawson. She can't take her eyes off him or stop listening to the daily guitar playing he does out on his balcony. She can feel the harmony and vibrations in his music. And there's something about Sydney that Ridge can't ignore, either: He seems to have finally found his muse. When their inevitable encounter happens, they soon find themselves needing each other in more ways than one…
I'll be honest with you, though I wanted to read Maybe, Someday because I'm a fan of the Hopless series by Colleen Hoover, I only picked it up when I did because I was looking for something different to read. I had just finished a dystopian book that blew me away and in a bid to stop myself getting in slump I decided it would be best for me to pick something up completely different. Never, not once, did I expect to fall in love with this book as much as I did.
At first glance Maybe, Someday looks like just your typical New Adult book about a love triangle. Sydney finds out one day that her boyfriend of two years had been cheating on her with non other than her best friend and roommate. In one day not only does she find herself homeless, without two of the most important people in her life, but to make matter worse it was her 22nd birthday. So what does she do? she goes and live's with Ridge, a musician she's been friends with for 2 weeks. This is where you may think "god Stacie, how could this book be any different than the rest? I bet she ends up with Ridge and it'll be the same story I've read countless times" well if you keep reading I'll tell you.
Sydney and Ridge connect over music. She helps him with his writers block, helps him to come up with some really good material for his band in exchange for rent free accommodation. Song writing is hard, it involves a lot of late nights, frustration and hours spent together. They begin to develop feelings for each other, and though the would normally be a good thing and everything would go swimmingly,
Sydney
isn't aware about Ridge's girlfriend of 5 years, obviously instantly adding drama to the mix. But not the bad kind, I promise.
Unlike in other books, they fight their feelings. It's so sad and heartbreaking to see them go through it but
Sydney
will never make anyone else feel the pain she went though. they still spend time together, they still write music, and they are so brutally honest with each other about how hard it is but they are falling deeper each day.
The characters in this book are some of my favourite in Young Adult/New Adult contemporary books for a long time. Though I wasn't a massive fan of
Sydney
at all, I found her to be annoying at times, repetitive and sometimes too woe is me, I did love how understanding she was and how genuine. Ridge? well I feel for him instantly, I can't help myself. I really tried to stop myself because I knew it was just a standalone but I was goner. Ridge is very different to other's you find in the genre and I'm not going to tell you why because it was a pleasant surprise to me but it just makes the connection that he has with Syden that much more intense. As far as the sub characters go I loved Warren, I thought he was hilarious and I loved how fiercely loyal and defensive he was of Ridge. Bridgett annoyed me, but I liked how she was just insecure like all of us, it really made her relatable.
All in all I really liked this book, I'm so glad I read it and though I didn't know there is a soundtrack to go with this book I shall no be sitting listening to it non stop while dreaming of a certain boy with a guitar ;)