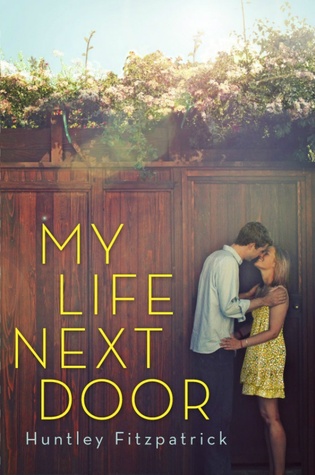 My Life Next Door
Author: Huntley Fitzpatrick
Series: My Life Next Door #1Genres: Contemporary | Young Adult
Release Date: June 14th 2012
Publishers: Dial Books For Young Readers
No. Pages: 394
Source: Purchased
Rating:
Buy From:
Amazon
|
Book Depository
|
Barnes and Noble
|
Waterstones
"One thing my mother never knew, and would disapprove of most of all, was that I watched the Garretts. All the time."

The Garretts are everything the Reeds are not. Loud, messy, affectionate. And every day from her rooftop perch, Samantha Reed wishes she was one of them . . . until one summer evening, Jase Garrett climbs up next to her and changes everything.

As the two fall fiercely for each other, stumbling through the awkwardness and awesomeness of first love, Jase's family embraces Samantha - even as she keeps him a secret from her own. Then something unthinkable happens, and the bottom drops out of Samantha's world. She's suddenly faced with an impossible decision. Which perfect family will save her? Or is it time she saved herself?
My life next door for me was a mix between The Book of Broken Hearts by Sarah Ockler and The Distance Between Us by Kasie West and most of the time I hate when books remind me of others, but this was something that in a way made the book more special to me. It had the forbidden love from The Book of Broken Hearts and the financial differences of The Distance Between Us.
I've wanted to read this book for a long time, its a book that has been talked about and talked about and that is not always a good thing. But I'm lucky that with this book, it was. This books was hyped up for a reason, its fluffy, its moving and it flows really well. I started it purely for the fact of reading it for the read-a-thon. I finished it in a day because after just a few chapters I was hooked and already in love.
This book is centred around Samantha, a girl who comes from a single parent home with a judgemental politician mum. She has been told for most of her life to stay away from the Garretts who live next door. A family with too many kids, and an unkempt garden. But Samantha feels drawn to the family, spending most of her life sitting just outside her bedroom window watching them go about their life. All she does is look, until one day she gets company on her ledge, none other than Jase Garrett from next door. She's never fallowed her mothers, or the rest of the towns, opinions on his family, but its not until she starts to spend more time with not only him but his family, does she realise just how wrong everyone is. And just how much she fits in with them.
The one thing you see from the start is just how realistic everything is. The characters, the love that developed over time and not instant, the political mum who is too concerned with her own career and the rebel sister who tries anything and everything to lash out and get attention from the absent mother. One of my favourite things about this book was the characters. Jase and Sam are people that stick in your mind. They are such a sweet couple, and as a pair are so a like. They both have this deep routed caring nature that's' genuine. They aren't perfect people, they have flaws just like everyone else and that's what makes them so likeable and relatable
there is one aspect of this book that, while done often in YA books, is hardly ever done right. Sex. I have never been against having sex in young adult books, but when it's done right like it did in this book, with the embarrassment, the confusing and the awkwardness of it was perfect. Because sex is a big deal and going in to your first time thinking that its all going to go without a hick up and you'll just know what to do, it can leave you very hurt at the end of the day. Anyway, like I said, I think Huntley Fitzpatricks take on it was brilliant. The fact that this is in fact her debut novel is also astounding.
Everything about this book was spot on, and you should try it as not just another book to read, but another book to fall in love with.