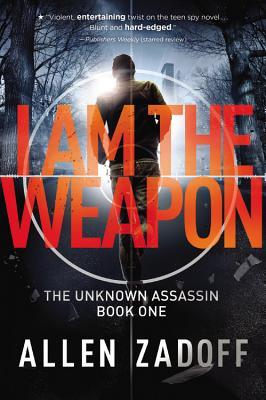 I Am the Weapon
Author: Allen Zadoff
Series: The Unknown Assassin #1
Genres: Thriller, Mystery | Young Adult
Release Date: June 11th 2013
Publishers: Little Brown
No. Pages: 352
Source: Review Copy - Little Brown
Rating:
Buy From:
Amazon
|
Book Depository
|
Barnes and Noble
|
Waterstones
Boy Nobody is the perennial new kid in school, the one few notice and nobody thinks much about. He shows up in a new high school, in a new town, under a new name, makes few friends and doesn't stay long. Just long enough for someone in his new friend's family to die -- of "natural causes." Mission accomplished, Boy Nobody disappears, and moves on to the next target.

When his own parents died of not-so-natural causes at the age of eleven, Boy Nobody found himself under the control of The Program, a shadowy government organization that uses brainwashed kids as counter-espionage operatives. But somewhere, deep inside Boy Nobody, is somebody: the boy he once was, the boy who wants normal things (like a real home, his parents back), a boy who wants out. And he just might want those things badly enough to sabotage The Program's next mission
I Am the Weapon or Boy Nobody as it used to be called was a book I didn't expect to like let alone love. I first heard about it though
Amanda
, like most book recently, and even though I trust her judgement when it comes to books, I was still cautious. Why I hear you ask? Well growing up I was more into fantasy, and its only in the last few years that I've branched out in genres. However thrillers were never one I ever seemed to be drawn to. Until now.
When I first started reading it I was some what hooked from the get go, be it curiosity or just the hope that I was once again recommended a book that I could love, either way I was very interested. And as the story went on I found myself more and more transfixed with the story, the writing style and was left dying to know what happened next. Thanks to I Am the Weapon, I will no longer glance over a thriller or a genre I'm not found of reading again.
This book is as stated, about a young assassin. His name changes from assignments ever time and its not until late in the book you hear what his real name may be, but as privacy is everything its not something we can take as gospel. The boy, shall we just call him Boy X for arguments sake? Well Boy X was once a normal boy, he had parents he had a life and then one day it was all taken away from him. Without a choice he was thrown into the life The Program trained him for, a vicious lonely life without no satisfaction other than what his 'mom' & 'dad' threw his way once he's got the job done.
Boy X has been trained not to feel, not get attached and above all, don't ask questions. But his next assignment has him breaking all the rules. The first time he questions his orders is when the time limit went from being months to days, which would be unusually enough but Boy X's continues to get uneasy feelings about this certain mission. Like always though he doesn't have a choice, and despite his own feelings he's determined to see it through.
When it comes to characters in this book I found my self feeling nothing but empathy for Boy X. I wanted so badly just to jump in and give him a hug because no one, no matter what, should ever feel as lonely and unconnected to the world like he is. His 'parents' on the other hand, I obviously felt nothing but contempt towards for stealing his childhood. Some of the other sub characters in this book were equal as good as the rest.
I think the thing I liked the most about this particular book is how I never saw much coming, a few things but the others had me just as shocked as everyone else. This book is highly underrated and I'm really glad I had the chance to experience the first part of his journey.