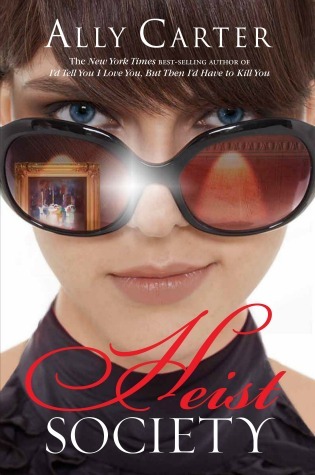 Heist Society
Author: Ally Carter
Series: Heist Society #1
Genres: Mystery, Contemporary | Young Adult
Release Date: 9th Febuary 2010
Publishers: Disney Hyperion
No. Pages: 291
Source: Borrowed
My Rating:
Buy From: Amazon | Book Depository | Barnes and Noble | Waterstones
When Katarina Bishop was three, her parents took her to the Louvre.. to case it. For her seventh birthday, Katarina and her Uncle Eddie travelled to Austria.. to steal the crown jewels. When Kat turned fifteen, she planned a con of her own - scamming her way into the best boarding school in the country, determined to leave the family business behind. Unfortunately, leaving 'the life' for a normal life proves harder than she'd expected.

Soon, Kat's friend and former co-conspirator, Hale, appears out of nowhere to bring her back into the world she tried so hard to escape. But he has good reason: a powerful mobster's art collection has been stolen, and he wants it returned. Only a master thief could have pulled this job, and Kat's father isn't just on the suspect list, he is the list. Caught between Interpol and a far more deadly enemy, Kat's dad needs her help.

For Kat there is only one solution: track down the paintings and steal them back. So what if it's a spectacularly impossible job? She's got two weeks, a teenage crew, and hopefully just enough talent to pull off the biggest heist in her family's (very crooked) history - and, with any luck, steal her life back along the way.
After successfully falling in love with The Gallagher Girls series by Ally Carter, the only logical decision I could make would be to make my move onto The Heist Society series afterwards, however, I'm extremely thankful, not only did my reading slump not affect my enjoyment of this novel whatsoever, Heist Society actually kicked some of my reading slump to the curb and had me obsessed with trying to find the following two installments in my local libraries. It's fair to say Carter is one of my favourite go-to authors.
What Heist Society did that others books I tried around the same time failed to do was to the entice me and intrigue me from the first page, whether that be with a snarky, humourous character, an interesting and mesmorising scene or a good tension building starter, and it's no lie when I say I was around 20 pages in and knew I would be reading it in one night. Carter's writing has such a beautiful flow and rhythm to it that it's damn near impossible not to be swept along with it; her scenes are descriptive, but don't swallow the entire scene whole, her character's have the spotlight in near enough all scenes, with each of them posing such a strikingly different personality and set of emotions, and of course, Carter wouldn't be Carter without some well placed and absolutely gorgeous guys involved. Heist Society gave me the starter I'd been searching frivolously for and I'm so glad she didn't let down.
In comparison to Gallagher Girls, the world building and descriptions did take a a bit of a back seat which didn't always sit right with me considering Kat travelled to Paris, Italy, London and more, so I would have said world building would have been just that little bit more important in this series, but of course, Heist Society is only the first installment, so things in that front could improve but the one feature that I personally feel doesn't need improvements is the characters and the message on family. Kat was so like Cammie is so many ways, she had this cracking sense of humour, quick thinking and a real sense of loyalty and care for her family and friends so it was pretty easy after loving to Cammie to come to love Kat, but what I think I loved most about Kat was that she was also very different to Cammie; Kat is, was, a thief, the complete opposite to Cammie, Kat is in a 'best friend to slow burn romance' deal, Cammie had her man introduced to her, Kat is stronger, more capable, braver and not as naive and immature as Cammie and that really helped me connect to her quicker because there was less of an age gap between us. Her care, her love, her loyalty to her friends and family was beyond what I'd expected in this novel and I can't commend Carter more. Of course, I can't go any further without mentioning Hale, who could probably fight for the title of 'quickest crush to ever occur' because Hale is so many ways, perfect, especially for Kat; he's got the subtle sense of humour much like her that allows them to bounce so easily off each other, their friendship and connection with one another not only as friends, possible romantic partners and crime partners is fantastic, Kat bringing the plan and the brains and Hale bringing the finances, it's so wonderful to read and watch them grow and mature into one another. It's also wonderful to have a new guy to swoon over, especially one who's not afraid to flirt about naked underneath the sheets, only to be wearing Superman PJ's..
I'd love to talk about all the characters in this novel, or how Carter left breadcrumbs throughout the novel, hinting to clues about her mother, which I'm hoping we learn more about, a bigger plot within this novels plot, which I'm hoping she expands further into and more interaction between Kat and her father because it'd be lovely to see more of that parents dynamics between child and parent that was there in Gallagher Girls. There was plenty to love about the plot too, the deadline they had to work on, the different plans and once again, the subtle hint of Hustle which I found in The Curse Workers Series, the surveillance, inside men on the job, subtle arrangements and people to use for your own little plan, it was all pulled off and executed brilliantly, however, other than the slightly world building, there were a few moments were I felt that this book wasn't perfect, there was something about Kat's past, her history, or the families history that I couldn't quite get the niggling feeling out of my head, there's a huge secret, something big and it did affect my enjoyment a little, but as a whole, the entire plot and premise was executed brilliantly and I don't think I would have wanted it any differently. Heist Society was definitely the book I needed to break up my reading slump and it's so worth a shot whether you enjoyed Carter's Gallagher Girls series or not, it's so different in so many ways and it provides you with a simple, humourous and highly enjoyable few hours worth of reading that anyone would enjoy.