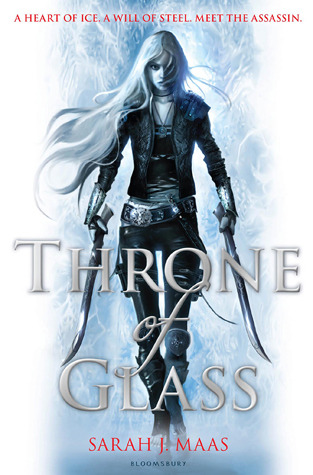 Throne of Glass
Author: Sarah J. Maas
Series: Throne of Glass #1
Genres: Fantasy | Young Adult
Release Date: 2nd August 2012
Publishers: Bloomsbury
No. Pages: 404
Source: Borrowed
Rating:
Buy From: Amazon | Book Depository | Barnes and Noble | Waterstones
Meet Celaena Sardothien.
Beautiful. Deadly. Destined for greatness.

In the dark, filthy salt mines of Endovier, an eighteen-year-old girl is serving a life sentence. She is a trained assassin, the best of her kind, but she made a fatal mistake: she got caught.

Young Captain Westfall offers her a deal: her freedom in return for one huge sacrifice. Celaena must represent the prince in a to-the-death tournament - fighting the most gifted thieves and assassins in the land. Live or die, Celaena will be free. Win or lose, she is about to discover her true destiny. But will her assassin's heart be melted?
Throne of Glass is a difficult novel to review and not for any of the usual reason I talk about, no, this time, it's because this novel was both mind-blowingly surprising on it's content, style, themes and all round epic fantasy feel, but it was also really disappointing via it's predictability, it's romance issue and it's staring-you-in-the-face-answers-that-we're-bound-to-get-later-in-the-series scenarios. It's a difficult, confusing and conflicting journey I'm about to take you on, so get refreshments, strap in and get ready, because I have no idea how this going to turn out.
An unusual habit I have with some book reviews is choosing to discuss to negatives before the positives and I believe that this would be the best port of call to take with this review also, so I'm going to start with the predictability and everything that comes with it. I haven't read a 'huge' amount of 'fantasy', yes, I've read plenty of your Urban Fantasy and Dystopian Fantasy, but only ever a few mahusive world, lots of characters, lots of rules and lots of sub-genre's that you find in YA fiction, faeries, magic, gods, kings and queens, battles and duels, it's all here in Throne of Glass, but unlike to the fantasy's I've read, and much to my disappointment, Throne of Glass was almost transparent in it's plot line, plot twists and answers. It essentially covered exactly what was said in it's synopsis, and while I cannot
really
fault that, I want to, because it was clear that somehow, someway, Celaena would make it out of this competition alive and would succeed - it's a 6 book series, there really wasn't any choice in the matter, so when I should have been admiring the world it was set in, or the skills and mind-set Celaena had in this novel, I found myself turning towards the romance and forming a bond and connection with Celaena, Chaol and Dorian and lots of other minor characters, which I think is not what Maas was aiming for in the start of an 'epic' fantasy series.
However, there were some absolutely mind-blowing areas that both surprised me and to my shame, made me feel all of the feels, specifically, the amount of sub-genres that were included in this book. As I've already stated, I read a lot of Urban Fantasy, so faeries, wolfs, creatures of the night, vampires, magic, kings and queens and battles are all common knowledge to me, but can you imagine taking many of these themes and genres and mixing them into a huge world with so many characters and so many rules and restrictions? There's a huge chance that it could all fall apart, but Maas has this skill and perfect writing that connects and keeps all of these individual, but allows them to blend and work together. It's a wonderful talent and that really impressed me, as did her character development with the three leading characters, Celaena, Chaol and Dorian.
I am more than aware that one of the main reasons people decided to read this review was down to admiring or detesting which of Chaol and Dorian I am rooting for, but much to yours disappointment, I am rooting for both neither and both, there is no clear winner for me because I have my own suspicions about the future of this series and the direction it will take, and if I'm quite honest, I don't want to root for somebody so much throughout 5-6 books and realise it was a lost cause, however, both of these men as characters were wonderful to read about. Dorian impressed as somebody who from the start, wanted to compete with and challenge his father and his actions, as well as his ruling and his decisions and throughout the novel, his fathers decisions reflected on Dorian and how he did and didn't want to rule when his time would come. His development was subtle and was complimented by his attachment to Celaena, but I'm most impressed by how well he took being essentially 'dumped', he wasn't a sad, moping and whiney character and I think Maas did a great job in portraying just how strong willed and publicly emotional Dorian really is and I expect great things from him in the future. Chaol on the other hand is much more restrained and aloof, hiding behind his sarcasm and his strict rules, but there's a light-hearted softness within his outer shell and when Maas showed this, he was easy to relate to, connect to and I feel that his connection and attachment to Celaena was a little more, believable that Dorian's was. If I could be so bold, I would tell Celaena to do one and let me Chaol all to myself, but sadly, fictional characters don't work that way and Celaena would probably decapitate me too.
Speaking of Celaena, I was also just as conflicted when it came to here as I was with the whole novel. She was in some ways, the best assassin I've read about, merely for the fact that she so clearly had weaknesses and wasn't afraid to show them, and she had feelings - she wasn't this shell of a women who murders and enjoys it, she's been trained and manipulated that way, but she cannot lose her personality, her humour, her love of reading, her love of company and he appreciation for dresses and dances. She was both a character I came to adore and one that annoyed me at times. For such a clever assassin, she sure was a little lacking in knowledge sometimes, as well as common sense, but I guess in the end, when I look at Celaena and her development from assassin looking for death to champion assassin with a life of luxury and a chance at freedom, those really are minor details. Celaena, personally, made this novel what it was.
Throne of Glass was indeed problematic in areas, but was also mesmorising, and it's because I firmly believe that peoples recommendations are right that I will be continuing with this series in the future. I hope to see more being done with the world, more of Celaena actually using her head and her brains, but also, less romance and more action and just a little less of a Graceling vibe than what I got in this book. I want Maas to give me something that will surprise me, amaze me, astound me and silence me and then and only then, might I rave from the rooftops. I would overall, recommend you try this series if you haven't already, it's definitely too good to miss and worth every second, even if it could have been improved.