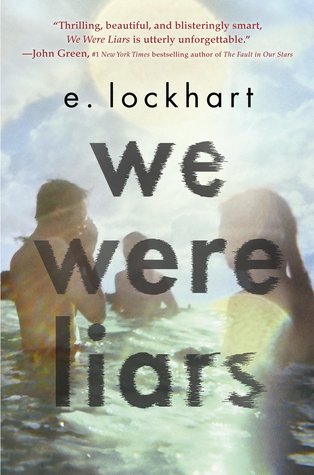 We Were Liars
Author: E. Lockhart
Standalone
Genres: Contemporary | Young Adult
Release Date: May 13th 2014
Publishers: Delacorte Press
No. Pages: 240
Source: Purchased
Rating:
Buy From:
Amazon
|
Book Depository
|
Barnes and Noble
|
Waterstones
A beautiful and distinguished family.
A private island.
A brilliant, damaged girl; a passionate, political boy.
A group of four friends—the Liars—whose friendship turns destructive.
A revolution. An accident. A secret.
Lies upon lies.
True love.
The truth.

We Were Liars is a modern, sophisticated suspense novel from National Book Award finalist and Printz Award honoree E. Lockhart.

Read it.
And if anyone asks you how it ends, just LIE
I have one question for you, how am I to review a book as brilliant as We Were Liars? A book where giving away anything to do with the ending is a total no no, it is one of the most brilliant endings to a contemporary book I have read in a long time and even though I saw it coming, it wasn't anything else but perfect. The answer is, I can't. The trouble with a book this good is the ending is all you want to talk about, but obviously you cant.
Though I had never heard of E. Lockhart before, when We Were Liars was a few weeks from release, she was all anyone talked about. Left right and centre everyone was raving about the book but not much was ever given away, before I didn't understand but since reading it myself it was obvious as to why people were hush hush about it. Still, because of how people felt I tried to stay away from it as long as possible. I think it's safe to say that when I came across it for £1.89 for the kindle, I gave up and give in. And I'm so happy my will was not strong enough :P.
In We Were Liars we meet Cadence Sinclair-Eastman's , who the book's point of view is set from. She comes from a wealthy family where keeping up appearances is everything, things are swept under the rug and the biggest of secrets are ignored. Each summer they spend their time at the family home, and each year the Liars get together. Cady, Mirren, Johnny and Gat. Mirren and Johnny are her cousins, and Gat is her aunts boyfriend nephew. Or as you might now him soon, Cadence's love interest.
Each of them are the same age, but with a personality of their own. Their friendship goes way beyond love and family, and the best thing about it is how believable and realistic it is. Everything from the character development to growing love between Cadence and Gat had me hooked.
The end of this book, though as already mentioned, didn't come as a shock to me. I'm not exactly sure why or how I figured it out so soon but I still loved it all and it will leave you thinking about the story for weeks to come, it sure as hell isn't a book you'll forget any time soon. Your very first taste of E. Lockhart's brilliant writing style is the summary, the fact that she gives next to nothing away could have back fired, but it pulled more people in, curiosity gets the better of you and soon you find yourself with a copy of it in your hand dying to now why everyone else rates it so highly.
I dare you not to read this book and fall in love with it. Just remember,
if anyone asks you how it ends, just LIE