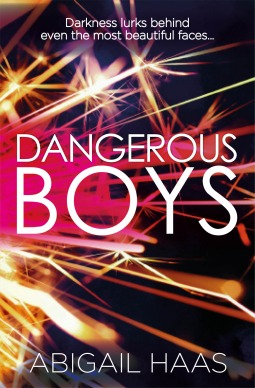 Dangerous Boys
Author: Abigail Haas
Standalone
Genres: Contemporary, Thriller | Young Adult
Release Date: August 14th 2014
Publishers: Simon & Schuster
No. Pages: 336
Source: Review Copy - Simon & Schuster
Rating:
Buy From:
Amazon
|
Book Depository
|
Barnes and Noble
|
Waterstones
Three teens venture into the abandoned Monroe estate one night; hours later, only two emerge from the burning wreckage. Caitlin Kasprov drags one Donnelly brother to safety, unconscious and bleeding; the other is left to burn, dead in the fire. But which brother survives? And is his death a tragic accident? Desperate self-defense? Or murder? Caitlin is the only one with the answers. As the fire rages, and police and parents demand the truth, she struggles to piece together the story of how they got there-a story of jealousy, twisted passion, and the darkness that lurks behind even the most beautiful of faces…
Firstly, I would like to say a massive to my favourite fellow bloggers,
Charnall
&
Amanda
who recommended this book to me in the first place. Only a few weeks before I requested this book on Netgalley, had I started to hear about Abigail Haas and her first book Dangerous Girls. So you can imagine my excitement when I first heard about her new book being on Netgalley, although I never expected to be accepted.
Anyway on to the review. When I first started the book I didn't know exactly what I was getting myself in to. But I could tell straight from the start that it was going to be a book to remember, and I wasn't far off. The books is set in 2 sections, the past and present. In the past, Chloe is the full time carer of her depressed mother, looking for a way out of town to finally do something for herself, when brothers Ethan and Oliver walk into her life. In the present? One of the brothers is dead, the other in critical condition. Which one is which, is something you will have to read the book for because every time you think you know who it is, something happens to leave you doubting it.
Ethan is a sweet and caring boy, he is so utterly in love with Chloe that it breaks my heart how she treated him at times. He worships the ground she walks on and it seems at times her thoughts are somewhere else and when Ethan's not so sweet or kind older brother Oliver comes home from college, its easy to see where her head is at. Ethan was there when she needed someone, but she has this deep routed connection to Oliver that she can't make sense up but can't ignore either.
Everything about the book flowed perfectly, from the time difference between past and present, to the character development and the relationship's in the story. Chloe is flawed, like really flawed, at times she is a terrible person but that's what makes her so believable. Ethan is sometimes too nice and Oliver too mean, they all have traits to make the character's in the book absolutely perfect and Abigail Haas is so unique in her story telling. She subtlety puts clues in the story, but not enough to give anything away. Just enough to keep you guessing.
I am so happy that I not only requested this book but was told about it. It was without a doubt, far much better than I ever expected. I was gripped from the start and it held on to me till the end. I don't think a lot of people have heard of Abigail Haas, or of her fantastic books. She without a doubt an author you should keep your eye on