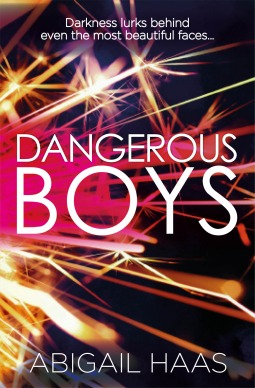 Dangerous Boys
Author: Abigail Haas
Standalone
Genres: Mystery, Thriller, Contemporary | Young Adult
Release Date: 14th August 2014
Publishers: Simon and Schuster
No. Pages: 336
Source: Review Copy - Abigail Haas
Rating:
Buy From: Amazon | Book Depository | Barnes and Noble | Waterstones
Three teens venture into the abandoned Monroe estate one night; hours later, only two emerge from the burning wreckage. Chloe drags one Reznick brother to safety, unconscious and bleeding; the other is left to burn, dead in the fire. But which brother survives? And is his death a tragic accident? Desperate self-defense? Or murder?

Chloe is the only one with the answers. As the fire rages, and police and parents demand the truth, she struggles to piece together the story of how they got there - a story of jealousy, twisted passion, and the darkness that lurks behind even the most beautiful of faces..
This book and/or review may be unsuitable for people under 17 years of age due its use of language, sexual content, drug and alcohol abuse and/or violence. Please bare this in mind before reading.
After reading, loving, adoring and obsessing over Haas' other work, Dangerous Girls, the moment I found out that she had written another piece of work, another thriller mystery, there wasn't a doubt in my mind, I would somehow be getting a copy of this book, whether that be in ARC form or physical form, and after a disappointing rejection, I was later sent a copy of Dangerous Boys to my huge surprise and as I had done in the past, I buddy read it with Charnell (
because I think we now have this silent agreement that anything Haas writes, we will read together
) and we both shared the same opinion; Dangerous Boys was thrilling, twisted and emotionally deep, but it lacked something small, something in the clean detail that Dangerous Girls had, and for that reason, it wasn't perfection, but that doesn't mean it wasn't damn close.
Haas' straight off the bat showcased her skill in mystery writing, but from the start, I knew this book wouldn't be written like Dangerous Girls; where in that novel the mystery was who had murdered, in this novel, the mystery was who she had murdered and then later, how and why. The change in these dynamics cleared up any doubts I may have had about how much I was going to enjoy the installment, if it was too like Dangerous Girls, I would have been frustrated at the lack of creativity, but if it were too far apart and tried to distance itself from it, I would also have been annoyed, but Haas executed a balance in this book wonderfully. There was something more tense, more on edge about Dangerous Boys because from a readers perspective, we know for a fact that Chloe has in some ways, somehow, become the reason somebody is dead and there's no denying it, she is responsible, but knowing this didn't make the mystery any less enjoyable, if anything, it made the pace and plot more interesting because we already knew the result, we as readers already knew what happened, and in comparison to Dangerous Girls, it wasn't about how it happened, but more so why, and I loved this change in tone and dynamics.
There are two areas I want to delve into, none of which should give anything about the plot away at all, but are both important, I think, to how much you will enjoy Dangerous Boys if and when you read it. To start with, relationships are HUGE in this novel. I didn't expect for there to so much romance in Dangerous Boys, but neither had I expected something much more involved, the story of a daughters struggle to care for her Mother suffering from depression after her marriage, and consequently, her life, fall apart. This is an important feature to me personally, because in some ways, I care for my Mother too, so connecting and relating to Chloe in this sense was as easy as breathing. Her emotional struggle to keep things together, her putting her life on hold to care and look after her Mother and just how much responsibility she developed throughout the year in which this novel takes place was huge, and if anything, was almost beautiful. Haas wrote those scenes with honesty and they had this raw emotional feel to them, a pull on the heart-strings, but a sense of hatred, fear and underlining pain from Chloe and her Mother because of their circumstances. When it comes to romance, I admit, I was afraid that the novel would take a cliché triangle route, and while it did take a triangle route, it never felt unnatural or awkward. There was a real sense of dynamics between the brothers, between the good, innocent and overbearing brother and the alluring, dangerous and slightly unhinged brother and yes, these sound like typical opposites, designed and created that way to cause tension and rift between them because of Chloe, but in all honestly, I don't think that this novel was in anyway cliché, typical or predictable. Yes I admit to being attracted to one of the brothers more than the other, like a moth to the flame shall we say, much like Chloe was in the novel, but it was this drawing and alluring feeling that she and I experienced that leads me onto the next important area I want to discuss -
The writing and talent Haas has in her writing. Dangerous Boys had this quality about it that Dangerous Girls didn't have, it was written in some ways and in some moments, like poetry, it was clean and flowed perfectly, it sounded beautiful to read aloud and it was a utter joy to read the words from the page. They were addictive in a way that very few books are and it tempted me in, calmly, slowly, delicately, I the moth and the novel the flame and before I knew it, I was absorbed in this novel, overwhelmed and I could not put it down, it was impossible. Haas is a talented author in so many ways, her writing is second to none and her skill and mind set for the twisted thriller mysteries is amazing, but I've now noticed another feature than I adore about her work, and it's this feature that will have me coming back book after book to her. She creates the perfect female characters, perfect to how society sees us, women who should be doing this, or doing that, or should be domesticated or calm, not unruly or willing to question orders, but as she develops her characters in her novels, they slowly become less and less like the picture of women society wants. She introduces pain, tension, jealousy, rage, confusion, emotion and heart-ache and turns it into a weapon against these female character, drawing out the monster within, and I guess you could say this is a bad thing for young women in society, almost promoting violence, but that's not what it is. She promotes a fear, a sense of higher respect for women that society doesn't have for us, a sense that we should be feared and not seen as weak and character that need saving, she reiterates that the days of being saved by knights in shining armour are over, she highlights that women can be powerful, that we can be an enemy just as much as man, but most of all, that we should not be underestimated. Both Anna from Dangerous Girls and Chloe from Dangerous Boys prove these points, having had their inner monsters drawn out, encouraged out and allowed to roam society, and you want to know the craziest thing about this features? I absolutely love it.
Dangerous Boys I fear will be just as underrated as Dangerous Girls, but both of these novels deserve more attention then they receive, and if I'm honest, I think it makes no difference what order you read these books in, just as long as you read them. Dangerous Boys delves deeper into the animal instincts we all have as human being, survival of the fittest, proving yourself in the pack and asserting dominance in a group, and cuts deep into the fabrications of society and their image of woman. Haas proves in her work that woman have power, that we strength and that we should always, no matter what the circumstances, be feared just as much as men, if not more. You without a doubt have to read her work. There is no argument. Do it.