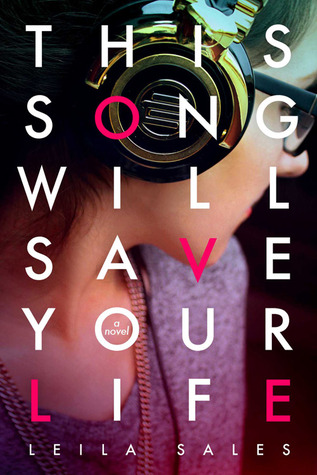 This Song Will Save Your Life
Author: Leila Sales
Standalone
Genres: Contemporary | Young Adult
Release Date: September 17th 2013
Publishers: Farrar, Straus and Giroux
No. Pages: 279
Source: Purchased
Rating:
Buy From:
Amazon
|
Book Depository
|
Barnes and Noble
|
Waterstones
Making friends has never been Elise Dembowski's strong suit. All throughout her life, she's been the butt of every joke and the outsider in every conversation. When a final attempt at popularity fails, Elise nearly gives up. Then she stumbles upon a warehouse party where she meets Vicky, a girl in a band who accepts her; Char, a cute, yet mysterious disc jockey; Pippa, a carefree spirit from England; and most importantly, a love for DJing.
It's hard for me to talk about this book without going all out fangirl, because this book was just that good in my eyes. I personally found the main character to be so relatable, but can understand why not everyone would. For me, its the pure fact that I saw so much of my self as a teenager in Elise. From a young age I was always trying to make friends any way I could, and then when I got to high school I even tried reinventing myself to better suit those around me. Needless to say that never worked how I hoped it would, instead after a year I finally accepted that I wasn't like everyone else, I dressed how I wanted (on the days we didn't have to wear uniform), I listened to whatever type of music I wanted to and I never tried to change myself for others again. But more than that, when I found music it just became my life. I had friends, don't get me wrong. But music is what I turned to before I found books, I would sit at lunch time listening to it, I would read music magazines in class, I would talk about it constantly. It kept me sane.
Elise was such an endearing character for me, she was just this poor girl who despite what how she tried she never had friends, people hated her from the start. And the most upsetting thing is she really did try hard and if she didn't meet Pippa and Vicky on one of her middle of the night walks, she wouldn't have found something that not only gave her so much joy but acceptance of who she was. (and a bit of a backbone haha). Since Elise was younger she hasn't been content with just being good at something, she's wanted to be #1 , so when Char offers to teach her how to DJ, she jumps at the opportunity to spend time with him if not anything else. DJing for her is not something else she just wants to the the best at, its something she actually want's to do for now on, and she's good at it. Not everyone is happy for her though, and she has to lie to those she loves in order to achieve what she wants, but she finally know's who she is and that makes up for it, right?
If falling in love with the main character wasn't enough how about the secondary characters, of which this book has plenty. Too often do you find that with very strong character, the author seems to slack when it comes to the others, thankfully that was not the case in this book. Everyone, even down to Elise's stepsister, are well developed and thought out. You have Vicky, she's in a band and turns out to be more like Elise than we thought. She's fiercely loyal , even when best friend Pippa is making herself look like an idiot pining over Char, someone who would never love her back. And of course we have Char, what can I say about him that hasn't already been said?. He's arrogant, envious and at times nothing but rude, but that's what makes him such a great character. It would have been so easy for Leila Sales to create this love interest that was god's gift, flawless and just seemingly perfect. But she chose to take the risk and it paid off.
One thing I loved about this book, and will always love about books that are the same, is the relationship's in the book didn't completely over power everything else. Elise done what she needed to do and moved on after. she got what she wanted from it and instead of moping around she decided to focus purely on her set's, and it was the best choice for her. I know that no everyone likes this book, I personally though loved it from start to finish and I'm so glad because I was really worried that I wouldn't. It's one of those books that, no matter how many people review it or how much you think you know, you will not understand what everyone is talking until you pick it up yourself :)