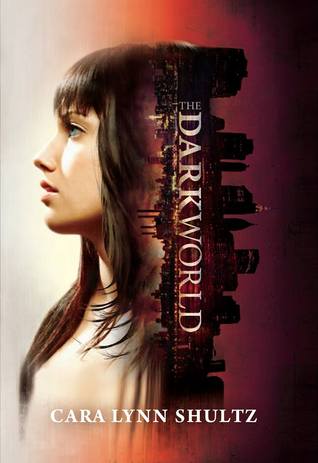 The Dark World
Author: Cara Lynn Shultz
Series: Dark World #1
Genres:
Paranormal, Demons
| Young Adult
Release Date: May 27th 2014
Publishers: Harlequin Teen
No. Pages: 384
Source: Review Copy -
Harlequin Teen
Rating:
Buy From:
Amazon
|
Book Depository
|
Barnes and Noble
|
Waterstones
Paige Kelly is used to weird--in fact, she probably corners the market on weird, considering that her best friend, Dottie, has been dead since the 1950s. But when a fire demon attacks Paige in detention, she has to admit that things have gotten out of her league. Luckily, the cute new boy in school, Logan Bradley, is a practiced demon slayer-and he isn't fazed by Paige's propensity to chat with the dead. Suddenly, Paige is smack in the middle of a centuries-old battle between warlocks and demons, learning to fight with a magic sword so that she can defend herself. And if she makes one wrong move, she'll be pulled into the Dark World, an alternate version of our world that's overrun by demons-and she might never make it home.
I've been asked for an honest review, and I will try to give it without being to hard. I hate writing reviews for books I didn't love, because the truth is I didn't, when I know that I will get back to the author as its a NetGalley review or that others might change their opinion on it. But the fact of the matter is I really didn't love this book, I didn't hate it, but I wasn't blown away and because of my lack of interest in it reading it too a while.
One thing I did love about this book was how well I thought Cara Lynn Shultz had developed the world around Paige. I loved the idea behind this book and I think that's something she managed to pull of perfectly, One thing I didn't like though was how the relationship between her and Logan seemed to move too quickly, maybe not as quick compared to others but still pretty sharpish. I think one thing that did help though, was knowing Logan was pining for from the beginning, it wasn't just fast paced thing for him. Although with Paige, it felt like because he was the first boy to show her interest she latched on to him and the idea of him.
The back stories are another issue for me, with Paige we only really know her from the time of her accident, we never really got to fully grasp what she was like before. There was hints that she was once popular, and that now she's been labeled as a nut job, and seen talking to her self, she's the school's outcast , so personally for me I feel like I would be able to to connect with her more if I knew was she was like. Logan's back story wasn't that well developed either, but I know its a series so I'm hoping that's something that changes as the books go on, because as characters they weren't all that bad. As for Dottie, well I loved her. And some of the first chapters where Paige is talking to her are my favourite of the book, they really had me gripped and wanting to know what happened to her in the first place. As the book goes on, you do get a sense of how Dottie came to die, but with the risk of repeating myself that's something that was only lightly talked about. What I would love to see in the next book is flash backs to Dottie when she was in school, because her story seems so interesting there's just lack of it, it would also help to gives me/us a better idea of how long demons have been walking around freely. (well I think it would anyway)
As I've said, this book didn't wow me and I didn't end up loving it. But I am interested to see what happens next. It may have been slightly predictable, and there was a lot that I feel could have been better but the book has a lot of potential. The foundation of the story are well set, all I feel is really needed is a better character development for all of them.