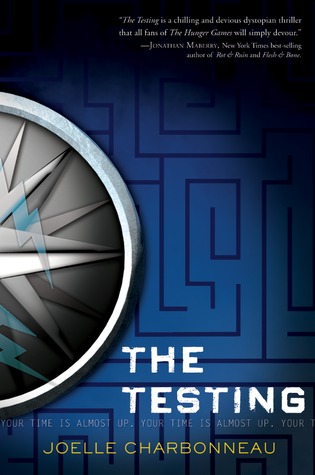 The Testing
Author: Joelle Charbonneau
Series: The Testing #1
Genres: Post Apocalyptic, Dystopian | Young Adult
Release Date: June 4th 2013
Publishers: Houghton Mifflin Books for Children
No. Pages: 336
Source: Borrowed
Rating:
Buy From:
Amazon
|
Book Depository
|
Barnes and Noble
|
Waterstones
Keep your friends close and your enemies closer. Isn't that what they say? But how close is too close when they may be one in the same?

The Seven Stages War left much of the planet a charred wasteland. The future belongs to the next generation's chosen few who must rebuild it. But to enter this elite group, candidates must first pass The Testing—their one chance at a college education and a rewarding career.

Cia Vale is honored to be chosen as a Testing candidate; eager to prove her worthiness as a University student and future leader of the United Commonwealth. But on the eve of her departure, her father's advice hints at a darker side to her upcoming studies--trust no one.

But surely she can trust Tomas, her handsome childhood friend who offers an alliance? Tomas, who seems to care more about her with the passing of every grueling (and deadly) day of the Testing. To survive, Cia must choose: love without truth or life without trust.
Firstly I'd like to just say that this book was a lot better than I expected. I heard a lot of bad things about it and yes, it does remind me a lot of Divergent because of the different stages of testing but does that matter? hell no. I really liked this book, it wasn't amazing but it was really enjoyable.
I liked Cia, as far as leading female characters go I don't think she was that bad, only too trusting. I didn't however like Tomas one bit, he just annoyed me so much and I hated how he felt like he owned Cia, yes some of the people she wasn't to involve in the team up were less than trust worthy but for god sake man if she want's to be friends with this person let her, she'll find out soon enough without you being pushy. Some of the side characters did annoy me though, and I think in the end I only ended up really liking Cia. There were a few here and there that caught my eye, but I'm ashamed to say I've forgotten what they are called haha.
I also really liked the world Joelle Charbonneau built. Yes some will argue that it has been too many times but while that may be true, the end result was just the difference needed to make it a good book and I for one and looking forward to the next book.