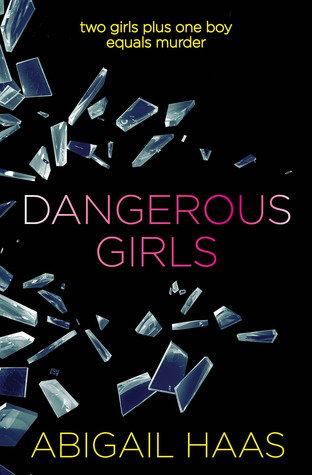 Dangerous Girls
Author: Abigail Haas
Standalone
Genres: Mystery, Thriller, Contemporary | Young Adult
Release Date: 1st August 2013
Publishers: Simon and Schuster
No. Pages: 388
Source: Purchased
Rating:
Buy From: Amazon | Book Depository | Barnes and Noble | Waterstones
Elise is dead.
And someone must pay.

Anna, her boyfriend Tate, best friend Elise and a group of close friends set off on a debaucherous Spring Break trip to Aruba. But paradise soon turns into a living nightmare when Elise is brutally murdered. Soon Anna finds herself trapped in a foreign country and fighting for her freedom. As she awaits the judge's decree, it becomes clear that everyone is questioning her innocence. To the rest of the world, Anna isn't just guilty, but dangerous. As the court case unfolds the truth is about to come out, and it's more shocking than you could ever imagine..
This book and/or review may be unsuitable for people under 17 years of age due its use of language, sexual content, drug and alcohol abuse and/or violence. Please bare this in mind before reading.
Last week Charnell from Reviews from a Bookworm and I decided to read Dangerous Girls together, sharing our suspicions and our thoughts all over Twitter on a book neither one of us had heard much about. I can't speak for Charnell on her experience, but I can tell you that this book blew my mind in ways I didn't know possible, made me doubt everything and everyone and had me hook, line and sinker. For a book with so little said about it, it's in danger of being pushed aside and ignored but this is not a book you should avoid, it's too good to miss.
Hass is a fantastic author whom I'd never tried before Dangerous Girls and her writing, style and prose has this addictive nature to it that brings you straight into this novel slowly, pulling you closer and closer into a plot you think you're starting to piece together, starting to make sense of and a mystery you think you're starting to solve until she ends on a complete and utter high until there's nothing you can do but find the experience fantastic and heartbreaking all at once. There's very little I can tell you about the plot without giving details away, because for once, every detail in this murder mystery is important and nothing is what it seems. A group of friends go on a holiday together, get drunk, party the night away, have sex and the rest is as you can assume; it's a teenage paradise with no problems and no worries until one of them is murdered. Anna, the narrator of Dangerous Girls, and her boyfriend are prime suspects and the island they holidayed on is convinced one of them was responsible, but what Hass managed to do so well in this novel that other authors have never managed before was create doubt among every character in this novel, from the maid to the one-night-standee, so much so, I must have spent the entire experience doubting one of the characters at some point or another. I cant convey just how alluring and beautiful this writing and plot in Dangerous Girls is, and talking about how I doubted everything and everyone and struggled to distinguish truth from the lies from everyone in this novel might not be enough to encourage you that this book is worth you time, but it's an experience you won't forget.
There were however features in the plot that I loved and appreciated that Haas included and focused on and I found these really improved the depth and emotions that ran through this mystery. The LGBT features that were mentioned in a few short pages during the novel weren't danced around or covered up at all and were treated fairly and with the same respect as others features in the novel like physical and mental health issues of both Anna's Mother and Elise herself. Elise and Anna were probably my favourite characters in this novel; Elise was portrayed in an honest, raw and emotional manner, damaged and distressed, confident yet reserved, always wearing a mask to hide her true emotions and her secrets and her relationship with Anna was realistic and raw, both taking from each other support an reassurance but also giving each other something to hold onto in a strange and twisted manner, but when Elise is murdered, Anna is left alone, suffering the backlash of a murder trail desperate to pin the murder on her, painting her in a negative light at every turn and making her freedom feel further and further away. The jumping nature of the chapters wasn't at all confusing or frustrating and I found that the style in which Haas wrote the journey of Anna's trail in Dangerous Girls really helped develop hers and Elise's characters and the other minor characters involved.
Dangerous Girls doesn't take you through the kind of judicial system you've seen on TV in Law and Order and CSI, and it doesn't value honesty or evidence. Dangerous Girls highlights that the system is flawed and that evidence can be mishandled, changed and challenged and that the only thing that matters in that court from is the show you put on to prove your plea; the best show gets the best result and very little else matters. Dangerous Girls is a book that makes you question everything you know about the people in your life and yourself, the society and world you live in and just how much the media, the prejudice and assumptions of a single person can take the simplest and most innocent of actions and manipulate them. Dangerous Girls is a murder mystery wrapped up in lies and misplaced trust, but it also takes on similarities to a real life murder case that was too wrapped up in betrayal, revenge and a confusion of the truth and it's because of this that I loved this book even more.
If you haven't heard much about this book and it's plot, there's a reason for that; this book needs to be experienced. You need to grow attached to the characters and fall into the premise. You need to hate some characters and love others and you need to experience the reveal first hand and experience the ordeal and repercussions of Anna's trial. You need to find yourself a copy of this novel and read it in one sitting and you need to fall in love with everything about it. I for one am going to be looking out for more of Haas work in the future.