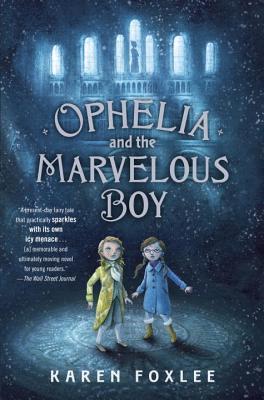 Ophelia and the Marvelous Boy
Author: Karen Foxlee
Standalone
Genres: Fantasy | Childrens
Release Date: 28th January 2014
Publishers: Knopf Books
Pages: 240
Source: Review Copy - Knopf Books
Rating:
Buy From: Amazon | Book Depository | Barnes and Noble | Waterstones
Unlikely heroine Ophelia Jane Worthington-Whittard doesn't believe in anything that can't be proven by science. She and her sister Alice are still grieving for their dead mother when their father takes a job in a strange museum in a city where it always snows. On her very first day in the museum Ophelia discovers a boy locked away in a long forgotten room. He is a prisoner of Her Majesty the Snow Queen. And he has been waiting for Ophelia's help.

As Ophelia embarks on an incredible journey to rescue the boy everything that she believes will be tested. Along the way she learns more and more about the boy's own remarkable journey to reach her and save the world.
After Ophelia and the Marvelous Boy, I realised it was probably about time I moved back onto Young Adult rather than getting lost in childrens fiction, because it was proven that you can have too much of a good thing. This book had everything I've previously enjoyed about childrens fiction lately, no romance, simple, understandable layers to their characters and a simple, straight forward, predictable plot; it just wasn't enough to put my adult brain at bay.
I adore the story of the Snow Queen; it's definitely one of those that has lingered in my heart every since I was a small girl, and I think it plays a part as to why I'm so obsessed with Winter and snow, and I think that may be what drew me to this book. It held up so much premise, so much excitement, and I have to admit, it wasn't as childish as I thought it was going to be, with the language much more developed and mature than in other childrens fiction, but with developed language comes developed plot and yes, there was quite some joyful moments, but my adult brain expected a little too much. I had plenty of unanswered questions in the end; Where do they go? How does the time pass from past to future? just to name a few, and it affected my overall enjoyment. As a child, I would have dismissed how easily Ophelia's father understood her fighting the 'evil bad person' not to get any spoilers anyway, but right now, at the ripe old age of 19, I just couldn't understand it. I couldn't get past it, and I couldn't accept it, and in the end, that's why this story isn't rated higher; personal reasons.
However, there were plenty of reasons as to why you should pick up this book. The family aspect was covered so wonderfully, it made a change from the usual 'child in care' type stories you find in childrens books. There was a painful family death, and yes, it made the sisters relationship much more difficult and their relationship with their father strenuous too, but you could see the love they had for one another, what they would do for each other and how much they needed their company. I also really liked the portrayal of crazy wizards, which is very traditional; wizards were seen as mad men with strange talents, and most of them hid in small towns with secretive names, and that was a fantastic little touch. The world and the museum that Ophelia finds herself in was quite possibly my favourite part of this story. The museum was constantly described beautifully and just wonderfully; I never felt lost or confused, or felt that anything was out of the place, it was all as if Foxlee painted the museum for me personally and talked me through every little nook and cranny, and I loved it. This was most definitely my favourite feature throughout the entire story.
If there was any last words I could give to this book, it'd be these: It covered the aspect of never letting those you love go, being brave, and believing in your imagination, not always over-thinking and asking too questions. It was about family, about doing what was true to you, about friendship, and loyalty. It was about talent and happiness. It was a nice breath of fresh air, and great twist and fairytale I quite enjoy. Well done me/