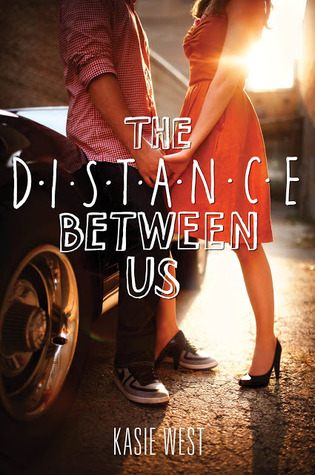 The Distance Between Us
Author: Kasie West
Standalone
Genres: Contemporary | Young Adult
Release Date: 2nd July 2013
Publishers: Harper Teen
No. Pages: 320
Source: Gifted
Rating:
Buy From: Amazon | Book Depository | Barnes and Noble | Waterstones
Seventeen-year-old Caymen Meyers studies the rich like her own personal science experiment, and after years of observation she's pretty sure they're only good for one thing - spending money on useless stuff, like the porcelain dolls in her mother's shop. So when Xander Spence walks into the store to pick up a doll for his grandmother, it only takes one glance for Caymen to figure out he's oozing rich. Despite his charming ways and that he's one of the first people who actually gets her, she's smart enough to know his interest won't last. Because if there's one thing she's learned from her mother's warnings, it's that the rich have a short attention span. But Xander keeps coming around, despite her best efforts to scare him off. And much to her dismay, she's beginning to enjoy his company.

She knows her mom can't find out - she wouldn't approve. She'd much rather Caymen hang out with the local rocker who hasn't been raised by money. But just when Xander's attention and loyalty are about to convince Caymen that being rich isn't a character flaw, she finds out that money is a much bigger part of their relationship than she'd ever realized. And that Xander's not the only one she should've been worried about.
The Distance Between Us was yet another sweet contemporary that gave me everything I wanted from it, and while it didn't blow me away, there was plenty of things I definitely enjoyed throughout, and that's what made reading it so enjoyable.
The description makes this book sound as though it's entirely a romance orientated novel, but much to my surprise, it wasn't. It covered a lot of aspects such as society's differentiating the poorer and the richer, and as someone who's finances aren't exactly overflowing my living room, I respected that; granted, West did include some pretty stereotypical aspects to both types of characters, but she also covered the subject well, and quite lightly. She also made sure to acknowledge that teenage pregnancies were pretty common before I was born (pre 1994) and that there were plenty of different types of action taken with it, for example, pay-offs, or abortions, or abandonment from family members, and I think that could have covered a little bit more, but overall, was added quite smoothly into the story. The plot twists West included in her story were also really good, While I saw some with Xander and Caymen's background coming, some of them I really didn't see whatsoever, and it takes a lot for that happen once you've been reading a few of the same genre and style.
However, I think it was the teenage romance and Caymen's personality that clinched it for me. I could really relate to her; whether it be her sarcasm, or her confusion over her future, to worrying overly about her Mum, I could really see myself in her shoes, and I thought her character development and growth was pretty good, however, I couldn't take her always thinking of saying things and then saying completely different things; that really began to great after a while. She had a great sense of joy and positivity through all the stress she was going through, and learnt how to have fun and embrace different activities, even romance, and I found myself laughing, smiling, even snorting, yes, snorting will laughter on a few occasions. When it comes to the romance, I found it really honest and relatable as well; it wasn't some of this insta-love type you find floating around young-adult books, but it was smooth, and the transition between friends to more was pulled off pretty well. Even the small making out scene was pretty well done, and wasn't too much or not enough.
The Distance Between Us was a very easy book to read, and it covered aspects such as family, different backgrounds and the truth about your past; finding out where you're from, why you're how you are now, and what you want to be, and who you want to be with. I think this is a lovely contemporary, and I think it's a really good choice for people looking for a chilled out reading choice. I've been swayed by this book to possibly try out more of Wests works, and I'm looking forward to looking into Pivot Point, but while I really did like it, I didn't fall head-over-heals in love with it.