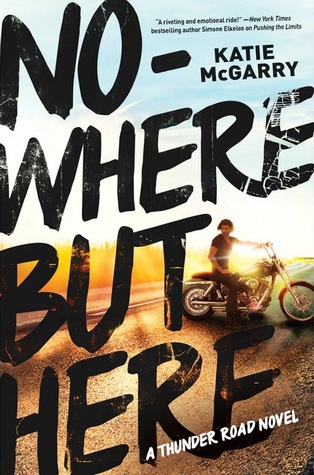 Nowhere But Here
Author: Katie McGarry
Series: Thunder Road
Genres: Contempoary | Young Adult
Release Date: May 26th 2015
Source: Review Copy - Harlequin Teen
Rating:
Seventeen-year-old Emily likes her life the way it is: doting parents, good friends, good school in a safe neighbourhood. Sure, she's curious about her biological father—the one who chose life in a motorcycle club, the Reign of Terror, over being a parent—but that doesn't mean she wants to be a part of his world. But when a reluctant visit turns to an extended summer vacation among relatives she never knew she had, one thing becomes clear: nothing is what it seems. Not the club, not her secret-keeping father and not Oz, a guy with suck-me-in blue eyes who can help her understand them both.

Oz wants one thing: to join the Reign of Terror. They're the good guys. They protect people. They're…family. And while Emily—the gorgeous and sheltered daughter of the club's most respected member—is in town, he's gonna prove it to her. So when her father asks him to keep her safe from a rival club with a score to settle, Oz knows it's his shot at his dream. What he doesn't count on is that Emily just might turn that dream upside down.

No one wants them to be together. But sometimes the right person is the one you least expect, and the road you fear the most is the one that leads you home
When I heard about Nowhere But Here I was excited but also very cautious. Personally speaking I was in a love affair with Katie's writing at the start, but as the series went on I felt like we had become comfortable and I began cheating on it with more exciting, challenging and memorable contemporary books, while always going back for the happy memories we had (much like a marriage haha). I knew I would request Nowhere But Here, I knew at some point I would read it and experience new characters with different situations (hopefully). However what I didn't know was just how much I would end up loving it. When I decided to bite the bullet and just get the book over and done with, I wanted that spark I first felt when I picked up Pushing The Limits and I would be lying if I said I didn't think I would get that with Katie again, I'm so glad to say that I was wrong because from the first chapter my heart was not only fluttery but I was hooked!
Even though I was very intrigued from the first chapter, my thoughts were very mixed. Emily and me didn't get off on the right foot, in fact her attitude to me screamed every bad boy from the Pushing The Limits series, and because of that I was unsure. I also didn't like how it was yet another contemporary book about a character with that one bad parent, the parent that has seemed to screw up their life and is no longer in it, I just felt like these days they're a dime a dozen and longed for some originality. But then we met Oz, and part of me became hopeful. No longer was I sure that Emily was anything like the others, it seemed more like a front and not who she actually was and after a while I started to warm to her. Once we met her dad it became obvious that there was so much more to the story than just your generic split between parents, there was a much deeper meaning behind it and I guessed it about half way through but it didn't stop me from being surprised when it was revealed (I know that sounds stupid, but it's true). There was a number of different elements in this books that mad it stand out in the crowd but my favourite thing would have to be that it was about a motorcycle gang.
The book is set from two point of views and it works really well. We have Emily trying to uncover the truth about her dad and his family, while actually starting to care for the people who have been absent all her life, and we have Oz, someone who has only ever known the life of the gang and who hopes to become a official member when he comes of age. The pair are spending all they time together, as her father has instructed Oz to look after her while she is visiting, and soon their relationship turns from a mutual dislike to something more (or more.. you'll have to read the book to find out haha). Both main characters are really interesting, as stated I didn't like Emily when the story first started but I think it was Oz who helped her out of her shell and in turn made me like her. However I loved Oz from the start, not only is he cheeky and funny, but he's a fiercely loyal person. I really liked how their relationship was slow, it could have gone a little slower if you ask me but I really to appreciate their age and the attraction/connection they feel so I understand if things got heated quicker than normal.
As you may have experienced yourself at one point or another while reading a contemporary book or a romance of some disruption, sometimes something stops you from imagining the two love birds actually being a match, god know's its happened to me more than once, Lucky I didn't have that with Emily and Oz, one of the things that made reading this book so easy and enjoyable was how they're personalities just complemented each other perfectly and I never found myself second guessing them being together. Although the new faces, situations, relationships and personalities were a breathe of fresh air, I would be lying if I said I was worried that Thunder Road series is going to go down the same road as Pushing The Limits with the similarities, I really really hope I'm wrong though.
If you have read and enjoyed Katie McGarry's other work, than I can't imagine you wouldn't find this book just as good. Putting the main characters and their feelings aside, there is a plethora of other interesting people in the story with their own backgrounds and reason's for the way they behaviour or have acted in the past. If you didn't like her other series than I would say still give this one a go because there is enough differences between the two which could be the deciding factor on you liking it or not. For me though, this book was a lot better than I expected or could have hoped for, I am really looking forward to book two as it's set from one of my favourite sub characters from this one. Though it would never happen, I would pay good money for a book about Emily's parents, how they met each other and how they came to have enough feelings towards each other to procreate. That's something I think would be very interesting.