Things are looking a little different..
In case you've been hiding under a rock, haven't been online or just haven't really thought about us all that often over the last two weeks, we've been on a complete hiatus, and today, we're back, and we're rocking a brand new look!
Very different isn't it? But what's changed, and what hasn't?
Well, Amanda made a lot of changes..
For starters, this current design has a completely different template behind it, one that was much easier to work with. In fact, it was so easy to work with, this new design has three times the amount of CSS custom coding behind it, everything from header placement, to our sidebar menus, and even the hidden things you can't see.
Anything that could be custom coded, Amanda did. Previously, our old design was pretty graphics heavy, both in our content and in our sidebars, pages and menus. Gone is the (hopefully) slower loading time and in came a cleaner, crisper look with fewer unnecessary graphics and more clever code.
Content became the key. When redesigning, Amanda wanted to make sure that what we said was the focus rather than any snazzy graphics or overwhelming colours. Where possible, Amanda kept content colours to a minimum, while keeping most of the colour work in the sidebar. (Colour work she's very proud of..)
We ditched Google Fonts and brought in Font Awesome. While Google Fonts is a fabulous way to integrate some really rather wonderful fonts, it affected our loading time, and in some cases, didn't load correctly and this was no longer acceptable. Amanda did however bring in Font Awesome for our ratings and social icons (if you've got adblock enabled, you may not see them), a program she's played with, but never really made real use of until now.
Gone are unnecessary tags and blog features. While keeping our book/blog related and private ramblings separate seemed like a good idea, keeping our discussions universal was just easier and made more sense in the long run, as did making changes to our menu and locations.
Blog features are colour-coded for easy transitions. Our sidebar is fabulously colour coded with different features under different colours. Most of the features have feature graphics and headers for their content that coordinate with their sidebar counterpart. It's just another way to bring some colour to our content without it overwhelming readers.
We've got new about pages!
After reading
Ashley's post on rocking your about page
, Amanda realised we weren't really selling ourselves like we should be. What we do on Beautiful Bookish Butterflies is fantastic, and by god should we be blowing our trumpets. It's hard work and it's a tough hobby, one that if you want to be seen and noticed in the community, you've got to pull out the big guns and sell yourself, something we didn't do previously. Times are a' changing and so are we, and it's time we appreciated and took notice of the hard work we put in. If we didn't, why would you?
SHOW ME! I WANT TO GET TO KNOW YOU!
We also intergrated some wise advice from our survey
Remember the survey we asked you all to take part in? We got some pretty great advice and information to work with, some of the best ideas concerning Who Wore It Better and Five Friday Favourites, features that, after much soul searching and brain sharing, we've decided to continue on with, but make some changes too.
For the first time on Beautiful Bookish Butterflies, we're opening up Who Wore It Better to guest posters, allowing you to choose the book, the covers and even share your feelings about them! We're not entirely sure how quickly spots may fill up, and it may be that guest post opportunities close due to requests, but you can find out all the details and more in our sidebar feature
Who Wore It Better Guest Post Opportunities
.
We were also made aware that people we're struggling to get involved in Five Friday Favourite either because they weren't aware of the dates the posts went live, how long link-up's where open for, or what the subject was, so to make things easier, we've also created a feature in our sidebar providing you with all the details you might need concerning the feature, so do check out
Five Friday Favourite Participation
.
There's new additions to our features coming too..
Some people may have noticed additions to our sidebar that never existed previously.
HTML & CSS: Once Amanda realised that creating designs for other people wasn't something she thought particularly suited her, she's still felt the itch to help teach others how to learn the tips and tricks she's learnt along the way. She'll be sharing advice and little hacks to make your blogger blog less blogger and more wowzer!
Popular vs Underrated: Amanda's always banging on, reading, reviewing and sharing underrated reads around BBB and it spurred on a new feature that may be sticking around, (depending on her inspiration.) Comparing popular community reads to similar, lesser known counterparts, she'll be helping you find your next favourite, underrated read.
Trade/Giveaway: Not quite a feature, more an upcoming opportunity to get your hands on some of our books, either by paying for the postage or by trading! We;ll be opening up 'shop' soon, so do keep your eyes peeled.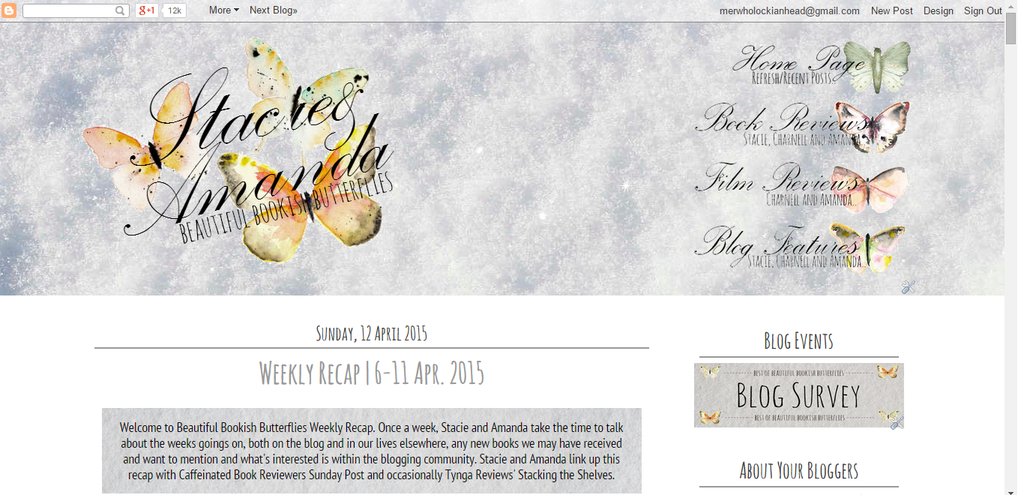 We didn't change everything though..
We kept our colour scheme. Colour was an important aspect of the design, it always has been something both Amanda and Stacie loved. Keeping the grey, pink and orange hues was always a vital part of the design, and integrating them smoothly with the new crisp design is something Amanda is very proud of.
We didn't change our logo, at least, not an awful lot. When we clubbed together, our individual brands were things we lost, and creating a new brand together has been difficult, the last thing we wanted to do was lose that brand too, and while the new logo is much simpler and cleaner, it's still the logo you know and love.
Neither did we change how you identify between us. Stacie and Amanda are still very different people with very different voices, and being able to identify who was who was still an important factor. While discussions are much more universal and clubbed together, we still have a butterfly to represent us individually.
All our social media accounts are still the same, they just look a little different to match the new design. No names have changed, and you can still find us through our links in the sidebar or on our individual pages.
But girls, what spurred on a new look?
There's one important fact that needs pointing our first. Amanda does the design work for Beautiful Bookish Butterflies, and Stacie sort of nods or meh's and has the final say to any changes, so when we say that we wanted a new design, it was more a case of Amanda felt inspired and
tadah
, brand new design. There was never an intention to re-design so quickly after starting co-blogging, it just sort of happened, and we both fell in love with it, Amanda while designing it and Stacie while seeing it come together before her eyes. This design feels much different to our previous design though..
It feels more professional.
It feels like it has focus and intent.
It feels like it has direction and a future.
We loved our old design with it's soft feel and feminine look, it's definitely one of Amanda's favourite designs she's ever made, and we were so so pleased when so many people fell in love with it too, but there's something new and exciting about a new look that focusing on content rather than the graphics surrounding it. There's something refreshing about a blog design that makes you want to do more and create more, and although it is just a re-design, it's one that will grow with us and will change as and when we do, and it's a exciting new step on our journey together that says:
We're sticking around for the long haul!
We seriously love our new look and we're really happy, and we hope you're happy too.
We understand that there's a lot of new features and changes to take in, so please, do explore.
Do you like the new look? Did you miss us?