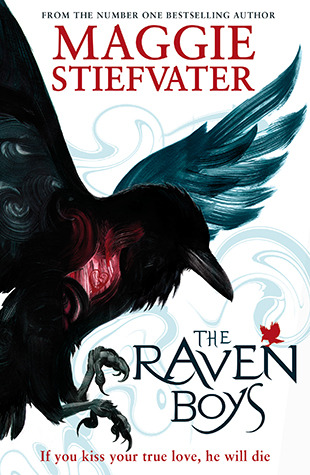 The Raven Boys
Author: Maggie Stiefvater
Series: The Raven Boys #1
Genres: Paranormal, Fantasy | Young Adult
Release Date: 19th September 2012
Publishers: Scholastic
No. Pages: 454
Source: Borrowed
Rating:
Blue has spent the majority of her sixteen years being told that if she kisses her true love, he will die. When Blue meets Gansey's spirit on the corpse road she knows there is only one reason why – either he is her true love or she has killed him.

Determined to find out the truth, Blue becomes involved with the Raven Boys, four boys from the local private school (lead by Gansey) who are on a quest to discover Glendower – a lost ancient Welsh King who is buried somewhere along the Virginia ley line. Whoever finds him will be granted a supernatural favour.

Never before has Blue felt such magic around her. But is Gansey her true love? She can't imagine a time she would feel like that, and she is adamant not to be the reason for his death. Where will fate lead them?
I believe I may have found the book that leaves me lost for words - it's not to say that this book blew me away, as it didn't, it's to say that because of the complexity that is this book and I dare say, the entire series, it would be nigh on impossible to find the right words to review this book with. The Raven Boys, to me, is a complete oxymoron in a number ways, from it's pacing to it's characters, but I shall say this, there is no writing more beautiful, more fluid, more comforting than Stiefvater's, and for that, this woman is already a genius.
The Raven Boys is already unique when it comes to books I've read because it took me around two and a half weeks to read from start to finish. Once again, that's not down to the novel having a lot of depth, which it does indeed have, but because I feel my expectations were too high and the beginning itself was a little, slow, and groggy. This could be because it'd been a while since I'd read anything else by Stiefvater, but I doubt that's the reason because I could read her writing all day. It could be because this is a vast series with a huge amount of characters, each of them needing introducing, each of them with a background that had to explored, each of them needing a starting point for which they could later develop from, and while I can't dismiss that reason either, it doesn't feel quite right. It took me a good 150 pages before I really felt The Raven Boys got anywhere interested, before the novel really picked itself up and went for a rollercoaster ride, taking me along with it, and it's a shame, because this could have easily been a one-night affair.
Another thing I struggled with a little, which is frustrating, because it's also one of the things I adored about The Raven Boys, was the Welsh Kings area of the plot. I confess, I am absolutely lost when it comes to history, I can't name historical events or dates and names, lets not go there, so I was surprised when this feature was heavily pressed on in The Raven Boys. I felt lost sometimes, even within Stiefvater's writing which you could seriously bathe in, it's that beautiful, I felt as though I couldn't and would never understand the slight subtle information dumps flitted and dropped within the novel. Don't get me wrong, once I got going with The Raven Boys and found myself interested and intrigued and seriously invested, I was hooked, the whole aspect was brilliant, it was haunting and thrilling but so utterly mesmorising in all the right ways, I may have completely forgotten that I'd ever struggled with the start.
I really did love The Raven Boy, especially it's characters and their relationship with one another. I thought The Raven Boys themselves had a wonderful relationship with one another, in a not always wonderful way. I loved that there were many different backgrounds, many different character defining moments between them all, whether it be Gansey's development in seeing the value of something through feelings rather through money, or Adam's development with his bravery and courage, not to mention his sacrifices, of Ronon and his absolutely terrible temper but delicacy towards fragile things and people, and relationships, or Noah and - Noah and everything he lost. Not to mention Blue who was such a central part of this novel and will be throughout the entire series. Even the more secondary characters within the cast, Blue's family, her mother and sisters and their world of physics, power and magic, or Whelk and his hungry power drive, each of them, so beautifully written about, came to life n The Raven Boys, and I so honestly adored it.
There's so much more to the Raven Boys than I could find time to talk about, nor find the words, from the really really really subtle romance aspect, which I can tell already is going to seriously drive me crazy, to Stiefvater's inclusion of what seems like actual events from the future within visions which have already driven me crazy. I loved the wonderful paranormal aspects from The Raven Boys, I really enjoyed taking a look at the meanings behind the card reading, with huge thanks from Kelley at Oh, the Books! and her insightful tarot posts, hot damn, I seriously fell in love with how eerie the whole damn mystery and magic of the Welsh Kings was, it was so enthralling, it would so easy to forget that I ever had issues at the start, but I did, and because it ultimately made me reserved and wary of continuing, and made the beginning feel slow and lacking, I can't give it anything more than I have. We should deal with the matter at hand now though, that matter of continuing the series.