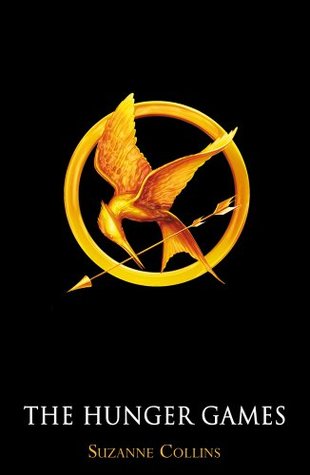 The Hunger Games
Author: Suzanne Collins
Series: The Hunger Games #1
Genres: Science Fiction, Dystopian | Young Adult
Release Date: 1st December 2011
Publishers: Scholistic
No. Pages: 454
Source: Gifted
Rating:
Buy From: Amazon | Book Depository | Barnes and Noble | Waterstones
Winning will make you famous.
Losing means certain death.

In a dark vision of the near future, a terrifying reality TV show is taking place. Twelve boys and twelve girls are forced to appear in a live event called the Hunger Games. There is only one rule: kill or be killed. When sixteen-year-old Katniss Everdeen steps forward to take her sister's place in the games, she sees it as a death sentence. But Katniss has been close to death before. For her, survival is second nature.
I would very much like to put a disclaimer right here, right now. I didn't not enjoy this book, I actually thought it was pretty good, and I don't write this review to be cruel, nor to upset people who are huge fans of the series, so if you can't handle a review that is a little less than complimentary, I advise you leave now; it shall not be very attractive and I don't want to justify myself in the comments for not being 'madly in love' with this book.
God knows how many people encouraged me to read The Hunger Games, told me 'it was amazing', 'you're going to love it' and 'it'll become a favourite', and god how I wished this was true. I wish I had loved this book, thought about it in my sleep, jumped forward and launched myself towards my copy of Catching Fire because that's what I wanted; I wanted to feel what everyone else had felt and I just, didn't. The biggest and main reason for all of this is the reason everyone loves this series, the tributes, especially Katniss. I don't know what it was about her that irritated me, angered me and made me what to kill her in that damn arena but I felt absolutely nothing for her character whatsoever; I completely understand that in their circumstances they couldn't let their emotions show, nor could they be allowed to feel anything in case they were murdered, but really, I would have preferred much more background on the other characters, even a few chapters from the perspective of those other characters because they were more of less just there and the only pieces of information I learnt about them at all was from Katniss' perspective, which in itself I didn't enjoy. Almost all her scenes were what Katniss was thinking, what she was eating, what she was hunting, what she dreaming; where was this action I was sorely promised? Where was the none stop thrill of the ride I was told I would get? The only characters I felt remotely anything towards were Haymitch and Peeta, and I somehow don't think they were characters I was meant to root for. Peeta had the character development I wanted Katniss to have, he really became something more than he was to start with, and Haymitch, well, I feel you hun, I'd be driven to drink if I was in your shoes too. Other than the characters and the watered down value of action, this book was actually pretty good.
One thing I expect from a dystopian book is a good level of background history, and good outline of the world and The Hunger Games delivered on that ten fold. From the beginning, I was made to feel at home in the Seam and in District 12, viewing the struggles the whole district when through and finding out more about The Hunger Games, what they were, why they were created and so on. I felt this was a strong back-story, both believable and achievable and I was impressed, as was I impressed with the ability to create a world I could see in my mind so easily; granted, this may be down to little snippets of the film I've seen in passing in the trailer almost a year ago and a half ago, but hey, does it really matter, I expected a good world and I got one. Complimentary to that was the plot, yes, it was a little dry, okay a lot dry, and a lot slow too, but generally, the whole idea, the whole execution was does superbly; it really hits home about how reality TV isn't always has fun and humourous as some people like to think, and how it's pretty obvious, even in our societies, what type of place your from and what life you live too. I especially loved some of the little extra features like the Mutts, the Mockingjays and the huge wasp-like creatures I've forgotten the name of; they really brought an extra something to the story and the world, and they were hugely believable because of the scientific advancements we have already, so points to Collins for that.
Sorry, what's that, I haven't mentioned the romance? To you I say what romance? There wasn't an ounce of romance involved at all. Katniss' didn't have any romantic attachment to either Peeta or Gale, she barely had a personality for crying out loud, the only person she showed love and affection for was Prim and damn, I would hope so after almost dying for her. Her 'romance' with Peeta was all for show, that's reality TV for you, and her 'romance' with Gale was more of a partnership than a relationship; a few kisses and a dream or two mean nothing to me, if you're going to try and convince me that a few weeks in an arena trying not to die is enough time to go from 'you gave me bread', through 'I'm seriously warming to you' to 'damn I might like you' than at least give me something to work with.
When I finished the book, I knew I would carry on with the series; I want to see what consequences her actions would have, and I want to see if Collins can actually make me believe that Katniss remotely cares even a little bit for bread boy, and whether she can actually make me like Katniss full stop. All of my rating goes towards the world building and back story, it was wonderful and really immersed me into itself, but without characters I could really take an interest in or relate to, it was never going to be better.