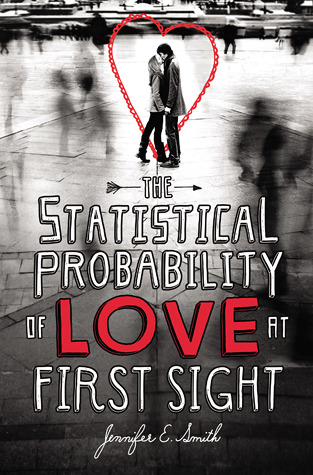 The Statistical Probability of Love of First Sight
Author: Jennifer E. Smith
Standalone
Genres: Contemporary |
Young Adult
Release Date: 14th May 2012
Publishers: Little Brown
No. Pages: 215
Source: Gifted
Rating:
Who would have guessed that four minutes could change everything?

Imagine if she hadn't forgotten the book. Or if there hadn't been traffic on the expressway. Or if she hadn't fumbled the coins for the toll. What if she'd run just that little bit faster and caught the flight she was supposed to be on. Would it have been something else - the weather over the Atlantic or a fault with the plane?

Hadley isn't sure if she believes in destiny or fate but, on what is potentially the worst day of each of their lives, it's the quirks of timing and chance events that mean Hadley meets Oliver..
If you haven't read this book because you think it's set out to be one very little over cheesy and way too cliché book, then you should seriously reconsider, as this may look and sound like one big 24 hour 'instant love' romance, but there is so much more to this little gem, and I'm glad I gave it a go myself. As far as I am aware, there are two paperback covers, one black and white, and another is the version I own. While the black and white cover screams whiny teenage emotions, the edition I have is a little more subtle and and childlike I feel, and touches such as the cartoon plane and the grass gardens really make it such a lovely cover to admire, and in truth, an even better reason to have it on your bookshelf.
As soon as I'd received this book last Christmas I was surprised to see just how small it was, little over 210 pages, and I began to doubt whether all the positive reviews of a sweet teenage whirlwind romance with messages of family, change and honesty were really true, and if so, how on earth can one person fit all that into so few pages. Well, I was pleasantly, no, more than pleasantly, I was utterly bamboozled and won over with this book, after around 30 pages. While the writing style was much simpler than other books I've read recently, it had a wonderful flow-like feel to it which took me away from the obviousness that I was reading, and just made me feel like I was seeing these events in person, right in front of my eyes, and very few books have ever given me that feeling, so definite brownie points for that Ms Smith. The overall style of the writing was so beautiful and relatable, it reminded me quite strongly of The Fault in Our Stars and while I understand that they're written by entirely different authors, I feel personally that my comparison does justice to both authors, as both of those books are beautiful, with an side serving of heartbreak and lesson learning.
On the topic of lesson learning, I actually really enjoyed just how many lessons I learnt in the two days it took to read this book, and while my personal circumstances are different in a number of ways, I could relate to the events that happened so easily that if I didn't know better, I'd think some of it were based on me. While I won't delve into my personal life, I could understand so clearly what Hadley, our main female character, was feeling towards her family life and how she'd lost a lot of her faith in romance and marriage, and while to others, this may have seemed like a constant episode of teddy throwing syndrome, I honestly felt that I learnt the same lessons that she'd learnt, but alongside her, which was quite nice for me. I quite possibly most of all loved how fate driven the entire story felt, and as I huge believer in fate and destiny myself, it was completely and utterly perfect for me, as when I wasn't smiling because of it, I was crying.* I also loved how both the book and their Fathers were the important features of this book, and how they both related to each other, whether it was how opposite the circumstances were, whether it was how mutual feelings for the book were, or whether it was just the changes of heart that both main characters went through, it was just wonderful.
The most wonderful part of this book was actually the characters, and while I've already mentioned Hadley in passing, I have more to say. Hadley's character development throughout this book was some of the best I've ever read, and whether that shows how little I may have read, or how easily swayed by I am by personalities, who knows, but for such a short book, I was really impressed. Her attitude became much more positive, her sense of humour and back-and-forth banter with Oliver was always keeping me smiling, her quirky yet, not that usual, fears were so wonderful and while I don't condone running out of your Father's wedding to meet for a guy, her reasons behind doing so were so honest and caring that I could seriously put her up with some of my all-time favourite characters. Oliver too was a lovely character, and while I usually get pretty annoyed when British male characters are so highly glorified by the American female character, this one didn't feel as obvious. While comments were made about his accent, or how his use of words was different, it was used in a playful manner and in less of a romantic one, which just kept pushing this book higher and higher into my 'favourite' ranks. His conflicted feelings and deep emotional struggles made me really like Oliver, especially when it came down to his Father and their circumstances, and the pent up feelings he'd kept so hidden. I really felt for him. And of course, who wouldn't ask the attractive, young, and genuinely kind guy if he has a girlfriend? I know if there were a real life version of this Oliver fella, I'd be the one forming the line to ask. Finally, we reach my third favourite character; the fly. People who've already read this book will already know what I'm blabbering on about, but that fly was probably the best and most hilarious topic of conversation throughout that entire plane journey, and the fact that it was remembered later on was just fantastic, utterly fabulous. I truthfully enjoyed and loved all the characters in this book. There weren't too many, they were each so wonderful to hear about, in all honesty, there wasn't a character I didn't dislike, at all, surprisingly.
I loved this book. I loved how every ending and can bring a new beginning, and how things that may seem like the most terrible and worst things in the world can turn out be entirely different, and wonderful at the same time. There's no denying it, I honestly can't and won't find fault with this book.