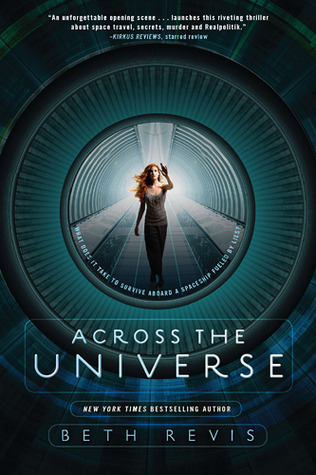 Across the Universe
Author: Beth Revis
Series: Across the Universe #1
Genres: Science Fiction, Fantasy | Young Adult
Release Date: 3rd March 2011
Publisher: Razorbill
No. Pages: 319
Source: Gifted
Rating:
Buy From: Amazon | Book Depository | Barnes and Noble | Waterstones
Seventeen-year-old Amy joins her parents as frozen cargo aboard the vast spaceship Godspeed and expects to awaken on a new planet, three hundred years in the future. Never could she have known that her frozen slumber would come to an end fifty years too soon and that she would be thrust into the brave new world of a spaceship that lives by its own rules.

Amy quickly realizes that her awakening was no mere computer malfunction. Someone - one of the few thousand inhabitants of the spaceship - tried to kill her. And if Amy doesn't do something soon, her parents will be next.

Now Amy must race to unlock Godspeed's hidden secrets. But out of her list of murder suspects, there's only one who matters: Elder, the future leader of the ship and the love she could never have seen coming.
From other reviews, this book's been listed as a sci-fi/fantasy book. From instantly seeing the cover, I expected some dramatics in space, and a boy/girl connection, but I was however, disappointed. When the synopsis tells of a girl being the victim of an attempted murder, I was actually quite annoyed to find out the truth behind that. But that wasn't my only problem with this book. I understand that in trilogies, the first book is meant to set the scene, and engross the reader, encourage them to read the series further. But the first book is also meant to be enjoyable, and a story in itself, I just personally felt that this story, was too set in either the past or the future, for both characters, and had no real stability in the present day, on said ship. While Amy reminisced about life on Earth, Elder would constantly be thinking about the past Eldest's or his future as one. This for me, slowed down the reading, making me take two days out of reading it, from lack of enjoyment.
When it came down to the characters, I couldn't help but feel that our two main characters, were nothing but moaning, hormonal, lustful teenagers. I felt no character growth whatsoever. I feel some of the other, lesser described characters, were easier to relate to. I felt that on a ship full of emotionless people, those who were shown to care, and feel themselves, were quite easy to befriend, in a reading sort of manner. My favourite character would probably be Harley, as throughout the story, he was constantly growing into his part, and his character traits had great amount of continuity throughout.
The story itself was brilliant. The idea of murder on an encased ship provided a better feeling of being trapped and having no where to run. But the lack of romance let me down. The cover is oh so fooling. Although you can quite clearly see that Amy's eyes are closed on the cover, I still fell for initial subtlety of romance, or at least, some emotional feelings. Although the book had some, but not a lot. Maybe I'm a hard woman to please when it comes to romance, but I felt it just wasn't enough. I will be buying A Million Suns, to see if the overall story improves, and to see if I will be getting some of the romance that cover promises so well, not to mention see Elders leadership skills with all his new found strength and power.