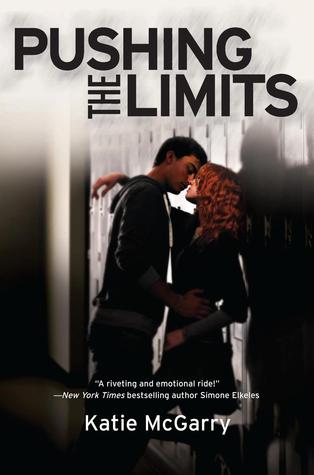 Pushing The Limits
Author: Katie McGarry
Series: Pushing The Limits #1
Genres: Contemporary | Young Adult
Release Date: July 31st 2012
No. Pages: 392
Source: Purchased
Rating:
So wrong for each other.. and yet so right.

No one knows what happened the night Echo Emerson went from popular girl with jock boyfriend to gossiped-about outsider with "freaky" scars on her arms. Even Echo can't remember the whole truth of that horrible night. All she knows is that she wants everything to go back to normal.

But when Noah Hutchins, the smoking-hot, girl-using loner in the black leather jacket, explodes into her life with his tough attitude and surprising understanding, Echo's world shifts in ways she could never have imagined. They should have nothing in common. And with the secrets they both keep, being together is pretty much impossible.

Yet the crazy attraction between them refuses to go away. And Echo has to ask herself just how far they can push the limits and what she'll risk for the one guy who might teach her how to love again.
Echo Emerson was the girl is school that everyone wanted to be and every guy wanted to date, but when she up and left for months, only to return with scars on her wrists and arms, she's an outcast. Her father doesn't listen, her step mother (once babysister) is pregnant and her mother is no where to be seen. Why? because she's the one that hurt Echo.
Echos mother suffered with bipolar disorder since she and her brother were a kid, but after coming of her meds to paint one day, Echo wakes up in the hospital with no recollection of how she got there. One thing is certain though, her mother tried to kill her. In the space of 6 months Echo not only last her mother but her brother too, who died the army, leaving nothing behind for her but a car.
Noah Hutchins, once a model student and basketball player, is a stoner guy in foster care after he's parents died in a fire leaving him and his 2 brothers orphans Fleeting from one foster home to the next because of violence Noah is willing to what ever it takes to get back on the straight and narrow in order to hopefully get his brothers back, who at the moment he only gets to see for an hour of supervised visits fallowing his last fight.
Thrown together by the schools new guidance counselor, Echo starts to tutor Noah, she does it for money to do up her brothers car, and Noah needing to get his grades up. Both have been through hard times in the past two years, but by becoming friends and finally learning to trust someone, they learn to not only deal with it but move on. They find love, friendship, acceptance and Echo slowly gets her memory back while Noah figures out its ok to let people in.
My thoughts? it was a very well written book dealing with horrific things. The characters each have a little story of their own and you really get a feel for all of them. (well.. apart from some of Echo's friends. But they aren't really a big issue in the books). One of my favourite characters was Beth, even though she did annoy me at times, and one of the reason's why I haven't said much about her is I know the next book is about her so I'm going to save what I have to say about her till then.