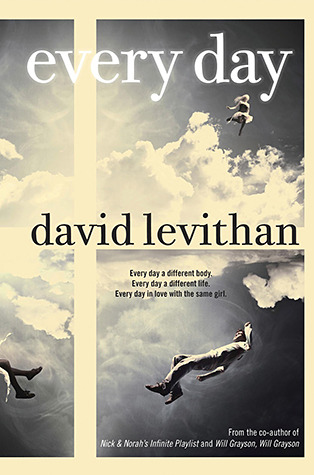 Every Day
Author: David Levithan
Series: Every Day #1
Genres: Fantasy, Contemporary | Young Adult
Release
Date: August 28th 2012 by
Publishers: Knopf Books
No. Pages: 322
Source: Gifted
Rating:
Every day a different body. Every day a different life. Every day in love with the same girl.

There's never any warning about where it will be or who it will be. A has made peace with that, even established guidelines by which to live: Never get too attached. Avoid being noticed. Do not interfere.

It's all fine until the morning that A wakes up in the body of Justin and meets Justin's girlfriend, Rhiannon. From that moment, the rules by which A has been living no longer apply. Because finally A has found someone he wants to be with—day in, day out, day after day
For 16 years, A, has woken up in a different body. Every day. A different life, a different family, a different sex. He never connects, never lives long enough to. Until one day he wakes up as a boy named Justin. Instead of staying home and reading or playing video games like he normally does, he goes to school. Everything seems like normal day until he meets Justin's girlfriend, Rhiannon.
A tries to stick to a persons life as much as possible, knowing that anything he does can effect them later on, but today is different. Today he see's something in Rhiannon and throws all his original rules into the wind.
Skipping school they spend the day at the beach, talking and laughing and both having one of the best days in a while, because Justin isn't a nice person to Rhiannon. A starts to feel something for her, even though he knows he shouldn't. Maybe its hope that things can get better, but when he looks at her he forgets who he is or should I say what. The next day, he wakes up as a girl called Amy. Amy only lives an hour or two away from Rhiannon, and on the urge to see her again, A travels to her school as Amy, posing as someone who might be changing school and asks Rhiannon to show her around. With each passing moment A falls deeper for her and the next day, when he wakes up as a boy names Nathan, he cant help but see her again.
Only this time he makes mistakes. After 'kidnapping' Nathan and taking him to party to see Rhiannon, claiming he was someone's cousin and gay, he dances the night away with her. But when the party is about to be broken up he finally notices the time. 11:15. He needs to be back at Nathan's home and in bed by 12, only problem is Nathan lives an hour an a half away, so A's only option is to pull over on the side of the road and get Nathan out of harms way. Waking up the next morning to an email from Rhiannon saying she knows he wasn't who he said he was, and an email from Nathan saying he knows we he did to him, he decides that its time to tell someone who he is. Thinking that Rhiannon can take it, he chooses her, and explains everything to her, telling her he wants to be with her.
My thoughts? this book was heartbreaking at times. Imagine being a toddler again and never sticking with one family for more than a day, screaming that you don't want to leave your parents at night? and trying everything to stay awake but failing. Imagine having no one to love or talk to about what's happening and being alone for 16 years, never making memories just living vicariously through others. I can not even begin to understand how it would feel to be that lonely, because everyone has someone to talk to right?. I thought it was very well written, the characters well thought out and even though I know a lot of people didn't like the ending, I did. I thought it was the only way it could really turn out. All in all I thought this books was very good. (sorry the review isn't that great. there is a lot more to the book but I try not to give too much away haha)