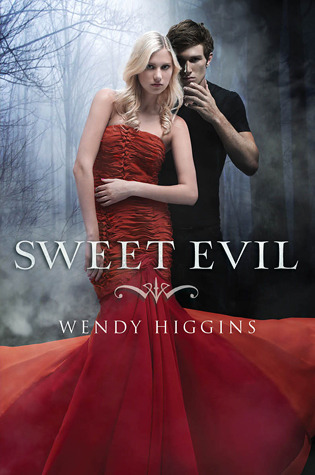 Sweet Evil
Author: Wendy Higgins
Series: The Sweet Trilogy #1
Genres:
Angels, Demons
| Young Adult
Release Date: May 1st 2012
Publishers: Harper Teen
No. Pages: 447
Source: Borrowed
Rating:
Buy From:
Amazon
| Book Depository | Barnes and Noble | Waterstones
Embrace the Forbidden

What if there were teens whose lives literally depended on being bad influences?

This is the reality for sons and daughters of fallen angels.
Tenderhearted Southern girl Anna Whitt was born with the sixth sense to see and feel emotions of other people. She's aware of a struggle within herself, an inexplicable pull toward danger, but it isn't until she turns sixteen and meets the alluring Kaidan Rowe that she discovers her terrifying heritage and her willpower is put to the test. He's the boy your daddy warned you about. If only someone had warned Anna.

Forced to face her destiny, will Anna embrace her halo or her horns?
At first Sweet Evil looks and sounds like just another story you may have read many times before, only its not. Anna isn't just another girl in a paranormal story that will accept anything if it means the lead boy will notice her, she isn't stupid or self centred or reckless. She hasn't just been thrown into a world far different than what she knew before without asking questions. No, Anna is a strong female character, who may let her heart lead a little but doesn't let it rule her or the choices she makes.
When I first so this was on Scribd I instantly added it to my library, but even so it wasn't until my friend Amanda over at
Book Badger
recommended it did I decided to just get it over and done with. And I wasn't at all expecting to love it as much as I did. At best I thought I would like it. As already stated, Sweet Evil has such a unique story. Firstly, Anna has always known she was different so she isn't faced with seeing the world differently one day. However, she did not know that she was a daughter of a fallen angel. That would make for a common story right? well add the fact that the fallen angels are no ordinary fallen angels, but ones that represent the 7 (and more) deadly sins themselves in charge of corrupting the souls of mortals. I could tell you which is which, but that would be giving it away ;).
Instead I will talk about that characters. Anna is such a sweet, innocent and loyal girl that her character (apart from the daughter of a fallen angel part) is totally relatable. She has always known that Patti wasn't her real mum, but not once in the book do you get the felling she loved her any less, instead she is the most important person to her, like it should be. The relationship they have, goes far beyond just a mother and daughter bond, there is such a strong friendship and its so lovely to see. As well as having a strong bond with her surrogate mother, she also has Jay, her best friend. Although he doesn't know what she is or what she is capable of , he is such a well written character that you know without a shadow of a doubt, he would accept her anyway. He's funny, cocky and so protective, to the point where he will sacrifice something he would consider fun because it goes against Anna's beliefs. In short, I loved him.
Now we can get on to Kaidan, being the the main boy character in it and possible love interest, I know you are all dying to know about him right? well one word for you. SWOON!. Not only is he the bad boy but he's a band, I mean come on!!. I love him, I'm not even ashamed. I love his cocky and sarcastic nature. He may not be good for Anna from the off, but I think by the end of the series he could be changed for the better because of her. Kaidan and Anna are completely different but they have this attraction that is on a deeper level than you would expect and they just work together. In a twisted, awkward way. I can't wait to see how their friendship or more develops as the story goes on that's for sure.
This book was so much better than I thought it would be, I loved the idea of the deadly sins, I loved that the son's and daughters of the fallen angels inherited their persuasive skills shall we say, I loved the whole concept of this book and it just worked so well. The story flowed perfectly, everything progressed as it should do and Wendy Higgins did a great job of not only trying to create a world that we could picture easily ourselves, but characters we could find pieces of ourself in. It may not be for everyone, but its one of a kind story deserves to be given a shot.
Basically I just really enjoyed this book and I need to get my hands on the second. NOW!! Thank you Amanda for recommending it to me, you sure now how to pick them :)