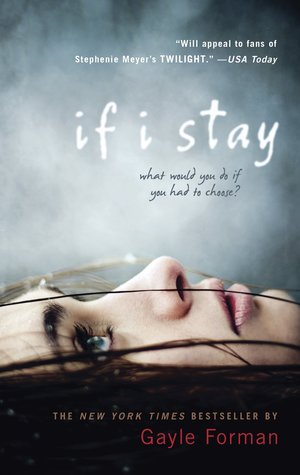 If I Stay
Author: Gayle Forman
Series: If I Stay #1
Genres: Contemporary | Young Adult
Release Date: 13th May 2010
Publishers: Speak
No. Pages: 272
Source: Purchased
Rating:
Buy From: Amazon | Book Depository | Barnes and Noble | Waterstones
Life can change in an instant.

A cold February morning, a snowy road, suddenly all of Mia's choices are gone. Except one.

As alone as she'll ever be, Mia must make the most difficult choice of all.
There are some stories that touch peoples hearts, lingering and sticking to memories and emotions, reminding you just how much that story meant to you, and then there's others, who in the middle of giving you a powerful message of love and family, that lead you down a paranormal path, making you question the bigger things such as life after death, who chooses when you die, and in the end, whether what you have left wanting for you in life is enough left to live for. I found myself asking these questions inbetween tears of genuine emotion. This book molded itself and worked with my own memories, leaving me left drained, wrecked and desperate to get my hands on Where She Went.
The entire story itself felt extremely surreal and paranormal, in a way that was never really prepared for; even after being recommended this book and reading enough reviews to sink a ship, I still didn't expect to see life through Mia's eyes how I did. The writing itself felt like it flowed like a dream would, always calm and containing, yet very rarely led me into a dis-interesting part of the story, and I think it was quite possible that other people would find this book a little boring and uninteresting, but I was quite the opposite. I felt that Mia as a character was so well developed throughout the entire story and her voice was so believable and easily relatable; I thoroughly enjoyed learning about her and her family through her memories, it really allowed me to seriously think about my own happy memories of my own family.
I had been told that this book was emotional, yet I had never once expected to find it haunting, the crash itself nor did I ever think I would laugh through it, but I did, because some of Mia's most joyful moments were so beautiful and full of love that I would just fill up with tears and joy, only to be reminded of what Mia has lost, and then to cry again once more. It was also lovely to see the relationships between all those in Mia's life, those between her, Kim and Adam especially as I could really relate to them. It was also nice to see that in a young adult novel, the family aspect was huge; they were always around her, comforting and supporting her and her dreams, and providing her with a stable home life that really made her life that much better. Even before the crash, the family aspect was fantastic, making the preparation for the trip so wonderful and it was impossible for me to smile throughout it. Lastly, I loved how Forman was able to allow the reader to understand that family isn't always who you share your blood with, but who you have around you. The love story was just beautiful, showing how the tough parts doesn't always have to be dramatic, and the love of music, of family, of friends, of strangers, or a boyfriend who would travel the world for you, who would really really stand by you, if you stayed was covered so wonderfully, it demanded feelings and it demanded pain.
This book made me ask myself numerous questions and made me feel a lot of feelings I haven't felt in a long time. It really made me think about life, and death, what happens in between; about what might happen and what might not, and what has happened in my own life. It made me feel selfish for ever wanting to leave my own life behind in the past, knowing how much I have to look forward to life, and how much things can change. It also affected me to read about how having children change you, as a person, and how people in your life that you never expected can mean the world to you. It made me think of all the people I've ever loved and do love, and how important they are to me, and how no matter what, there's always someone somewhere, kind enough, respectful enough, and caring enough to help you throughout the toughest things you ever experience, such as leaving people behind, to stay with others.
I picked up If I Stay as a book that I could power through, enjoy and remember, but it really put some everlasting feelings on my heart instead of became an enjoyable read. It made me look at and think about my own life, and how important I am to some people, and how after such life changing events, there's not a single person who can be untouched by the circumstances. This book made me wonder whether I will relive my memories as I'm dying, the last time of happiness before the longest, warmest nap of my life, just like Mia got to experience, and in some ways, I hope I do.