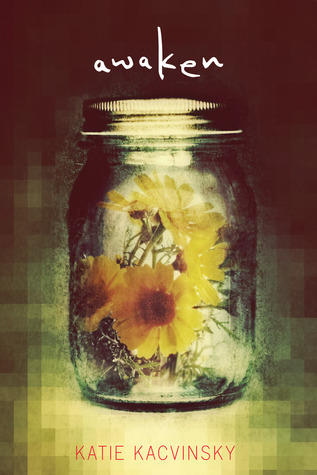 Awaken
Author: Katie Kacvinsky
Series: Awaken #1
Genres: Science Fiction, Dystopian | Young Adult
Release Date: 17th April 2012
Publishers: HMH Books
No. Pages: 320
Source: Purchased
Rating:
Buy From: Amazon | Book Depository | Barnes and Noble | Waterstones
Maddie lives in a world where everything is done on the computer. Whether it's to go to school or on a date, people don't venture out of their home. There's really no need. For the most part, Maddie's okay with the solitary, digital life -until she meets Justin. Justin likes being with people. He enjoys the physical closeness of face-to-face interactions. People aren't meant to be alone, he tells her.

Suddenly, Maddie feels something awakening inside her- a feeling that maybe there is a different, better way to live. But with society and her parents telling her otherwise, Maddie is going to have to learn to stand up for herself if she wants to change the path her life is taking.
After much deliberation, I decided I should dive straight into the dystopian genre, so I picked this book off my shelves and went into it with a completely open mind and was simply blown away. I had no idea what to be expecting with this book, other than a technology ridden world and a cute little 'does he like, doesn't he' romance, yet it became so much more than that.
To start with, the world. It was brilliant and beautiful and just completely mesmerising in every way. I have to admit, the descriptions were sometimes a little full on, almost over analysing the scene, but the way every moment, every millimetre of the world and the surroundings was emphasised gave me the most pleasant and enjoyable read I'd had in a long while. The whole idea and theme of was brilliantly thought out and so thought provoking there wasn't a moment where I wasn't made to think about their world and ours in comparison. We as people have so much and reply on so much technology these days, it's usually extremely difficult to distinguish what we need and what we want, what helps us and what makes us lazy as human beings. I had only ever really considered this in a small amount until I read this. This book really made me think about what I have that helps me, or hindrances me, and only once I finished it did I truly believe that our society, our technology, our advancements, are heading a scarily familiar direction. Simple questions like just how social are social networking sites? How much do we really communicate with each other? How well do we really know someone if we've never met them? This whole idea, the theme, the genre, I fell completely in awe and love with it, and I doubt it could have been any better if Katie Kacvinsky had tried. I've never had a book make me think about myself or my life before, and the things and people I have it, and it was so lovely to learn the truth about the world alongside Maddie, as a reader, and as a human being.
Speaking of Maddie, she's probably one of my favourite characters from a book, ever. Her character growth and development was so honest and realistic, her learning through her own actions, taking heed of her past and letting it lead her, not overcome her, the littlest of actions, touching, seeing, holding somebody, it was so easy to love Maddie in every way. Deep down, I could see she was an independent character, who with the help and support of friends, knows what she wants out of life, and she'll fight the right way to get it. And even though she knows it's her beliefs against her Father, she never agreed to forget about or leave her family. I loved this character trait, as too frequently in books do we see the lead character have to choose between her future and her family, and in this, she chooses both, no matter the consequences. She's brave, she's thoughtful, she's free spirited and she's not a selfish little teenage girl with a silly crush on a guy; she's one of the best characters I've had the pleasure of reading about.
Justin's character also impressed me so much throughout. He wasn't your typical well fitted, sexy main character that knocked you off your feet. He's a selfless, caring and attractive young man, who cares about others so much more than himself and has an aim to improve the world within this book. His ambition and thoughtfulness toward people he doesn't even know made me love his character even more. And not mention the pleasant and lovely the progression of their relationship was. It was nothing like some of the other insta-love romances you come across in other YA books; it was slow, it was a progression and it felt so natural, like watching two friends realise their feelings for one another and wanting and hoping they can see through the problems they face and be together. As you could probably guess, I loved them both and their romance. Completely, utterly, gorgeous.
Other characters I loved where of course, Maddies Mum, Justin's Mum and Maddies newest friend Clare. I seem to have a thing about characters Mothers, and these two didn't let the side down, if anything, they only confirmed it. They were both so similar and supported their children through everything that was happening throughout this book and supportive parents always make you stronger. And Clare, well, she was just such a bundle of of joy and optimism and just always made a scene so fun to read. She's most definitely the kind of best friend everyone needs and I was glad she became a more permanent fixture in Maddies' life through this book. I particularly liked the odd occasion when we saw Maddies' journal extracts as I felt like these were a big part to her character growth and gave a great insight to her thoughts, her opinions she couldn't voice and how she felt about everyone around her. The lesson that you can say what you feel whenever you need to, because there are so many ways to speak was beautiful and really made the book much more enjoyable to read. So much happened throughout the book it felt like it was always a fast-paced adventure with so much to learn and so much to see, and the ending, well, I wasn't even aware it was the first of a series, so I was both elated and so gutted that I had to wait for the next installment.
Other than the odd grammatical error and odd word repeated, I couldn't deduct a star for that because the book as a whole was way to amazing and enthralling that I have no choice but to say this is most definitely one of my all time favourites, if not, in the top 3 I've ever read. Absolutely brilliant and there's no denying I'm going to buying the second installment of this series as soon as I can.