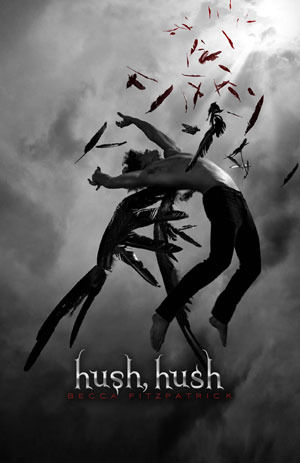 Hush Hush
Author: Becca Fitzpatrick
Series: Hush Hush #1
Genres: Paranormal, Urban Fantasy | Young Adult
Release Date: 1st January 2009
No. Pages: 391
Source: Borrowed
Rating:
Nora's never been particularly attracted to the boys at her school. Not until Patch came along. With his easy smile and eyes that seem to see inside her, she is drawn to him against her better judgement.

But after a series of terrifying encounters, Nora's not sure who to trust. Patch seems to be everywhere she is and knows more about her than her closest friends. And when she tries to seek some answers, she finds herself near a truth that is way more unsettling than anything Patch makes her feel.

For Nora is right in the middle of a centuries-old battle between the immortal and those that have fallen - and sooner or later, she's going to have to pick sides..
The book was is about a young girl called Nora Grey, who met a guy called Patch as a result of being forced to switch lab partners. Nora doesn't like him at first but Patch seems to mysteriously be everywhere she is, sometimes at the wrong time, and she starts to have feelings for him against her better judgement. She's never sure if she should trust him so when bad things start happening and it seems someone is out to get her, Vee her best friend is adamant its Patch and leads Nora to question what she really knows about him . When Nora seeks some answers she finds herself near a truth that's far more unsettling than the uneasy feeling Patch tends to give her and in the middle of an ancient battle between the immortal and the fallen.
After waiting 3 years to read this book I'm not ashamed to say I was a little bit disappointed. The idea behind the book was what made me want to read it (that and the cover haha). And it started of well but not long into it , it was clear that Nora never really knew what she wanted, and as she kept changing her mind all the time I was left feeling confused as to what she would do next. She doesn't trust Patch, is very unsettled by him, spends most of the book commenting on how creepy he is but yet she cant stay away and is in love with him? …I think I missed the part where this happened.
That being said I love how Patch is described throughout the book. He's cocky, sure of himself and somewhat tough. Even though I don't like to admit the only thing I disliked about him was the fact that he reminded me of Edward from Twilight. I'm not exactly sure why but he did. I wasn't really too keen on the other characters Vee, Elliot and Jules but that could be because I don't think enough time went into developing their character.
So all in all It was an ok book. It didn't wow me and I personally think there was too much dialogue and not enough description, so as a result of this I felt the book lacked in suspense. I think I'm just getting too old to read YA. I loved it when I was maybe 14- 20, but I've yet to read a YA book that I can safely say doesn't remind me of practically all the other ones I've read. The trouble is I'm getting older but the writing style and ideas for YA book are staying the same. I feel bored reading them.