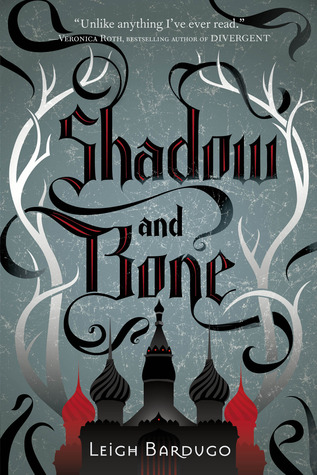 Shadow and Bone
Author: Leigh Bardugo
Series: The Grisha #1
Genres: Fantasy | Young Adult
Release Date: 5th June 2012
Publisher: Indigo
Pages: 358
Source: Borrowed
Rating:
Buy From: Amazon | Book Depository | Barnes and Noble | Waterstones
Surrounded by enemies, the once-great nation of Ravka has been torn in two by the Shadow Fold, a swath of near impenetrable darkness crawling with monsters who feast on human flesh. Now its fate may rest on the shoulders of one lonely refugee.

Alina Starkov has never been good at anything. But when her regiment is attacked on the Fold and her best friend is brutally injured, Alina reveals a dormant power that saves his life - a power that could be the key to setting her war-ravaged country free. Wrenched from everything she knows, Alina is whisked away to the royal court to be trained as a member of the Grisha, the magical elite led by the mysterious Darkling.

Yet nothing in this lavish world is what it seems. With darkness looming and an entire kingdom depending on her untamed power, Alina will have to confront the secrets of the Grisha.. and the secrets of her heart.
I cannot help but feel as though the hype monster may have tried to strike me down with Shadow and Bone. It's undeniable, this book really is something totally different from other fantasys out there, you'd be a fool to think otherwise - with it's very different take on skills and powers, on fantasy kingdoms and a villain who, I guess, people could be quite taken with, Shadow and Bone is definitely one of the more okay, lacking a little in world novels I've read this year, but I had my issues, my niggles and my ever so distressing moments of boredem and while this was a really good novel, it was a distance from perfect.
Shadow and Bone felt like two different halves, the first half feeling slow and lacking what felt like a good amount of action, while the second half really picked up, so much so, I was actually heartbroken to find I'd reached the last 30 or so pages as quickly as I did. The beginning was, well, it felt dry and uninteresting and Alina felt very much like a moping, whining damsel, there was a lot of self-doubt, a lot of '
he doesn't care about you that way, why should you be jealous blah blah blah
' and really, that's not what I wanted. I had created this expectation with Alina and her strength and courage and nack of not letting others words get to her in the prologue was just lost when we meet her later on in life. Even when some character defining moments were revealed, the story still felt quite slow and I didn't even really feel like I was submerged within the world with the characters in the Little Palace, I felt as though I was reading, but not absorbing anything. However, with a little bit of magic from Bardugo, something I expecting to come to love further in the series, Shadow and Bone took a complete 180 degree turn with Alina, with the plot, with everything and suddenly I was in, I was completely invested, I was involved, I was there with Alina, I was worried for her, supporting her, experiencing all these moments with her and the whole world felt fresh and so fascinating, I don't know whether that twist really was
that
good, or whether I'd been in a terrible place during the first half, but whatever happened, I cannot complain, Shadow and Bone definitely put itself firmly in my good books and I'm very pleased.
Now, we all know there's a serious question on your lips don't we? The Darkling or Mal? Mal or the Darkling? Well, lets just say, I have issues with them both, but I am siding with one over another, but I shan't tell you who. The Darkling was very alluring and quite the interesting character throughout this story, he's not your typical villain, he's, granted, greedy and self-centred an awful lot of the time, yet he's also probably going to be the most in depth character out of them all and he's definitely the most interesting so far, but I do believe his feelings for Alina might just have genuine feel behind them and may even grow into something much deeper, and Alina's character developed quite a lot around The Darkling, she grew more confident in herself, she believed she had support and a network of people protecting her, and she found had a chance to prove herself, to showcase herself as not an orphan or a girl incapable, but someone with strength and power. But there's no denying that Alina further developed when back in Mal's company, her sense of loyalty and gratitude was wonderful, her instant re-connection with Mal was also really wonderful to read, there was a lightness brought to her character during these moments, a fresher, more relatible character, a character with hope and faith, brought on by Mal's dedication, his loyalty, his confidence in both himself and knowing what he's good at, and in Alina, his dedication to never losing himself to anyone or anything, and his unwavering belief in her, as well as her strength and confidence from The Darkling. It disappoints me that most of Alina's character development was worked within the romance feature and that, behind it all, she is definitely still quite a self-doubting character and I'm hoping she can really redeem herself further into the series, butI can't say I'm not at least, a little pleased, with how Shadow and Bone worked these features. Lets just say I'm sweet on friendship relationships..
I do definitely think that I had maybe too higher expectations with Shadow and Bone, I expected the world to be vivid and vast and in-bed itself into my brain, but it didn't feel like I was there a lot of time, and the first half of the novel feeling so slow and being entirely unconnected the characters, it really did make the novel hard to enjoy in places, and does make the novel difficult to rate. Alina's character could have been much better, and I'm hoping she continues to develop more into herself than due to being impacted by the romances, and I hope that the romance aspect is taken and made much more impressive. There's so much more that this series can give and if Siege and Storm does it right, it could just be worth the wait..