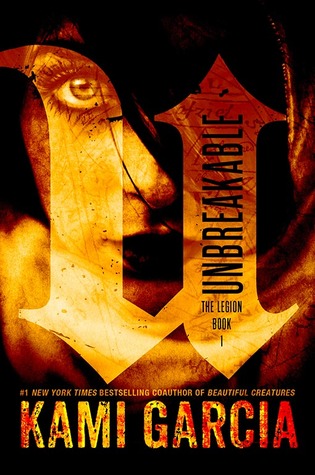 Unbreakable
Author: Kami Garcia
Series: The Legion #1
Genres: Paranormal, Horror, Fantasy | Young Adult
Release Date: 10th October 2013
Publishers: Simon and Schuster
No. Pages: 320
Source: Purchased
Rating:
Buy From: Amazon | Book Depository | Barnes and Noble | Waterstones
I never believed in ghosts. Until one tried to kill me.

When Kennedy Waters finds her mother dead, her world begins to unravel. She doesn't know that paranormal forces in a much darker world are the ones pulling the strings. Not until identical twins Jared and Lukas Lockhart break into Kennedy's room and destroy a dangerous spirit sent to kill her. The brothers reveal that her mother was part of an ancient secret society responsible for protecting the world from a vengeful demon - a society whose five members were all murdered on the same night.

Now Kennedy has to take her mother's place in the Legion if she wants to uncover the truth and stay alive. Along with new Legion members Priest and Alara, the teens race to find the only weapon that might be able to destroy the demon - battling the deadly spirits he controls every step of the way.
If you're considering this book, and like me, are quite easily spooked, give yourself either some preparation time, or lose out on reading this gem of a book, and if you want my advice, preparation time is the best option, because you do not want to miss out on reading this. Unbreakable was so much more, and so much better than what I had expected. It sent chills down my spine and had me wriggling from both the cold and my nerves for hours on end. It turns out, I'm a bigger fan of horror/thriller than I could ever have expected.
Unbreakable didn't falter in the beginning like other books I've read recently; while some books drag throughout the beginning, Unbreakable didn't. Kami Garcia threw me straight into her writing and story and I was hooked within the first chapter, however, I am a little frustrated with the 'hidden past, must fulfill some kind of destiny' plot that appears to be floating around YA near enough in every single book, and that is one of the extremely small negative points that I didn't enjoy through this book. However, as the story continued I just began to enjoy it more and more.
The range of characters that Kami Garcia created within this story were wonderful and so enjoyable to read about. Each of the characters she created were unique and a breath of fresh air, all with their own talents and specialties and I enjoyed watching them all grow and become better, and stronger characters throughout the story. As it got creepier, the characters grew more confident and they continued to wow me with every chapter. I was utterly enthralled. When it came down to the concept of the story, I was shocked beyond compare. I had never expected it to be such a creepy story. It reminded me of Anna Dressed in Blood, just with a much better, much more realistic, and much more wonderful romance; I was sold. It had the perfect amount of horror and thriller, story and character building and insane, monstrous, murderous ghosts, and I loved every moment. Granted, I spent most of the time completely convinced I was going to die from homicide via ghosts, but it was so thrilling to read. I was also very happy that Kami Garcia didn't create a love triangle, especially when she quite easily could have. I've become quite fed up of love triangle taking over the action and mystery in books lately, so when I come across a book that doesn't have one, I get quite happy inside. I was glad she kept her writing style simple as well, allowing me full responsibility as to imagine all the scenes myself, leaving me and solely me responsible for how scared or freaked out I became. It takes skill to put the scare factor blame on the reader, and Garcia did it well. Also, keep a look out for little illustrations, they really brought the whole story together.
I only had around 3 minuscule things I didn't like about the book, and by minuscule, I mean hardly hindered my enjoyment whatsoever, and that's been extremely rare lately, so I was insanely glad to have given into temptation to buy this book. One of the small issues was the repetitiveness of some physical appearances and while this is a personal preference, it was still an issue. Another was the cover. I couldn't take to the cover for a number of reasons, however, none of these reasons effected my rating of the book. I felt the cover itself didn't compliment the story within in any way. The model on the cover was nothing like I had imagined Kennedy to be, and the actual design had nothing to do with the story either. Having now read the book, I would have expected something creepier, something more relatable to the story within, as this cover just looks like I could have designed it on my computer, and from a brilliant author, I expected a little bit more. However, this book has shown me that you seriously can't judge a story from the cover it's been given.
Unbreakable is a spectacular book with a fantastic concept, all wrapped up in a collection of individual characters and great grasp of religious history, horror and creep. I've finally found a story that actually understood the idea behind character growth, and didn't lose focus on the plot for the romance. I would recommend the hell out of this book, to absolutely everyone, even those who are wary of horror. This book will creep you out, hold you tight and then throw you into an electric chair for the fun of it. It's an absolutely favourite of mine, and I seriously can't wait for the sequel.