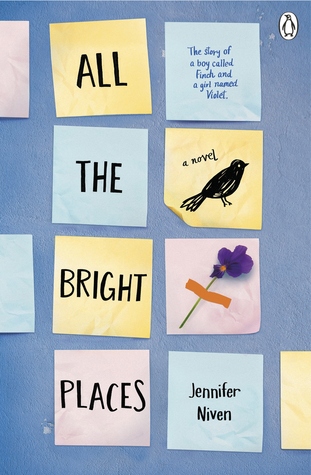 All The Bright Places
Author: Jennifer Niven
Standalone
Genres: Contemporary | Young Adult
Release Date: 7th January 2015
Publishers: Penguin
No. Pages: 400
Source: Borrowed
Rating:
Buy From:
Amazon
|
Book Depository
|
Barnes and Noble
|
Waterstones
Theodore Finch is fascinated by death. He constantly thinks of ways he might kill himself. But each time, something good, no matter how small, stops him.

Violet Markey lives for the future, counting the days until graduation, when she can escape her Indiana town and her aching grief in the wake of her sister's recent death.

When Finch and Violet meet on the ledge of the bell tower at school, it's unclear who saves whom. And when they pair up on a project to discover the 'natural wonders' of their state, both Finch and Violet make more important discoveries: It's only with Violet that Finch can be himself - a weird, funny, live-out-loud guy who's not such a freak after all. And it's only with Finch that Violet can forget to count away the days and start living them. But as Violet's world grows, Finch's begins to shrink.
I've been sitting trying to write other reviews or posts that will go live before this review, but all I can think about is how much I want to talk about this book. When I first came across it last year I knew I needed it, as the months went in my need of the book just grew and grew to the point where it was easily one of my most anticipated of 2015. My lovely, lovely, co-blogger Amanda had received the book for review and though I was green with envy, I decided I was going to wait till it came out and just buy it. However I didn't have to buy it as Amanda was kind enough to send it to me when she had finished reading it so I could feel the ache and emptiness in my heart that comes after devouring the book (and boy did I feel it). Before I started I will admit that I was slightly scared, I was looking forward to it so much and my expectations were so high that the thought of it being any less than perfect would really upset me (stupid I know). I stayed away from reviews, and just sat back waiting till I had the chance to read it. Was it everything I wanted and more? Yes, when thinking about how good this book would be it will never come close to how much better it actually was. You think you know what to expect? Forget it, do not come in to this book thinking you know how any of will go because you are wrong.
Right from the very first chapter I knew I would fall very deeply for not only Finch but Niven's style of writing. Everything, right from the first word to the last of this book flowed perfectly. This book has no need for pointless filler, everything is crucial to the story or to making you see things from the characters point of view. Do you? Well I did. I absolutely loved how sarcastic, blunt and funny Finch was but even just in the first chapter you can see there is a deeper pain there. You aren't told right away why either Finch or Violet have decided that life is too hard so as we read on and their story grows, we become more attached and empathize more with them because we have more time to understand everything.
I read this book in about 4 hours, I sat just reading and reading not doing anything else, my daughter was at school and my other half was at an interview so from the moment I had finished cleaning when I got home from dropping her off and till my partner got home, I was completely and unashamedly consumed by the book. The thing I love the most about it is the fact that tough the two main characters were clearly in need of help and were depressed, it didn't become a story that was nothing but negativity. It was funny, it was clever and it was so adorable. Finch by his own admission falls easily for people, Violet wasn't interested in a relationship and though it may or may not have developed into more, it started out as nothing more than a friendship, someone who could understand what the other was going through and wouldn't judge. In short this book had so much heart it was hard not to get swept up in the feelings.
I always find it hard to review a book like this, one that I would recommend to everyone and their mother. Why I hear you ask, well because I was 200 pages in I could not find one thing wrong with it, nothing. I wasn't put off by any of the characters, all of them down to the stupid popular kids were needed and well thought out. I never thought that anything was over or underdone because the balance between happiness and sadness was perfect. It's hard to review it because I couldn't find anything else to say in my notes other than how much I loved it over and over again, and because of the nature of the story I really don't want to say anything that will spoil it for anyone else. I know the sad fact of life is that you can't please everyone, I know that now matter how brilliant I and others may find it, there will be people out there who just didn't feel it, but regardless I really feel like this is a book that everyone should go into blind so that you can experience it your way and not someone else's.
So no.. I haven't decided to go into great detail about what happened. I know others may think me stupid and that's fine, I personally think there is enough in my review to tell you how much I enjoyed this book and why without giving to much away (… if you don't think there is than believe me I can fangirl with the best of them..). On Goodreads the summary of this book has it compared to the likes of The Fault In Our Stars, though I was excited to read it I didn't think anything could be close to it and I'll admit that no All The Bright Places isn't better, but its equally a good and without a shadow of doubt deserves just as much attention as The Fault In Our Stars get. To think that Niven normally does Adult fiction and this is her first Young Adult book is astounding, some others who switch from one to the other dont find the transition and difference in audience as easy to handle as they thought they would, but you would this that Niven had never written anything else.
To feel the full power of the story, the heartache, the love and anything else that Jennifer manages to brilliantly cram into this book you need to read it for yourself